Gift Sweet
From candles for chronic shoppers to skincare for oenophiles, W picks the season's perfect presents.
---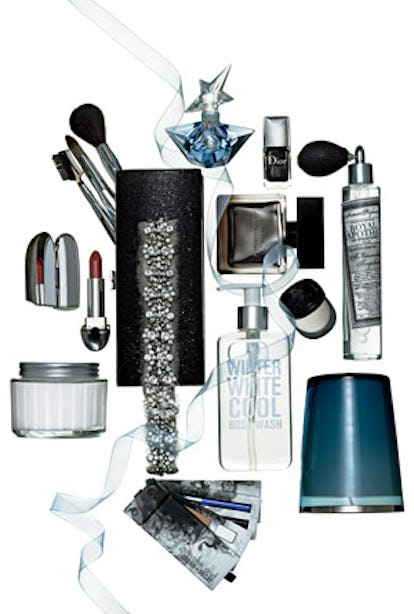 1| Good Evening Sonia Kashuk knows what girls want. All six of her sculpted silver makeup brushes are must-haves (particularly the stubby smudge brush), and the sparkly black bag that contains them can double as a nighttime clutch. $19.99; at Target.
2| Blue Angel The distinctively dessertlike Angel by Thierry Mugler Collector Extrait de Parfum is for true addicts. Not only does the classic fragrance come in ultraconcentrated form, it's all dressed up in a Swarovski crystal–adorned flacon. $198; at Saks Fifth Avenue.
3| Male Persuasion There is no olfactory note more carnal than musk. It's the sultry star of Narciso Rodriguez for Him Eau de Parfum Intense, a riff on the designer's bold signature cologne. This version balances the enveloping and sensual aroma of musk with iris and pink berries. $59; at Saks Fifth Avenue.
4| Back to Black At this point, black nail polish is about as shocking as thigh-high boots—which is to say not at all. But Dior Vernis in Black Sequins does warrant a second glance, flecked as it is with a subtle silver shimmer. $20; at Sephora.
5| Chic Spritz Royal Apothic's room spray for holiday manages to be both seasonal and stylish. The sleek cylindrical bottle holds a sophisticated scent, dubbed Distillation of: An Edwardian Fireplace, that is reminiscent of warm baked plums with just a hint of spice. $28; at Anthropologie.
6| Give a Fig In the land of fragrance, fig has a particularly rabid following. The earthy, singular note is difficult to perfect, but Diptyque's Philosykos is widely considered the consummate example. It's now available in solid form. $48; spacenk.com
7| Street Smart In-the-know city slickers will adore Lafco New York's Avenue candles. Each is named after a famous shopping block, from Via Condotti in Rome to Canton Road in Hong Kong. Stoleshnikov, a white mint and basil concoction meant to evoke the icy conditions on Moscow's poshest thoroughfare, comes in a weighty platinum-tipped goblet that just happens to be reusable. $48; lafco.com
8| In the Clear For the minimalist who likes bathrooms to resemble all-white laboratories, Bath & Body Works Winter White Cool Body Wash fits in seamlessly. There's block lettering, a simple rectangular bottle and a fresh floral fragrance so light it's almost imperceptible. $14; at Bath & Body Works.
9| Smoke and Mirrors Hidden within the stacked layers of Urban Decay's Smoke Out Kit is a miniature arsenal of makeup chosen for its ability to deliver the perennially sexy smoky eye. Four tiers fan out to reveal an instruction booklet and mirror, four eye shadows, black eyeliner and brush, and a tiny tube of black mascara. $34; macys.com
10| Rock Band It doesn't get any more romantic than Jennifer Behr's crystal head wrap. Rows of chunky Swarovski crystals curve across a soft, frayed ribbon of sheer ivory chiffon for a dreamy yet daring look. $725; jenniferbehr.com
11| Dream Cream Finally, a vanilla-scented body product that doesn't knock you out with sugar. L'Occitane Shea Vanilla Body Cream uses Madagascar vanilla and African shea butter for a rich moisturizer that is subtly sweet without being cloying. $36; usa.loccitane.com
12| La Lip There has always been something inherently elegant about a tube of lipstick, but one by Guerlain—with a metallic case designed by Parisian jeweler Lorenz Bäumer—is the most divine of all. And this season it gets festive with a discreet black gem and two new limited-edition shades. $45; at Neiman Marcus.