Present Day
With the holiday season upon us, W picks the beauty gifts that are sure to dazzle.
---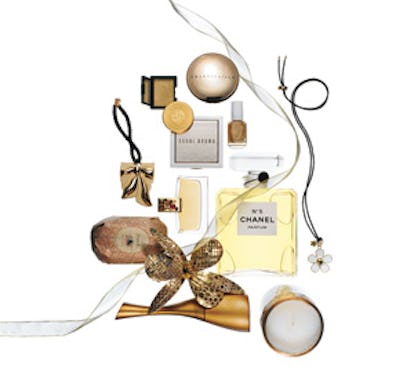 Hidden Text
PART ONE PART TWO
Full of Compassion Chantecaille Bengal Bronzer kisses complexions with a tasteful hint of shimmer. The imposing image of a royal Bengal tiger inside adds an intimation of the exotic and is intended to raise awareness of the endangered species. $85; at Bergdorf Goodman.
Seeking Shade The pretty metallic hue of NARS Eyeshadow in Silent Night is flecked with gold for an eye- catching effect and provides the perfect means of dressing up lids for the holidays. $22; narscosmetics.com
Token of Affection The solid fragrance inside Bond No. 9's refillable Perfume "Token" comes in six of the New York–centric house's most popular parfums, including white peony–scented Chelsea Flowers and cucumber and lavender–laced Wall Street. The adorable compact is modeled after a Big Apple relic: the original subway token. $85; bondno9.com
Brick by Brick Sun worshippers lamenting the passing of summer will appreciate Copper Diamond, the latest limited-edition shade in Bobbi Brown's best-selling Shimmer Brick series. The range of golden hues lends a soft glow to eyelids and can be dusted on cheeks for a sparkly take on traditional bronzer. $40; bobbibrown.com
Gold Fingers Essie nail polish in Shifting Power is a bright and sunny alternative to heavy metallic lacquers, yet it still leaves nails looking alluringly gilded. $8; essie.com
Take a Bow Fashioned after one of Monsieur Yves Saint Laurent's favorite adornments, YSL's new bow-shaped Duo Lip Colour Palette is a sweet tribute to the late designer. The ornamental compact makes for a darling accessory when clipped onto a purse, and the sheer red and icy pink glosses inside are equally feminine. $65; yslbeautyus.com
Amber Alert The namesake notes in Estée Lauder Private Collection's new scent, Amber Ylang Ylang, are both warm and spicy. The addition of rich incense and comforting vanilla boosts their cozy appeal, while tigereye, smoky quartz and red agate stones doll up the very precious flacon. $300; esteelauder.com
Supersized For years we've had to content ourselves with 30-milliliter bottles of Chanel's iconic No. 5. But fear not, for a 450-milliliter canister (previously available only in Paris) of the classic scent is making its way to our shores. That's slightly bigger than a bottle of beer and, by our estimation, far classier. $2,350; at Saks Fifth Avenue, New York.
Flower Power Daisy Marc Jacobs Solid Perfume Charm Necklace contains the same youthful blend of violet, gardenia, strawberry and vanilla as the designer's original fragrance. The daisy-shaped medallion is a playful plus. $35; at Sephora.
Winter Wrapping For its Oval Soap Trio Collection, skincare and fragrance company Fresh brewed three new aromas: earthy Frankincense, warm Gold and fruity Myrrh (shown here). Resist the temptation to keep the charming packaging intact: The soaps inside soften hands with moisturizing shea butter. $45 for the set; neimanmarcus.com
Pin Up Jennifer Behr's Python Orchid Hairpin is not meant for wall- flowers. The outsize petals are made from python skin painted a reflective bronze shade, and the striking floral shape lends a tropical flair to hair. $242; jenniferbehr.com
Spice Market KenzoAmour Le Parfum is a richer, more wintery take on Kenzo's soft vanilla and frangipani–scented KenzoAmour fragrance. To tweak the tender original, the French house kicked up the scent of incense and added a note of woody Indonesian patchouli. $65; at Sephora.
Home Cooking The comforting smell of vanilla and amber spiced with gourmet notes of cinnamon and Indonesian clove give the Altru Humanity Aromatic Soy Blend Candle a sweet and tangy scent. The funky copper crown, which was inspired by designs on Moroccan tea glasses, can be slid onto the top or bottom of the recycled glass canister. $55; at Neiman Marcus.