Gigi Hadid: The World's Most Connected Supermodel
Get to know the girl at the center of everything.
---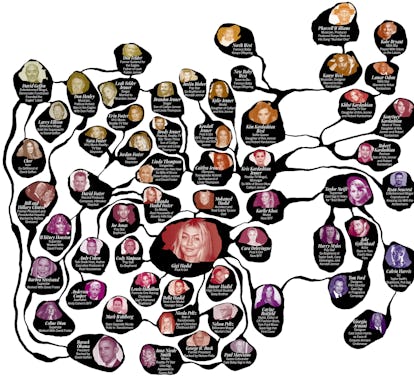 On a scorching day in early summer, Gigi Hadid was sitting in a back booth at Gemma, a restaurant near her apartment in downtown Manhattan. She was wearing white jeans and a white long-sleeve T-shirt; her blonde hair was pulled back into a ponytail, and her face was freshly scrubbed, without a trace of makeup. Even dressed way down, Hadid looked exotic. She embodies all-American athleticism, but her lush features are a striking combination of her Middle Eastern and Dutch ancestry. Hadid is a rarity: a model who appeals to the fashion elite but attracts equal attention in the world of mainstream brands. Unlike anonymous models of the recent past, Hadid, 20, is a personality and not just a photogenic mannequin. With their potent combination of family lineage, social-media influence, and sex appeal, Hadid and her fellow new-generation models—Cara Delevingne and Kendall Jenner—should be called the Post It Girls: They are instant celebrities who built their fame online.
"I have always been aware of the business side of this industry," Hadid said. "I've always seen it as a career that required work and planning." She was raised in a wealthy Santa Barbara enclave, but her manner is always intentionally polite, to counter the assumption that, as she put it, "I'm a stuck-up bitch because of how I grew up." She continued: "My mom was a model. She met my dad when he was building the Ritz-Carlton in Colorado and she was modeling there. Although we were very blessed, my parents never wanted us to believe we didn't have to work. They didn't want us to think that our situation would get us through life."
But Hadid's pedigree—architect and real estate tycoon father, Mohamed Hadid; model mother, Yolanda Hadid Foster, who is on The Real Housewives of Beverly Hills; mega-successful songwriter and record-producer stepfather, David Foster—definitely smoothed her path. Through her stepfather, who was once married to Caitlyn Jenner's ex-wife Linda Thompson, Hadid is related to the Jenner-Kardashian clan—making Kendall a sort of sister. Foster produced hit records for international stars like Barbra Streisand and Whitney Houston, so Hadid has always been surrounded by the rich, famous, and powerful. She landed her first modeling job, for Baby Guess, when she was 2. "Paul Marciano [the cofounder of Guess] was a family friend, and he saw me and wanted to shoot me when I was just a baby," Hadid recalled. "I did that until I was around 8 or 9, and then my mom took me out of modeling. She wanted me to pursue other things." Around that time, her parents divorced and Hadid started competing in horse shows and joined the volleyball team. "Those were the two things I focused on. My mom always told me I should develop in other areas. She didn't want modeling to feel like life and death to me."
In her junior year of high school, Hadid was signed by IMG Models. "My mentality has always been, If I'm not the best at something, then I might as well be the best at something else. I realized that I wasn't going to be an Olympic volleyball player, but I knew I could model at that level." After high school, she moved to New York, and within months Carine Roitfeld, the influential stylist and editor, had introduced Hadid to the designer Tom Ford, who cast her as the face (and body) of Velvet Orchid, his new fragrance. A star was born.
"Yes, I was nude, but nude works with fragrance!" Hadid said, referring to the racy ad in which she is shown lounging on swaths of iridescent fabric. "I've never been scared of being naked in pictures, but I wouldn't do naked for naked's sake. With Tom, it was an easy decision: When you think of scent, you don't think of clothes." She paused. "In the beginning, I thought Tom would not want to know my name. But he made a space for me in the high-fashion world. When Tom liked me, other jobs followed." In the past two years, Hadid has moved seamlessly between mass and class: Maybelline and haute couture, Paris runways and Guess.
Again, this is a conscious plan, surprisingly thought-out for someone so young. "My Pirelli calendar is hanging on the wall of my friend's frat house, and he doesn't know anything about fashion," Hadid explained. "That balance is what leads to big campaigns outside of fashion. But I never want to choose one or the other. Both commercial and high fashion are what make my job so interesting." She is equally shrewd about her social media popularity, which is growing by the day. "I have more than 4 million followers on Instagram," Hadid said matter-of-factly. "All the companies I work for want me to guarantee how much I'll post for them, but I'm not going to force my career onto the people who follow me. I refuse to do 40 Instagram posts about any campaign."
Hadid's fans are much more interested in her personal life—her friendships with superstars like Taylor Swift; her ex-boyfriend, the Australian pop star Cody Simpson; and her (alleged) romance with the Formula One racing star Lewis Hamilton. "Supposedly, Kendall and I are fighting over Lewis," said Hadid, who is currently dating former teen idol Joe Jonas. "I have to read the news to find out what's happening in my life."
Maybe it's her lifelong proximity to the fabulous, but Hadid is remarkably unfazed by the razzle-dazzle of the jetset world. She travels constantly—having returned from a job in Brazil that morning, she was flying to Los Angeles in a few hours to spend a day with her mother, who had just had surgery. "Let me look at my schedule," Hadid said, taking out a small folded piece of paper. Written in tiny script was her work calendar from May 14 through July 31. "This is how I keep track of my life," she said, laughing. Among her upcoming events were ad shoots, an awards show, more shoots, an appearance in a Calvin Harris music video, and a magazine cover. "I have two days off in three weeks. I'm not sure what I'll do with myself! My problem with free time is that I only do things that I'm good at. I can't golf, so I won't make you golf with me. But if you want to bake, let's bake. When I was 15, my mom put me on dessert duty for Christmas, and I didn't just make one cake. I made many cakes, cupcakes with Santa Claus faces, a reindeer sleigh made out of candy, dozens of cookies, and I would have kept going, but she told me to stop." Hadid smiled. "Other models get overwhelmed by the parties and nightlife. With me, it will be baking. And that's okay. It keeps things from going to your head."
Gigi Hadid: The Post It Girl
W Magazine's September2015 cover. Gigi Hadid wears a Dolce & Gabbana coat.

Photography by Steven Meisel. Styled by Edward Enninful.
Gigi Hadid is the world's most connected supermodel.
Prada dress; Falke thigh-highs.

Photography by Steven Meisel. Styled by Edward Enninful.
Cadolle corset; Van Cleef & Arpels butterfly ring; 
Brian Atwood sandals.

Photography by Steven Meisel. Styled by Edward Enninful.
Cadolle corset; Van Cleef & Arpels butterfly ring; Brian Atwood sandals.

Photography by Steven Meisel. Styled by Edward Enninful.
Dsquared2 jumpsuit; Kimberly McDonald earrings; bracelet from Camilla Dietz Bergeron, New York; Jacob & Co. ring. Beauty note: Give skin a lit-from-within glow with Lancôme Bienfait Multi Vital Daily Replenishing Oil.

Photography by Steven Meisel. Styled by Edward Enninful.
Fendi pullover; Van Cleef & Arpels 
ring; Falke socks.

Photography by Steven Meisel. Styled by Edward Enninful.
Tabula 
Rasa sweater; Angela Friedman knickers; Jacob & Co. ring.Beauty note: Get gleaming tresses with L'Oréal Paris Nutri-Gloss High Shine Glossing Mist.

Photography by Steven Meisel. Styled by Edward Enninful.
Burberry trenchcoat; Jacob & Co. ring; Charvet scarf. Beauty note: Maybelline SuperStay Better Skin Foundation delivers a close-up-ready complexion.

Photography by Steven Meisel. Styled by Edward Enninful.
La Perla bra and briefs; bracelet from Stephen Russell, New York. Beauty note: 
Go bare bravely with Viktor & Rolf Bonbon Bath & Body Oil.

Photography by Steven Meisel. Styled by Edward Enninful.
Gucci shirt; Worth & Worth by Orlando Palacios hat; Dior Fine Jewelry ring. Beauty note: A pout perks up with Maybelline Color Sensational Rebel Bloom Lipstick in Peach Poppy.

Photography by Steven Meisel. Styled by Edward Enninful.
Miu Miu coat; LaCrasia Gloves gloves; Alberta Ferretti boots.

Photography by Steven Meisel. Styled by Edward Enninful.
Valentino blouse; La Perla bra and briefs; Leticia Linton ring.

Photography by Steven Meisel. Styled by Edward Enninful. Hair by Guido for Redken; hair color by Victoria Hunter for Whittemore House Salon; makeup by Pat McGrath for Covergirl; manicure by Jin Soon 
Choi for JINsoon at Jed Root. Model: Gigi Hadid 
at IMG Models. Set design by Stefan Beckman at Exposure NY.