The New Wave of Global Pop Superstars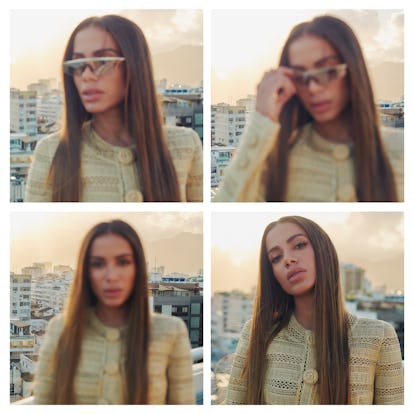 Photographed in March 2020 in Rio de Janeiro by Hick Duarte. Styled by Clara Lima at Capa Image. Hair and makeup by Henrique Martins using Clé de Peau Beauté at Capa MGT. Anitta wears a Dolce & Gabbana blazer; stylist's own sunglasses. Special thanks to the Hotel Fairmont Rio de Janeiro Copacabana. Art director: Marcelo Alcaide; fashion assistants: Salvadora do Nascimento; hair and makeup assistant: Lucas Luz. All talent casting by Special Projects.
Until early August, when "WAP," Cardi B and Megan Thee Stallion's deliciously explicit ode to female sexuality, broke both the Internet and the minds of pearl-clutching Republican congressional candidates, contemplating what would be this year's song of the summer felt a little frivolous. In the midst of a pandemic, continued protests over racism and police violence, and a looming presidential election, not many of us had the bandwidth to think about the latest hit. But that doesn't mean that 2020 hasn't been a banner year for pop—especially considering the ways in which the genre continues to infiltrate all aspects of culture, and even politics.
Before Covid-19 upended daily life, BTS, the seven-member K-pop boy band formed in Seoul, was already one of the most influential acts on the planet; our current rocky social moment has, perhaps unexpectedly, allowed BTS to flex new muscles. The band's lyrics and interview clips have long been translated into just about every language. But over the past several months, an international alliance of K-pop super fans known as the "BTS ARMY" has put its far-ranging influence to use by wading into politics. BTS devotees made headlines earlier this summer when they drowned out a #WhiteLivesMatter hashtag by flooding social media with GIFs and memes of their music idols accompanied by anti-racist messages. In June, fans sought to embarrass Donald Trump by reserving seats at the president's rally in Tulsa, Oklahoma—which they actually had no intention of attending—and claiming responsibility for the half-empty arena. And BTS openly approves of their fans' campaign tactics. "We stand against racial discrimination. We condemn violence. You, I and we all have the right to be respected. We will stand together. #BlackLivesMatter," the group tweeted.
TikTok, YouTube, and music streaming services like Spotify have seen explosive growth as a result of billions of users turning to their phones during lockdown. Globally, reggaeton has emerged as the dominant sound of quarantine. The Colombian singer-rapper J Balvin, who has synthesized Jamaican dancehall rhythms with a Weeknd-esque dramatic flair to become a poster boy of pop's new guard, has now amassed over 43 million Instagram followers and 15 billion plays on YouTube. Then there is Ozuna, a Puerto Rican singer widely regarded as the new king of reggaeton. With seven music videos that have attracted a billion views or more, he was crowned by YouTube as one of the platform's most-viewed artists. "It feels amazing to know that my music is heard all over the world. It's something I never imagined," Ozuna told me. "You don't have to understand the language to enjoy and dance to reggaeton. Even if you think you can't dance, it just makes you move. The fusion of Latin rhythms with reggae, dancehall, and others is just appealing to everybody."
These artists are not just expanding their fan bases; they are actively crafting images that challenge social norms. The handsome 26-year-old Colombian singer Maluma has gamely played the role of shirtless boy-toy muse for the likes of Shakira, Madonna, and Calvin Klein with self-aware aplomb. (He is set to appear opposite Jennifer Lopez in Universal Pictures' upcoming romantic comedy Marry Me, in which he plays—wait for it—a narcissistic rock star obsessed with social media.) Bad Bunny, the eccentric, progressive Puerto Rican singer and rapper, seems to become more famous the more he shrugs off heteronormative tropes. In the music video for his recent single "Yo Perreo Sola," he wears a red vinyl miniskirt and matching thigh-high boots. Last February, on The Tonight Show Starring Jimmy Fallon, Bad Bunny wore a shirt that read "they killed alexa, not a man in a skirt" in Spanish. The fashion statement called attention to the story of Alexa Negrón Luciano, a transgender woman who was murdered in Puerto Rico after being questioned by the police for using the women's restroom at a McDonald's.
That one of the most commercial male rappers in the world dresses in drag and calls attention to violence against transgender women, while at the same time being one of TikTok's most-danced-to artists, would have been unthinkable just a few years ago, at least by the old rules of the record-industry playbook. But the fact that our consumer preferences are increasingly tracked and commodified in real time by the all-seeing YouTube, Spotify, and TikTok motherboards has resulted in a scrambling of what David Byrne once labeled "the Anglo-Western pop universe." Music subcultures—Korean pop, Latin trap, Afrobeat, emo rap—are no longer just industry oddities that occasionally break through into American earbuds. They are powerful forces in the 92 global markets created by 299 million users on Spotify. "Streaming platforms take a very international view of the world," said Madeleine Bennett, the head of international music for Spotify. "And it's now really easy to identify what we all have in common. Artists can be themselves and be authentic to where they come from. That's appealing to a listener."
Bradley Stern, the founder of MuuMuse, a music review and news site with a cult following among pop purists, has been tracking the shifting coordinates of the digital music charts. "It feels like every week there's a different victory: a K-pop act debuting at No. 1; a Spanish-speaking reggaeton star shattering a record; a Brazilian drag queen notching a Portuguese-language club hit," he said. A recent MuuMuse feature spotlighted the Japanese-British singer Rina Sawayama, the Canadian dance-artist Kiesza, and the Swedish disco queen Tove Lo alongside the latest singles by the Australian disco queen Kylie Minogue and Dua Lipa, the British dance-pop singer born to Kosovar parents, who is now the third most-listened-to artist in the world on Spotify. "For years, the only way to access international pop was through illegal downloads or pricey imports via third-party services—basically, a level of effort reserved for music nerds only," Stern said. "Streaming knocked down global barriers and leveled the playing field."
That accessibility, Stern believes, is helping make the charts more inspiring, reflecting an interest that was always there but had never been fully represented. This explains how Tiwa Savage, arguably Nigeria's biggest pop export, can have a stand-alone track, "Keys to the Kingdom," on Beyoncé's Lion King album. Higher Brothers, a Chinese hip-hop group from Chengdu, has an army of SoundCloud loyalists. Mahraganat, a controversial style of electronic folk music that originated in some of Egypt's poorer districts, now amasses millions of views on YouTube despite a ban by the Egyptian government. Bollywood soundtracks, from films like Gully Boy, have popularized India's underground hip-hop scene.
But as genres like reggaeton and Afrobeat become part of the global mainstream (see the recent crossover success of Afro-fusion singer Teni the Entertainer), authenticity is potentially at risk of getting lost in translation—literally. Translation, a new English-Spanish album by Black Eyed Peas featuring the likes of Ozuna, Piso 21, Nicky Jam, and others, openly capitalizes on the Latin-dance sound. "Feel the Beat," a Lisa Lisa & Cult Jam–sampling bilingual collaboration with Maluma, debuted in June with a music video that telegraphs support for Black Lives Matter. The clip has since been viewed over 79 million times. "[Now] these guys are like, 'F— English, bro.' It's a new world," Will.i.am told Variety of his latest artistic reinvention.
In this musical New World, there is often a pastiche of styles and intertwined references. This means that even the most throwaway of bops can often lead you on a wild-goose chase to unpack the layers. Take "Further Up (Na, Na, Na, Na, Na)," the spastic single by Liraz "Static" Russo and Ben El Tavori, two Israeli singers who make up the pop act Static and Ben El. The breezy banger has a lot going on, to put it mildly. The hook is an interpolation of the "Na, na, na, na, na" chorus from "Land of 1000 Dances," made iconic thanks to Wilson's Pickett's 1966 cover, by way of the 1994 reggae party jam "Here Comes the Hotstepper," by Ini Kamoze—a single that was featured in the soundtrack of Robert Altman's fashion-satire film Prêt-à-Porter. The lyrics, sung in Spanish and English, mention Rihanna and Versace; a club-pop bounce erupts with Afrobeat flourishes, Middle Eastern rhythmic structures, and even a plucky Cuban tres riff. Oh, and "Mr. Worldwide" himself, Pitbull, spits a guest verse.
In February, during a tour of the 102nd-floor observatory of One World Trade Center, Static struggled to label Static and Ben El's sound. He called it "hip-hop reggae, but more reggaeton." El Tavori was less tentative. "It's a hybrid of everything, man," he said. "We don't stick to one genre." The difficulty of disentangling their appeal is the point: Now that virtually every cultural movement from everywhere in the world is available to anyone at anytime, the word genre feels antiquated. Today, the streaming charts are a cross-pollination of cultures, styles, languages, and playlists. And as a global pandemic forces physical distancing between people, this kind of hybridized mixing and melding of cultures in music has never felt more relevant.
More than anything, pop representation in 2020 seems to have officially moved beyond the basic Britney-Bieber binary. With the release of his fifth studio album, Twice as Tall, earlier this month, the Nigerian singer-rapper Burna Boy cemented his status not just as the reigning prince of Pan-African pop, but as one of today's most influential cultural gatekeepers. "Where I'm from, streaming was slow to come, but it's opened a lot of doors for new artists by giving them access they wouldn't otherwise have to different audiences," he said. "The lines and barriers are melting slowly." The Colombian-American singer Kali Uchis makes soul songs with lyrics about having "got myself a visa" that are influenced equally by doo-wop a capella and the 1980s British R&B band Loose Ends. Brazil's biggest pop export is funk carioca queen Anitta. Her recent effort, "Tócame," features the Puerto Rican reggaeton duo Arcángel & De La Ghetto. Anitta said she hopes the track can serve as a universal quarantine rump-shaker for the current "at home" moment. The single's music video showcases footage of Anitta, Arcángel, and De La Ghetto dancing at their respective homes, projected onto buildings and intercut with clips of strangers joyfully grooving along to the song, alone in their apartments.
With red carpet and television appearances largely on pause, artists are forced to respond even more nimbly to the rapid feedback of social media, both sonically and socially, in order to stay relevant. Anitta has also been vocal in her critiques of Brazil's far-right president, Jair Bolsonaro, after fans all over the world urged her to denounce his racist and homophobic views. "I believe music is a way to connect people not only with their feelings, but also with each other. It's almost like making people more human," she said. "Of course, my essence will always be influenced by Brazilian funk, which is where I came from, but this type of music also has a hot electricity that touches everyone regardless of their nationality. Today you see Latin music and K-pop at the top of the charts, and that just shows how there isn't a frontier when we talk about music. Music in general is meant to be global."
The connection between the globalization of pop and today's streaming culture largely extends back to two earworms: "Gangnam Style," the 2012 K-pop single by the South Korean musician Psy, and the 2017 remix of Luis Fonsi and Daddy Yankee's "Despacito" featuring Justin Bieber. By the end of 2012, "Gangnam Style," a critique of the ritzy lifestyle associated with the Gangnam District of Seoul couched in viral dance moves, topped the charts in more than 30 countries. The music video's choreography was attempted by political leaders such as British Prime Minister David Cameron and United Nations Secretary-General Ban Ki-moon, who hailed the track as a force for world peace. (YouTube hadn't even realized its content could be watched over a billion times until Psy broke the platform's counter.) Five years later, "Despacito" brought together two Puerto Rican veterans from different genres with an English-speaking teen idol. In the United States, it became the first song primarily in Spanish to top the Billboard Hot 100 since "Macarena (Bayside Boys Remix)" in 1996, and tied with Mariah Carey for the longest-reigning No. 1 on the Billboard Hot 100 at the time, with 16 weeks.
"Despacito" and "Gangnam Style" unleashed "the borderless power of streaming," Bennett said. That blueprint was the basis for the current "glocalization" of pop. The addictiveness of K-pop, for example, comes from cribbing Western pop structures and then "localizing" them with higher beats per minute, as is the norm in Korea. Blackpink, a hypnotizing girl group who appears on Lady Gaga's Chromatica album, shuffles through Korean lyrics, English choruses, Destiny's Child–esque matching getups, and elaborate dance routines at the breakneck speed of today's breaking-news moment. Musicians across the globe are still largely inspired by the hip-hop playbook, which is perhaps the United States' last remaining important cultural export. (Although it should be pointed out that Drake, the most popular rapper alive today, is Canadian.) But now artists tend to steer clear of sounding too American—a strategic move at a time when American prestige is on the wane.
Sweaty nights out clubbing in Ibiza and all-day music festivals might not be returning anytime soon, but the global coronavirus pandemic hasn't seemed to slow down the global dance party too much, at least online. Amapiano, a patchwork style of house music from South Africa consisting of distorted piano keys, jazz melodies, Kwaito bass lines, and ambient, Afrobeat-rooted funk grooves, has seen exponential increases in streaming in Johannesburg, but also in places like London and New York. (Nigerian superstar Burna Boy appears on a single by two of Amapiano's biggest names: Kabza De Small and DJ Maphorisa.) "This was contrary to what we were expecting," said Phiona Okuma, who works in artist and label partnerships for Spotify's African division. "We were anticipating the Amapiano trend would decline because that type of music lends itself to public places and other types of shared experiences."
Some artists are proving that you don't even need actual flesh and blood to connect with audiences. In early August, the digital Japanese idol Hatsune Miku, an anthropomorphic hologram of a 16-year-old girl with long turquoise twin-tails powered by something called Vocaloid Voicebank, hosted her very own virtual reality music festival called Miku Land Gate β. Admission was free for fans all over the world via VirtualCast, a live virtual-reality communication service popular in multiplayer gaming communities. As omnipresence and adaptability are part of Miku's DNA, she is, perhaps, one of the better-equipped acts to navigate the fluctuating perimeters of pop during today's turbulent, uncertain waters. For now, at least, one message seems unanimous: The world is a playlist for everyone to share.