Green Girl Leah on Why Environmentalists Must Speak Up for Black Lives Matter
"I didn't hear much from people that I had gone to marches with to advocate for salmon and other endangered species."
---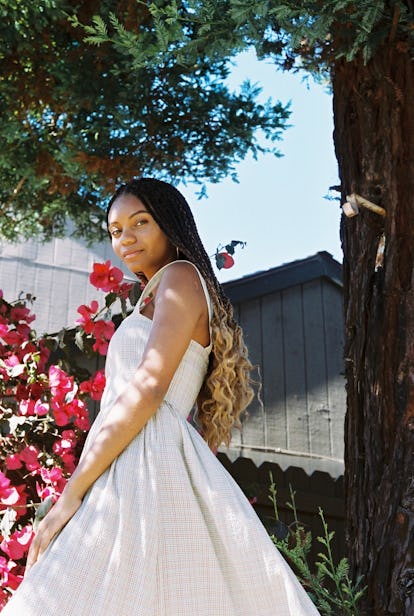 Photograph by Cher Martinez
Welcome to The People, our series highlighting those who have emerged as central figures in the anti-racism and Black Lives Matter movements. What began as protests against police brutality following the death of George Floyd, a Black man killed by a white former Minneapolis police officer, has become a global racial reckoning. No industry or corner of culture has been untouched by this essential push for change—and there's still so much more to do. In this series, we'll speak with those who are at the forefront of this shift, redefining what it means to be an activist, and the folks transforming their platforms to disseminate information and resources about the way forward.
The environmentalist Leah Thomas went viral for the first time in 2016, when she published an article on her LinkedIn profile titled "Casual Racism and Political Discussion in St. Louis Private School." At that time, Thomas was 21 years old, and living in Orange County, California where she was studying environmental science and policy at Chapman University. But this letter to the general public addressed her experiences growing up in the midsize town of Florissant, Missouri—a place Thomas recalls as "definitely a product of white flight." The neighborhood was split 50/50 between Black and white folks in the late 1990s, when Thomas was a kid, but quickly, the white people trickled out. Thomas' parents sent her to a private school about 30 minutes away, in a primarily white and wealthy neighborhood.
"I had to leave my community in order to have access to the right education, nature, green spaces, clean air," Thomas said during a recent video interview from her current home in Santa Barbara, California. "And I think that instilled something in me early on."
The letter, which was seen by hundreds of thousands, relayed instances of discrimination against Thomas and her Black classmates—micro- and not-so-microaggressions chronicled from 4th grade until she graduated high school.
"During Ferguson, I had to remove a lot of peers from Facebook who called black people 'animals' and when I questioned them about it, replied, 'Well, not you, Leah,'" Thomas wrote in her post, referencing the shooting of Michael Brown in 2014, which occurred in Ferguson, Missouri—located just three miles away from Florissant. "Some of my classmates [saw] Black people as less than human. However, I was okay because I was amongst them and they felt okay saying degrading things through whispers throughout my private school experience."
Today, Thomas—better known by her social media handle Green Girl Leah—is working as an environmentalist, having just launched the new platform Intersectional Environmentalism, which offers resources, information, and action steps to topple systems of oppression in the fight for environmental justice.
IE, as Thomas calls it, was born after the 25-year-old experienced another bout of virality. This time, it was on May 28th, immediately following the death of George Floyd and at the crest of the current Black Lives Matter movement.
Thomas had been furloughed from her position at Patagonia, where she worked in the marketing department. In these and other "top-tier environmental spaces," Thomas noted that her and other people of color's requests for both public-facing and internal acknowledgement that "our lives mattered at this organization and in the environmental movement," never happened.
"I was in those spaces where I was told to my face that they would never have a diversity and inclusion coordinator—which is ironic, because after I was furloughed, they actually asked me to come back at a significant raise to be a diversity person, even though they had told me they would never offer that position," Thomas said.
So when she noticed the environmental community was silent on social media, barely acknowledging the protests if they did at all, she was irked. Not just because of an absence of validation, a lack of being seen, but also due to the fact that racism plays an integral part of environmental justice. Look at Hurricane Katrina, the water issues in Flint, Michigan and Newark, New Jersey, she thought—climate change and natural catastrophes affected Black people and people of color disproportionately. That data was nothing new.
"I am not buying that environmentalists didn't know," Thomas said. "It's that they didn't care, frankly, or their privilege allowed them to say, 'This isn't affecting me. Therefore I'm going to look away.' I didn't hear much from people that I had gone to marches with to advocate for salmon and other endangered species. There just didn't seem to be a connection when it came to endangered Black and brown lives."
She made a graphic that read "Environmentalists for Black Lives Matter" with a caption linking to various accounts that raised awareness on intersectional environmentalism—a term Thomas sourced from the lawyer and civil rights activist Kimberlé Crenshaw, who applied the idea of intersectionality to feminism.
"Social justice cannot wait," the caption stated. "It is not an optional 'add-on' to environmentalism." Thomas posted it on her Instagram.
Hours later, she checked her phone—and saw that Greenpeace, the Sierra Club, and other organizations she'd looked up to for years had shared her image. Her follower count spiked, and she scrolled through thousands of comments. On the back of this momentum, she and a couple friends who are also eco-activists got together to create IE in record time. They built the website in one week, and created an Instagram account that amassed a following of 70,000 in three weeks.
Under the IE umbrella, Thomas and her co-creators have put together what's called the "Intersectional Environmentalist Council," currently consisting of about 21 people from various ethnic backgrounds and walks of life. Members of the council spearhead pages on the website that offer information on artists of color to support, places to donate, and what Thomas calls "a curriculum" of what to read, watch, and how to learn more about intersectionality and how it plays a vital role in environmentalism.
"We know it's going to take all of us and not just a select few," she added.
When Thomas first went viral in 2016, she admitted the response to her letter was overwhelming, and, at times, scary. But it acted as something of a primer for this round of virality—which ultimately resulted in the creation of IE, a platform that Thomas hopes will eventually become a "media house," offering short-form videos and commissioned articles. In the meantime, she's working on a book that will feature some of the voices of council members, too.
"The letter helped me navigate things, and be able to have proper boundaries," Thomas said. "I got that feeling of like, 'Oh god, people might know who I am. They might know how I feel. This is very intimate.' But if it moves the needle, if I can utilize this to make space for other people, then that's what I'll do."
Related: Sophia Roe on Wellness and Racism's Inextricable Ties