In "Watermelon Sugar," Harry Styles Does What Timothée Chalamet Did for Peaches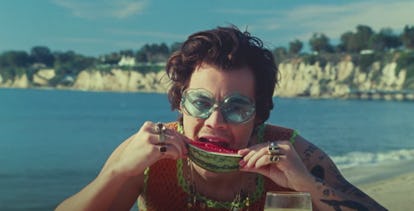 You've never been able to look at a peach in the same way after Call Me By Your Name, and it'll probably take you a while to view watermelons normally again after watching Harry Style's new "Watermelon Sugar" video.
Shot before lockdown, the clip for the fourth single from Fine Line has been retroactively "dedicated to touching." It generally keeps with the hot and humid vibe of previous videos from the album, but really ratchets up the erotic subtext.
Styles first dines alone on the beach with a plate of expertly cut watermelon slices. Though, it soon becomes clear the production was made before social distancing mandates. The singer takes a bit out of the fruit, and suddenly he's surrounded by a group of bikini babes in the tropical heat. It's a watermelon-eating free-for-all after that.
Style-wise, Styles dons a crochet top and a yellow Hawaiian print shirt, but also opts for two instances of wearing sweaters at the beach. The man loves his knitwear, it seems, almost as much as he loves watermelons.
Related: We Need to Talk About Harry Styles's Pearl Necklace