THIS IS NOT A FASHION PHOTO
The Years Shall Run Like Rabbits
Looking for style in some very unexpected places.
---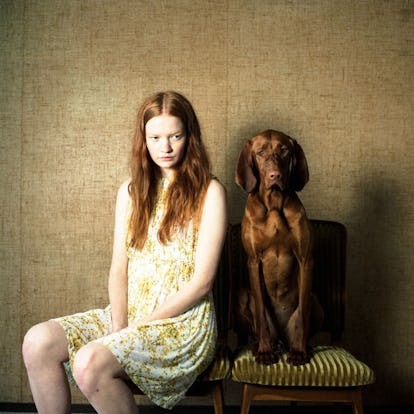 Hellen van Meene's portraits of girls and young women—a series of small-scale color images the Dutch photographer has been working on for nearly twenty years now—often seem to capture a private moment of dressing up. But her subjects aren't just trying on a new outfit; like so many adolescents, they're also toying with a new persona, and striking attitudes that might last no longer than the buttery morning light. Nearly all of the pictures in "The Years Shall Run Like Rabbits," van Meene's show currently on view at Yancey Richardson Gallery in New York, were made in a friend's parent's house that had been emptied for sale—a handsome but neutral setting that allowed her to embrace and subvert the conventions of formal studio portraiture. The girls, aged from five to twenty-two and all from the North Holland town van Meene calls home, pose in pretty, vaguely-vintage dresses and negligees (and one bathing suit) that the photographer borrowed or took from her own closet. Their only accessories are a dog or two—some brought back from an earlier series of canine portraits—sitting as patient and alert as prom dates. Van Meene has done occasional fashion work (including two pictures here of designer garments photographed as sculptural still lifes for Tank), but clothing plays a key role in her portraiture. When identity is flowering and in flux, a dress can become a declaration, a disguise, or a dream come true.
"The Years Shall Run Like Rabbits" is on view at Yancey Richardson, 525 West 22nd Street, NYC, through December 21.
© Hellen van Meene, Courtesy of Artist and Yancey Richardson, New York.