Helmut Lang and Anthony Vaccarello in Conversation on Their New Art Collaboration
The two designers—Vaccarello at Saint Laurent and Lang, now a full-time artist living on Long Island—discuss their collaboration.
---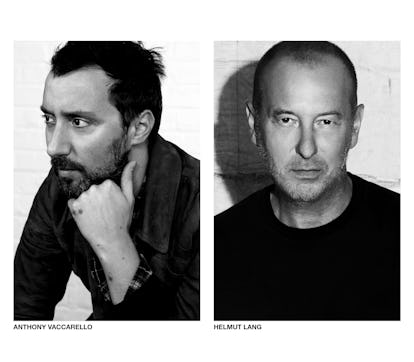 "Everything is uncertain and it must change its shape," declared Anthony Vaccarello, creative director of Saint Laurent, on a recent Tuesday afternoon. Truer words were never spoken, especially in an industry with an extraordinary carbon footprint—the call for a transformative approach has never been louder.
It is with this urgency in mind that Vaccarello devised his latest project, a collection of looming, timber-like objects created in collaboration with designer-turned-sculptor Helmut Lang. The sculptures are now on display in Saint Laurent's Rive Droite, a concept space in Paris that showcases the house's latest designs alongside art installations and performance work (last fall, Vaccarello opened a Los Angeles outpost—the collection will alight later this year). For the Belgian-born creative director, Lang's designs emphasized purposeful minimalism over the frenzied reinvention popularized by an ever-accelerating fashion calendar. Vaccarello has echoed this ethos of deliberateness at Saint Laurent, departing from this year's show schedule to present collections on a more organic rhythm.
For Lang, who left the fashion world in 2005 to devote his creative faculties entirely to art, transformation is crucial. Using found materials, Lang has spent the past fifteen years crafting eerie monuments to an industry that has spun out of control: human-like forms, constructed from coated paper and lacquered memory foam, hang from industrial hooks and slope down gallery walls.
When the pair joined creative forces, Vaccarello gathered the garment prototypes, discarded fabrics, and jewels—detritus from his New York studio—that would serve as the raw material for Lang's pieces. The result, a collection of towering, one-of-a-kind sculptures that lean like spindly, charred timber against the concrete walls of the Rive Droite, turns viewers into archeologists: YSL logos and open clasps glow under layers of shiny black resin. Through a process of shredding, soaking and molding, Saint Laurent's leftovers take on a new life—one that shows, undeniably, the true substance of the materials in play.
How did your relationship with one another develop?
Anthony Vaccarello: Two years ago, I went to visit Helmut on Long Island where he lives and works. His art seduced me…it has that primal, slightly-off spirit. I prefer beauty when it's disturbing, not too soft.
Helmut Lang: I consider Anthony to be one of the few essential voices in fashion today. He was also the first from a fashion house to ask me for a collaboration focusing on my artwork. As I collaborated with artists in different ways throughout my time in fashion, it was intriguing to be in the reversed position.
How did the concept of this project evolve?
Helmut Lang: The conversation and creative exchange began two years ago. We started playing around with the idea of working together without any pressure of timing nor a concrete idea. It developed organically into the final outcome. We discussed different options while we where circling around our different artistic practices and somehow in that process Anthony proposed that I create sculptures for him that have a reference to earlier sculptures I've produced over the past 10 years, but with Anthony's discarded materials from his past Saint Laurent collections as raw material, so they are unique with the his imprint of his work.
Anthony Vaccarello: I have no attachment to material things—objects from the past are not untouchable to me, and it's the same for Helmut. He was the first in the industry to stand up against artificial, purely promotional messages in the 1990s. His vision and art direction brought everyone back to the real and meaningful essence of fashion. We decided to channel that vision and sense of twisted beauty in this project. It's a fascinating transformation.
How does the project speak to recent changes in the fashion industry?
Helmut Lang: There was a mutual respect for each other's work. That's enough to make progress. I think we have a feeling for each other's approach as we possibly both have interest in a dark and a bright side. We are familiar with a range of emotions, just expressed in a different media. With trust, we did not have to discuss any minute details, and we were unafraid to follow the desire for experimentation. The main subject became transformation and reinvention with a seductive darkness, but also the hope of survival and reuse. In a way, it is also a subject we are dealing with today on many different levels.
Anthony Vaccarello: The fashion industry knew for a long time that things had to change. Everything is uncertain and it must change its shape.
Related: A Very Rare Helmut Lang Interview About Fashion, From the Front Row to Birkin Bags