M.C.L Design
Hidden Gems: Bold and fresh, these designers are poised to break out.
---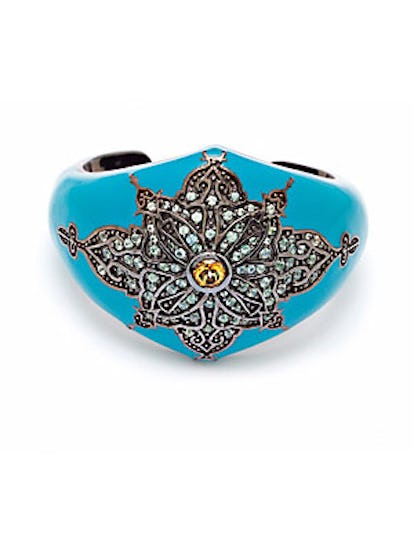 The design bug bit Kentucky native Matthew C. Laurenza as a teenager, when he crafted his first masterpiece: a sterling silver compote for his mother. After pursuing a degree in sculpture, he moved to Thailand and, eventually, Bangkok, which is where he launched his jewelry collection, M.C.L Design, in March. Laurenza's work draws from far-flung influences, channeling everything from exotic nature motifs and Fifties kitsch to architecture. For example, one standout, a sterling silver and enamel cuff adorned with sapphires and citrines, was inspired by an ironwork fence at London's Victoria and Albert Museum. "My jewelry is playful and fun," he says. "I want people to wear it like shoes or handbags."
Read about other designers poised to break out: Arman Nicole Landaw Margaret LFrank by Liseanne Frankfurt Michelle Fantaci Sanalitro Kazanjian by Patrick M
M.C.L Design's sterling silver, enamel, citrine and sapphire cuff, $1,800, at Bergdorf Goodman, New York, 888.774.2424, bergdorfgoodman.com.