The Avatar Sequels Will be a $1 Billion, 8 Hour Miniseries for Theaters and They're Finally in Production
The sequel is finally on the way.
---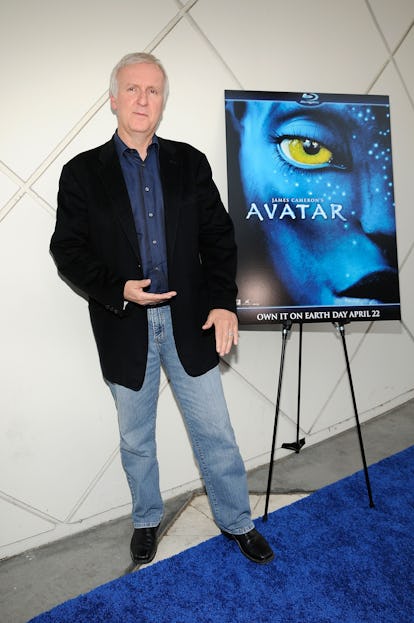 Michael Tullberg/Getty Images
It's hard to believe that it's been almost a decade since the release of James Cameron's blockbuster Avatar, but, soon, the beloved film will finally have a sequel. Well, not just one but four. The director has just officially started production on an unprecedented four sequels for the film, which he is shooting all at once, Deadline reports. That ambitious feat will be supported with a record-setting over $1 billion budget.
While that is a far leap from standard budgets in Hollywood — this year's smash hit Wonder Woman had a $150 million budget to put the Avatar budget into perspective, which breaks down to more than $250 million per film — it isn't surprising that Cameron was able to break a budget record. After all, he has directed both of the world's top-grossing films ever, the original Avatar and Titanic, as Deadline notes.
Cameron opened up about the filming process of the Avatar sequels last year, telling Famous Monsters of Filmland via Slash Film, "It's not back-to-back. It's really all one big production. It's more the way you would shoot a miniseries. So we'll be shooting across all [Avatar scripts] simultaneously. So Monday I might be doing a scene from Movie Four, and Tuesday I'm doing a scene from Movie One. … We're working across, essentially, eight hours of story. It's going to be a big challenge to keep it all fixed in our minds, exactly where we are, across that story arc at any given point. It's going to be probably the most challenging thing I've ever done. I'm sure the actors will be challenged by that as well. It's like, 'No, no, no, no, this person hasn't died yet, so you're still in this phase of your life.' It's a saga. It's like doing all three Godfather films at the same time."
While the exact release dates have not yet been confirmed outside of the first Avatar sequel, which arrives December 18, 2020, the next ones are expected sometime in 2021, 2024 and 2025 per Deadline, Cameron has said that he wants to space them out. "My original plan was to release them a year apart, but we're opening that up," he told Famous Monsters of Filmland. "If for no other reason than that I don't want to land on the same date as one of the Star Wars sequels. That wouldn't be fair to them. [Laughs.] No, that's just good business. I don't want to go head-to-head with Star Wars. That would be stupid. And hopefully they won't want to go head to head with us."
Of course, Cameron, amazingly, does have other projects in the works at the same time. He's also producing a new Terminator film that will reunite original stars Arnold Schwarzenegger and Linda Hamilton.
Related: James Cameron Thinks the Oscars Have a Bias Against Blockbusters
11 Fierce Actresses Who Have Dominated Action Movies: