Teacher's Pet
The Cinema Society hosts an intimate screening of James Franco's new biopic.
---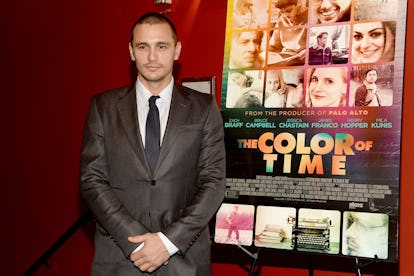 On Tuesday night, the Cinema Society and Montblanc hosted a screening of actor-turned-artist-turned-producer James Franco's new film for Starz, The Color of Time at the Landmark Sunshine Cinema on New York's Lower East Side. Franco, who teaches a class on directing at NYU's Tisch School of the Arts, produced and starred in the film, which was directed by twelve of his students as part of a class project in Detroit. A cinematic interpretation of poet C.K. Williams' life, the film takes the form of a lyrical biopic that attempts to bring Williams' lush imagery and rhythmic verses to life. While the A-list cast—Mila Kunis, Jessica Chastain, and Zach Braff—were not in attendance, Franco was joined by friends like Klaus Biesenbach and Marina Abramović. The film's dreamy sequences were a feast for the eyes, and guests found another kind of nourishment at the intimate after-party held at Omar's. "I liked that, in his poems, imagery, rhythm and tone were more primary than the narrative," said Franco of Williams, "and I thought that if we could adapt those elements it would hopefully change our normal ways of film-making and gets us to maybe make something a little more unconventional." Mission accomplished.
Omar Zuniga Hildago, Bruce Thierry Cheung, Pamela Romanowsky, James Franco, Shruti Ganguly, Tine Thomasen, Shripriya Mahesh, Virginia Urreiztieta, and Edna Biesold. Photo by PatrickMcMullan.com.
Marina Abramovic and Riccardo Tisci. Photo by PatrickMcMullan.com.
Louisa Krause. Photo by PatrickMcMullan.com.