Inside Jane Fonda's Newly-Listed $13 Million Beverly Hills Mansion
"I took one look at the house and I knew."
---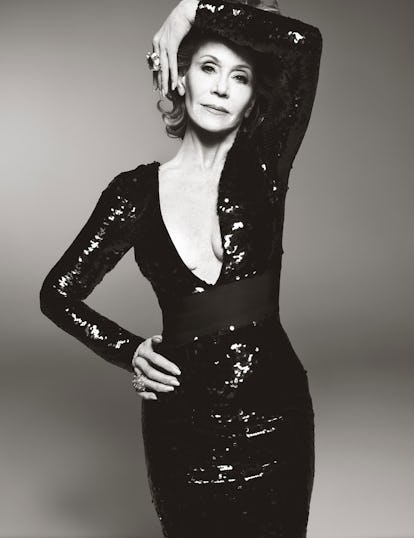 If you've been searching for a modernist, multi-million dollar estate in southern California with a celebrity pedigree, then look no further. Jane Fonda has just listed her Beverly Hills home for $13 million. A perfect pairing if you happened to buy any of Fonda's iconic outfits that were recently for sale.
The 7,100-square-foot mansion has as much beauty and character as Fonda herself, and thanks to a stunning video potential buyers can get a glimpse inside with the 79-year-old-actress as your tour guide.
Fonda and her husband, music producer Richard Perry, first purchased the four-bedroom, six-and-a-half-bath property in 2012 for $7.3 million, according to a report from Trulia. "Richard and I must have looked at more than 30 houses, and the day we pulled in through the gate … I took one look at this house and I knew," Fonda says in the video, recounting the moment she first laid eyes on the home.
The house's clean lines, open floor plan, and beautiful landscape make it perfect for cozy nights in or entertaining large groups, which Fonda did quite a bit of in her time as owner. "The house inspires me to be comfortable and have a good time," she says. Show-stopping features like the solar-heated pool, sweeping decks with gorgeous views of the canyons and ocean, and the all-glass elevator no doubt impressed her 150 guests when the actress hosted her 75th birthday at the property.
Of course, the Hollywood legend likes to indulge in her creature comforts as well, citing her walk-in closet as one of her favorite rooms in the house. "This is the first time in my 79 years that I have had a closet that you could walk in and see everything that you have," Fonda days with a smile. The property, which sits on 36,000 acres, boasts additional amenities like a full bar, a home gym, and a media room, making it the perfect retreat for someone looking to escape the hustle and bustle of Los Angeles for a space that's more private and restorative.
To see more of Jane Fonda's stunning home check out the video and photos below.
Jane Fonda Through the Ages
By 1965, Jane Fonda already had nine films under her belt—and iconic voluminous blonde hair, long lashes, and a picture-perfect smile.
Photo by Getty Images
Even Fonda's off-duty beauty is worth a glimpse. Here, the actress shows off pigtails and glasses with Peter McEnery on the set of "The Game Is Over."
Photo by Getty Images
As her marriage with her first husband Roger Vadim was fizzling in 1970, Fonda cut her hair and dyed it dark brown. "I said to my hairdresser, 'Do something! I want to look like me again,'" she explains in W's June/July issue.
Photo by Getty Images
By 1978, the actress was back to blonde, with bangs and brushed curls at the National Association of Theater Owners Awards. Add blue eyeshadow and silver hoops, and Fonda was ready to rule.
Photo by Getty Images
As much of a chameleon as she is, Fonda (shown here in 1981) has sported a version of this short haircut for most of her life.
Photo by Getty Images
Sunglasses are another Fonda trademark. For the 1982 Annual Publicists Guild of America Awards, the actress chose this smart oversized red pair.
Photo by Getty Images
Long or short, Jane Fonda loves big hair. Here, the actress adds a metallic orange lip to the look at an event in 1990.
Photo by Getty Images
The actress debuted a rare straightened hair look in 1998…
Photo by Getty Images
But soon switched back to the short, curled 'do she sports today.
Photo by Getty Images
Though her hair has stayed the same throughout the 2000s, Fonda has learned to play with makeup much, much more. At the 2015 Oscars, the star paired a bubblegum pink lip with black and silver eye shadow. Ladies of all ages, take note.
Photo by Getty Images
Watch: Jane Fonda recalls her 75th birthday party: