Five Minutes with Josh Wood
Josh Wood is the softly-spoken London hair colorist who is almost as famous as his jetset clientele.
---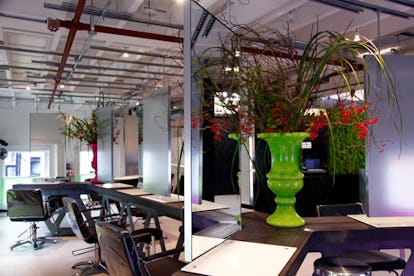 Josh Wood is the softly-spoken London hair colorist who is almost as famous as his jetset clientele. Adored by the likes of Laura Bailey, Elle McPherson and the more revolutionary (in terms of hair-color at least) Daphne Guinness, the Wella Professional Global Creative Director for Color opens his new salon in Liberty in October. We sat down with him a few days before.
Hey, you're dunking biscuits into your tea when you're normally a more healthy sort of snacker. I'm stressed. We were meant to open our new salon at Liberty last Friday but we have no water or electricity! I did point out [to the contractor] that in order for a hair salon to run smoothly the two things you need are water and electricity! Hopefully we'll be back on track in time.
How big is the salon? It's small. Eight chairs total. I prefer small, it's easier to make it personal. Liberty originally offered us a huge space, but I thought, "What happens if they want to expand women's fashion? They'll have to chuck us out!" So we kept exploring the building and found an old office that had never been used for retail. It's a tiny little jewel-box of a site. Any time you work in an old building, things come out of the woodwork. It turns out that the building is actually made up of two old ships! They used the wooden timbers from HMS Impregnable and HMS Hindustan when they expanded in 1924.
Talk about combining the old with the new. Any state-of-the-art techniques you're into? I'm very excited about my new Power Blonde technique—I used it for the Mary Katrantzou and Missoni shows. I create a full head of opaque color by painting on several different shades, one over the other. For instance, to create a platinum blonde, I'll paint the head first in oyster, then apply a coat of maybe chinchilla, then an apple green, so that at the end you get premium looking color.
Thanks to your regular tweets (@joshwoodcolour), we've had a glimpse at your very busy schedule. How do you balance everything? I holiday ahead of the pack rather than with the pack. This summer I went to Portland, Atlanta and Alaska, which was wonderful. I always go to places that give me something, stimulate me somehow. I also do Jivamukti yoga every day. I used to go for the physical aspect but now I've grown into the spiritual and emotional side of it as well.
What made you want to be a colorist? Colorists don't seem to be glorified as much as hair stylists. For a moment I toyed with the idea of being an architect, but I came from quite an impoverished background so working as an apprentice hairdresser made more sense financially, even if it meant doing it the old fashioned way, scrubbing the floors and washing peoples' hair for three years. My first job was at Vidal Sassoon, assisting Ray Allington and that's where I got my big break—although it was more accidental than something I chose deliberately. It turned out I wasn't very good at styling, so Ray pointed me in the direction of color. At the time there weren't many men doing it, so those who were, stood out. Colorists do a lot of the prepping before a show—I work a lot with Eugene Souleiman on his shows for example—it's only natural that we're secondary to stylists in that environment.
Did you have a favorite show from the Spring 2013 collections? I loved working on Jean Paul Gaultier, creating all the icons of the 80s, from David Bowie to Madonna to Boy George to Annie Lennox. Getting a Bowie that looked good and relevant to today was a tricky one. With that 70s styling, in a second it can look like fancy dress. In the end, I kept layering different reds until we got the one that was bright and vivid and didn't look like we'd found it on the floor of a fairground.
Sort of like your Power Blonding. What's over in haircolor? It's no longer about dip-dyed ends, dark roots or stripy highlights. Prada put the angry teenager on the catwalk last season, and there is still a need for bold color, but there's this other side—quiet color and that can also be jazzy. Like my Power Blonde!
Should we ever attempt to color our hair at home? You can maintain, you can touch up grey roots. But highlights at home? No.
Whose hair would you like to do who isn't a client already? Cheryl Cole, the recording artist, she's very big in Britain. I'd like to make her look more youthful. Fresh. A bit more carefree. More like her age.
Will there ever be a cure for grey hair? Yes.
When? I don't know. But maybe that's how I'm going to make my millions.
Who's going to be your first client in the salon? I've no idea. I did know, but then I had to cancel them all.