More Words of Wisdom from Kanye Please
In case you missed them, here are the top style stories from the week.
---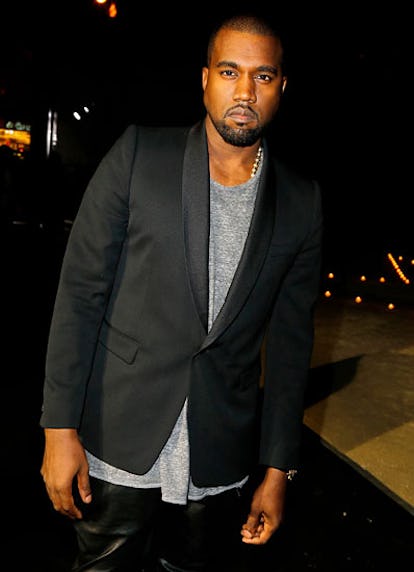 Amazon Launched a luxury beauty store. Watch out, Sephora.
American Apparel Highlighting menstruation with a new t-shirt. What else would you expect from Dov Charney?
Ghesquire, Nicolas Will probably be the new creative director of Louis Vuitton, if LVMH stops denying it.
Hilton, Paris Debuted a new music video that is everything you could have hoped for, and more.
Jacobs, Marc Broke up with his Brazilian boyfriend with a dramatic Instagram photo. How techy.
Juicy Couture Was sold for $195 million. That's a lot of velour.
Kardashian, Kim Went fully platinum in what must be a Kanye-approved decision.
Liverpool Fashion Week Bans tanning beds for models. Sets an example for South Jersey Fashion Week.
Moss, Kate Designing clothes again for Topshop in an attempt to earn more money in 2014 than Gisele.
O'Pry, Sean Is the highest-earning male model. Earns nothing near Gisele or Kate.
Paltrow, Gwyneth Collaborating with Michael Kors on an ultra Goopy holiday collection.
Project Runway Is heading to Italy, with Alberta Ferreti, Tomaso Trussardi, and Eva Herzigova as judges. Make it work, people.
Stefani, Gwen Collaborating with OPI on a collection of nail polish. Hella good.
Talley, Andre Leon Revealed that he never slept with Karl Lagerfeld. Was anyone wondering?
Toledo, Isabel Designing a collection for Lane Bryant, so that plus-size women can dress like Michelle Obama too.
Upton, Kate Starring alongside Snoop Lion (more commonly known as Snoop Dogg) in new ads for Hot Pockets. Must be overdue on her bills.
West, Kanye Ended his feud with Jimmy Kimmel; gives us another reason to revive his best quotes ever. Thank you!