Attention: Kristen Stewart Just Shaved Her Head and Dyed Her Hair Blonde
At the premiere of her new movie 'Personal Shopper,' Kristen Stewart looked nearly unrecognizable.
---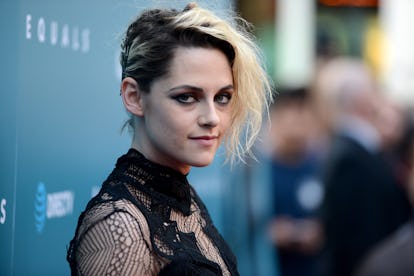 Michael Kovac/Getty Images
Kristen Stewart, is that you? At the premiere of her new film Personal Shopper, the actress arrived at the event looking nearly unrecognizable with a shaved head dyed bleached blonde. The new hairstyle is an extreme departure–just as recently as the day before, March 6, she appeared in Los Angeles with her brunette roots and a short haircut.
While promoting her upcoming spooky film about a personal shopper for a celebrity in Paris, which debuts March 10, Stewart unveiled her freshly buzzed head with a goth, black ensemble comprised of black trousers, a corset, and plenty of dark, smoky eyeliner.
While Kristen Stewart has yet to comment on the inspiration behind her new haircut, Just Jared reports that the new look could be for another one of her upcoming films, Underwater, which "focuses on an underwater scientific crew forced to go on a dangerous journey for survival following an earthquake" according to Variety — which would make sense. After all, no hairstyle is easier to deal with when wet than a buzz cut.
The Top Bleach Blondes of All Time, From Madonna and Debbie Harry to Cara Delevingne and Karlie Kloss
Brigitte Bardot was among the first starlets to harness the power of the bleach; though she had a thriving acting career as a young brunette, it wasn't until she went blonde that she ascended to It girl status.

Getty
Debbie Harry's band wasn't called Blondie for nothing. She maintained an edgy, choppy platinum 'do throughout the band's '70s heyday.

Getty
Courtney Love took Debbie Harry's grunge look and supersized it, pairing straggly platinum locks with smeared lipstick and silk slip dresses.

Getty
"Blonde Ambition," indeed: Madonna's hair may have varied in length, but her penchant for white blonde has stayed the same.

Getty
Sonic Youth frontwoman Kim Gordon's hair has ranged from dirty blonde to brown, but in the early 2000s she went full platinum.

Getty
No Doubt-era Gwen Stefani was particularly fond of the bleach; though she's dabbled in warmer tones since her band's zenith, her look has stayed pretty consistent.

Getty
Posh Spice-era Victoria Beckham opted for hair several shades lighter than her very, very tan skin, a quintessentially '00s look.

Getty
A natural brunette, Soo Joo Park bleached her hair before embarking on a modeling career, and has since won legions of fans (with Karl Lagerfeld at the front of the pack).

Getty
For the 2013 Met Gala "Punk: Chaos to Couture," Hathaway bleached her usually dark brunette hair to go with her Valentino gown.

Getty
Sky Ferreira has made silvery-white hair with dark roots along the part something of her trademark.

Getty
Kim Kardashian stole the Balmain show at Paris Fashion Week when she stepped out with her newly bleached hair for the first time.

Getty
Jennifer Lawrence's hair has gotten blonder and blonder as 2016 has progressed; she showed off a totally bleached out look at the premiere of X-Men: Apocalypse, May 2016.

Getty
Kristen Stewart debuted her newly bleached locks — with a hint of dark root showing through — at the Cannes Film Festival, May 2016.

Getty
Taylor Swift went full platinum on the cover of Vogue's May issue, accompanied by a newfound penchant for Saint Laurent and a dark lip.

Getty
Charlize Theron is the latest star to keep going blonder and blonder this year — when she showed up at the Cannes Film Festival in support of The Last Face, she revealed a freshly bleached 'do.

Getty
Cara Delevingne stepped out with platinum locks in a playful french braid during Paris Fashion Week.

Getty
Model Karlie Kloss debuted her platinum locks as she attended the Christian Dior show during Fall 2017 Couture Paris Fashion Week.

Photo by Getty.
Watch a video interview with Kristen Stewart: