Lady Gaga's "Stupid Love" Video Cancels Earth to Save Pop Music
And her stans are working overtime to keep the song on the charts.
---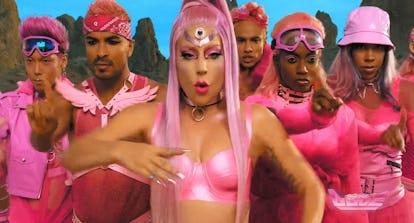 Photo courtesy of Lady Gaga/YouTube.
#LG6, or the working title of Lady Gaga's sixth studio album, is on the way. But for now, the musician has satiated her fans' thirst with the official music video for "Stupid Love," the album's first single.
Just a few weeks ago, the track leaked online and quickly spread (even being played to close out Christian Cowan's New York Fashion Week show). Gaga pretended she did not see it, though, and dropped hints and clues in the days leading up to the official release of "Stupid Love," which includes a music video that she confirms was shot entirely on an iPhone 11 Pro.
Now that the video is here, stans continue to mine it for clues about Gaga's next era. The song also marks the singer's first collaboration with the Swedish pop connoisseur Max Martin.
"Stupid Love" is a hot pink intergalactic Y2K pastiche, appearing to be influenced by "Power Rangers," Ariana Grande's "Break Free" music video, Brooke Candy, and maybe even Xena: Warrior Princess. The song, which many have pointed out has already been heard before by millions of Little Monsters around the globe, harks back to Gaga's Fame Monster era, but the Daniel Askill–directed video drives that point home.
It opens with a message: "The world rots in conflict. Many tribes battle for dominance. While the Spiritual ones pray and sleep for peace, the Kindness punks fight for Chromatica." Gaga, with her third eye wide open, dance-fights for kindness until the very end.
As Gaga tweeted just before she dropped the video, Earth is cancelled. Instead, it's all about Chromatica, which is either the fictional desert planet on which the so-called "Kindness punks" fight or the real title of #LG6, but we shall see.
And even though just about everyone has already heard this song before, the stans are working overtime to ensure the track climbs the charts.
Related: Lady Gaga Announces "Stupid Love," Drops #LG6 Clues