Miami Nice
The Webster's Laure Heriard Dubreuil is bringing fine dining to the beach. Armand Limnander stops by for a bite.
---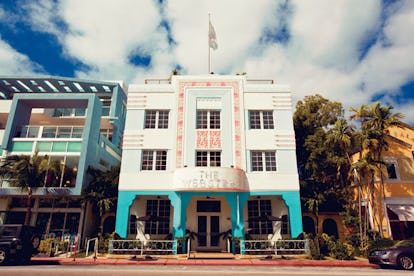 Laure Heriard Dubreuil, who is known for her understated sense of style, is the last person you would imagine setting up shop in Miami—a city where cropped tees and muffin-top-baring jeans are often considered the height of chic. And yet, Heriard Dubreuil, who grew up in Cognac, France, went to school at the Fashion Institute of Technology in New York, and cut her teeth in Paris working for Balenciaga and Yves Saint Laurent, packed up and moved to South Florida in 2007 to cofound the Webster; the store has since become the go-to place for previously hard-to-find labels like Tom Ford, Azzedine Alaïa, and Balmain. "Honestly, I went looking for sun," she said. "I thought about L.A., but it's too far from Europe."
Laure Heriard Dubreuil. Click here to read Heriard Dubreuil's favorite Miami spots.
Now Heriard Dubreuil is experimenting with something else that South Beach was desperately missing: great food. She has partnered with chef Michelle Bernstein (the founder of the Miami restaurant Michy's) to create a café and supper club called Crumb at the Webster. "Laure and I both like to give people the best of everything," Bernstein said. "My food is not too fussy or complicated. When you taste it, you can tell it was made by someone who loves what she's doing." At lunch, there will be sandwiches and light snacks; on selected evenings, Bernstein will reach out to different chefs and have them put together one-of-a-kind, reservations-only experiences.
To test how that concept might work, Heriard Dubreuil, who now spends most of her time in New York, hosted a dinner at the Webster for some of her closest friends—an eclectic group, including artists Nate Lowman, Hanna Liden, and Adam McEwen, as well as jewelry designer Aurélie Bidermann. Bernstein's menu featured crowd-pleasers like tuna tartare, caviar-topped eggs, and a memorable mushroom–and–foie gras mousse; the meal was served on a W-shaped table created for the evening by the architect Rafael de Cárdenas, who recently renovated the Manhattan apartment that Heriard Dubreil shares with her fiancé, the artist Aaron Young. "It's a nod to the tropics and Miami Vice," said de Cárdenas, pointing to the palm-tree print on the tabletop and to the row of miniature lights hidden along its edges, which lit up once everyone sat down. Heriard Dubreuil's place settings featured shimmering Baccarat crystal and ceramic plates decorated with pink flamingos that she had specially made in Positano, Italy, for the occasion. "We wanted it to be like Scarface, with lots of flowers and crystals," she chimed in.
Things really got going when the musician Theophilus London popped by with the budding fashion designer Angela Simmons, who explained that she was in Miami for "a party on a boat." Art patrons Jason and Michelle Rubell discussed how their young children curate their own rooms with pieces from the family's extensive collection. Actor and jewelry designer Waris Ahluwalia talked about his newfound love of Istanbul as he tucked into Bernstein's truffle-steamed turbot, having recently given up a strict vegetarian diet.
From top: The place settings, with Baccarat crystal and ceramic plates from Positano; the W-shaped table and benches were designed by de Cárdenas.
After a dessert of apple-fig tart, Heriard Dubreuil capped off the evening with a toast of 100-year-old Rémy Martin Louis XIII—her family has owned Rémy Martin for more than a century, and her great-grandfather selected the eaux-de-vie for that specific cognac. Gallerist Nina Johnson-Milewski, clad in a vintage paillette-encrusted dress, summed up the evening: "Miami has had a huge resurgence in the past few years. It's not just because of Art Basel; more sophisticated South Americans are coming in, and a lot of New Yorkers are also moving here. We didn't use to have events like this—before it was all Cavalli, and now it's Cavalli, Margiela, and Marni."
We know whom to thank for that.