Lilly Land
The doyenne of Palm Beach dressing celebrates 50 years of pink and green.
---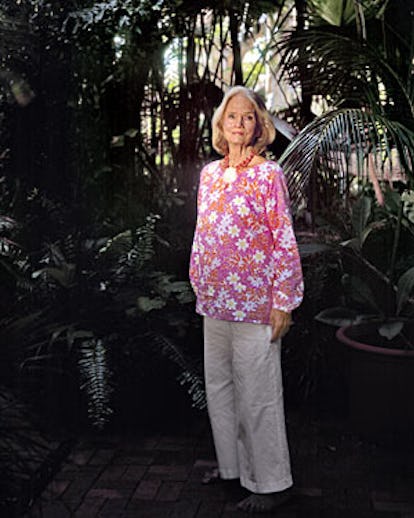 As one drives down South County Road in Palm Beach, past Worth Avenue and its glittering boutiques, past The Colony hotel, row after row after row of expertly manicured hedges swing into view. Lining both sides of the narrow street, the soaring sharp-edged bushes are interrupted every 25 feet or so by heavy iron gates, behind which sit massive houses, a blur of creamy stucco and sputtering fountains. And then suddenly, there are no hedges, only a tangle of drooping palm and banyan trees, a sidewalk jungle split by a driveway—no gate—that leads to a bungalow with a big blue door. It is behind that door, affixed with a wooden l, where the tiny island's most famous year-round resident, Lilly Pulitzer Rousseau, lives.
The 77-year-old designer and former grande dame of Palm Beach entertaining—in the Sixties and Seventies, her kitchen sat 26 for dinner—awaits guests perched on a chinoiserie-covered bench. She wears white slacks and a vintage Lilly shirt printed with white and yellow daisies, her feet bare but for the bright coral polish on her toes. (Rousseau has never worn shoes unless she absolutely must, which means, begrudgingly, to restaurants and public functions.) "Time means nothing to me," she says cheerfully by way of introduction. "Ten years, 15 years—I can't believe that 50 years have gone by. I am what age I am, and it's scary as hell!"
Whether Rousseau can believe it or not, a half-century has indeed passed since she launched the preppy girl's warm-weather wardrobe—simple shifts, capri pants and tennis skirts in splashy pastel patterns—out of a little juice stand on Palm Beach's Via Mizner. The label she sold in 1993, for which she continues to serve as a consultant, is now celebrating its "Jubilee," complete with resort collections of bejeweled silk dresses and embroidered blouses, as well as a retrospective of vintage pieces and photographs that this spring will tour major department stores and the company's 20 boutiques (one stop will be its first Manhattan outpost, which opened on the Upper East Side in May).
"I can't believe people are still interested in this story," Rousseau says with a sigh. Never one to play by the rules (she considers underwear as much a nuisance as shoes and lined her Lilly shifts with muslin to encourage women to go au naturel), she would much rather talk about her three children and seven grandchildren, "pretty linens" or her overgrown landscaping and the family of raccoons lurking in it than the business that made her name iconic. Nevertheless, with a bit of coaxing, she jumps right in. "It was a total change of life for me," Rousseau says of starting her line. "I entered it with no business sense…. It was just something that I all of a sudden took over."
Rousseau's story has been oft-told over the years: Born the middle of three daughters into a socially prominent family in Roslyn, New York, Lilly McKim attended all the right schools (Chapin, Miss Porter's) with all the right people (Jacqueline Bouvier was a schoolmate at Miss Porter's) before eloping in 1952, at age 21, with newspaper scion Peter Pulitzer. The pair moved to Palm Beach, where Pulitzer operated a successful citrus grove business, and his bride quickly had three children: Peter Jr., Liza and Minnie. The couple threw fabulous parties, famously tossing water on the tiled kitchen floor of their great big house overlooking Lake Worth so that everyone could do the twist after dinner. Lilly herself became known for "not giving a whit," according to her longtime friend Susannah Cutts, accruing a menagerie of dogs, cats, monkeys and even a calf ("those awful animals," Rousseau says now). But then, in 1958, Lilly's sunniness began to fade. "I had terrible anxiety attacks," she says, "so I went to the nuthouse." The nuthouse was a psychiatric hospital in Westchester County, New York—"I can't really remember how long I was there, but my cousin was there too, so that was nice"—and she returned home armed with but one piece of medical advice: Get a hobby.
"Peter said, 'Well, why don't you sell my oranges?'" recalls Rousseau, who promptly started pulling her station wagon up her tony neighbors' driveways, delivering fruit. The stand quickly followed, though Lilly discovered her crisp white shirts and shorts were becoming ruined with juice stains. "So I went to the five-and-dime, bought some fabric, took it to the seamstress, and she did it up," Rousseau says, noting that she wanted dresses that were "colorful and cotton and cool," with slits up the sides for bending over. She even hung a few up in the stand, selling them for $22.50 a piece.
The town went wild. "I couldn't keep up with all the orders!" she marvels. Soon Lilly was flying regularly to Key West, where she created the prints along with a "gay as your hat" designing couple who ran a textile business called Key West Fabrics. Together they dreamed up lime green palm trees, bursting sunflowers and sky blue shells, all whimsical motifs plucked from Lilly's sun-dappled life. Within a year she was shipping orders to retailers from Lord & Taylor and Saks Fifth Avenue to now-defunct specialty stores like Nan Duskin and I. Magnin. In 1961 a Lilly
Pulitzer shop opened off Worth Avenue. The unlikely designer's fame was all but cemented a year later, when Lilly's school pal, first lady Jackie Kennedy, appeared in Life magazine wearing the Lilly Pulitzer Classic Shift (while most of the dresses cost about $25, Lilly charged Kennedy $75 for hers, "because that was made out of very expensive curtain fabric.").
The Palm Beach social swirl that Rousseau recalls—in which counts sat next to carpenters at her dinner parties and, as she relishes telling, Kennedy spoon-fed John-John on her kitchen floor—has an almost mythic quality, one she laments no longer exists. "It was just a cozy bunch of people; it was a smaller town," says Rousseau, who divorced Pulitzer in 1969 and later married Cuban lawyer Enrique Rousseau. Though Rousseau credits a confluence of timing and luck for her success—with the Kennedy clan vacationing in Palm Beach those days, "the light was shining in this spot"—an unflinching stubbornness clearly served her label well. Told by one retailer that she had to start making fall clothes, Rousseau replied, "Oh, but you don't understand, it's always summer somewhere." Thus she introduced what just may have been one of the first resort collections, a year-round summery lineup that grew to include men's, children's and swimwear, with sales peaking at $15 million.
Ever mindful of her own days as an idle stay-at-home mother, Rousseau shrewdly opened Lilly Pulitzer boutiques in towns where her friends had moved, moneyed locales like Philadelphia's Main Line and La Jolla, California: "Their husbands would be shipped out to some city or town for their jobs, and then what is the poor girl gonna do? She needs a job! She needs a Lilly shop!"
By the early Eighties, however, the working-girl wardrobe and a neutral palette had taken over fashion; sales were flagging, and Rousseau shut the whole thing down in 1984. "I just thought it would be nice to take a long snooze," she says, shrugging. "Before, I never concentrated much on my kids—I mean, I was always very much a part of their lives, but that kind of turned around [when the business closed]." And then in 1993, the year her husband died, Rousseau was visited by Philadelphia businessmen James "Brad" Bradbeer Jr. and Scott Beaumont. There had been a generational shift, says Bradbeer, and the daughters and granddaughters of Lilly lovers were eager for those snappy prints and flatter-every-shape frocks. "I think the customer wanted it to wake up," laughs Rousseau, who sold the Lilly Pulitzer license to the pair's company, Sugartown Worldwide. After a slow start, the revived label found its footing, surprisingly, in the months after 9/11. "It was our best year," claims Bradbeer, "because people wanted something happy, and the Lilly attitude is always 'We're pressing on.'" Bradbeer has pushed the company, which had sales of more than $75 million last year, into the 21st century: more office-friendly wrap dresses and blouses (the Lilly girl now earns a living), fragrances, stationery and eyewear.
As for the original Lilly, these days she is most happy at home, where she still hosts Thanksgiving for nearly 50 on picnic tables near the pool (exes and strangers welcome). Asked if she misses the business, Rousseau shakes her head. "No one could tell me what to do or what not to do, because it was all up here," she says, pointing to her temple. "And I don't know if you could do what I did today, because it's more competitive, and obviously you need a lot more education than I had." She smiles mischievously. "But oh, my God, I had a terrific time."