J'adore: Lisa Eisner
The writer, filmmaker and jeweler shares her favorite things
---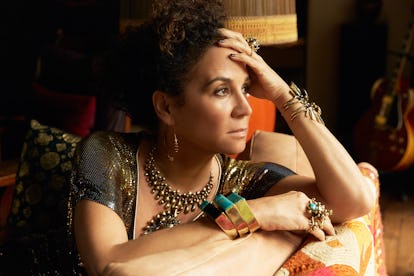 As a photographer, filmmaker, writer, and publisher, Lisa Eisner wears her myriad interests well. Her personal style is an arty, more-is-more mélange of textures and periods, topped off with tons of chunky, tribal-looking baubles. "For me, jewelry is so full of life—it's how I express myself," says Eisner, who, after discovering a fabricator who could hand-forge bronze, began designing statement pieces a couple of years ago. Enamored by them, Tom Ford commissioned a capsule collection for spring 2015; her sunburst necklaces, cuffs, and rings will be sold in his stores. Here, the L.A. denizen shares a few other things she can't live without.
Chain Mail "I have been collecting vintage chain mail T-shirts from Whiting & Davis, especially the ones designed by Anthony Ferrara. Michael Schmidt is another genius. He's worked with Iggy Pop, Madonna, and Tina Turner."
Gyrotonics "It aligns your body and feels like yoga, swimming, dancing, and sex—all at the same time."
Great Horned Owls "They are nesting in my backyard—and it's total magic."
Tassajara Zen Mountain Center "The oldest Japanese Buddhist monastery in the U.S. is open to the public from May through September. Located near Big Sur, California, it has hot springs, amazing vegetarian food, and meditation."
E.R. Butler & Co. and Ted Muehling "Ted Muehling is the best jewelry designer in the world. And the craftsmanship of Rhett Butler's hardware is out of this world. I love everything they do together, from their butterfly pulls to their bronze candlesticks."
Stacia Lang "When she isn't a costume designer on big sci-fi films, she creates feather coats, jackets, and capes. Her studio is a bird sanctuary! I had a jacket made out of indigo blue feathers, and a few headdresses."
Tucson Gem, Mineral & Fossil Showcase "In February, rock hounds from all over the world converge here. I stay in a fantastic old Spanish-style hotel called the Arizona Inn, eat the most delectable Mexican food, and hunt for minerals, meteorites, and, of course, turquoise."
Ambient Scenters By L'Oeil Du Vert "Who needs a stinky candle when you can have a sculptural vessel crafted from rare wood like California buckeye burl emanating what smells like a million different plants? Its deliciousness literally makes you high."
Philip Glass: The Complete Piano Estudes "It took Glass 20 years to finish these 20 works. Everything he composes sounds like heaven mixed with a little bit of hell."
Photos: J'adore: Lisa Eisner
Lisa Eisner. Photograph by Lauren Dukoff.
Lisa Eisner's jewelry for Tom Ford Spring 2015. Photograph by Ian Gavan/Getty Images.
Ambient Scenter by L'Oeil Du Vert. Courtesy of L'Oeil Du Vert.
Stacia Lang cape. Courtesy of designer.
Arizona Inn. Courtesy of hotel.
Philip Glass: The Complete Piano Estudes. Courtesy of Orange Mountain Music.
Lisa Eisner's necklace for Tom Ford. Courtesy of Tim Hout.
E.R. Butler & Co. and Ted Muehling candlesticks. Courtesy of E.R. Butler.