Thanks to Lizzo and Lil Nas X, Versace Won the Grammy Red Carpet Once Again
Twenty years after the J.Lo dress, Versace does it again.
---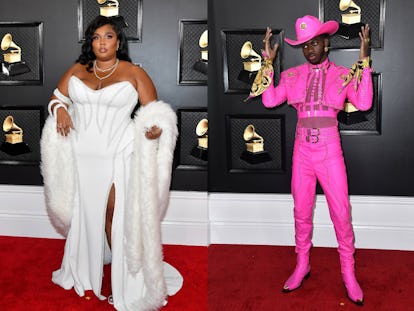 Tonight marks 20 years since Jennifer Lopez wore that infamous Versace jungle-print dress to the Grammys, but Donatella and Lopez already marked that milestone during fashion week. Instead, Versace broke new ground tonight by dressing the standout Grammy nominees Lizzo and Lil Nas X in designs that pay homage to Versace's past, while also paving the way for the future of fashion.
Both a performer and six-time nominee tonight, Lil Nas X showed up in a hot pink cowboy look that included a cropped jacket, mesh shirt, and gold hardware featuring Versace's Medusa logo. But it was the matching harness underneath that was straight out of one of Versace's most iconic shows.
Gianni Versace's fall 1992 collection, bluntly titled "Miss S&M," is one of those fashion milestones that the industry is still in awe of (despite the decidedly mixed reception it received at the time—in large part thanks to its obvious provocation). In fact, bondage chic is now an established part of Versace's house codes, and while the men's lines have referenced the leather lifestyle at times, we've never seen the house put a man in a look quite like this before.
Of course, the cowboy accoutrements aren't out of place with the leather. As the advertisements remind us, while the collection was dominated by bondage, it also had elements of cowboy couture mixed in as well.
Meanwhile, Lizzo, nominated more than any other artist tonight, showed up in the kind of Versace look that doesn't make you feel completely gross about dusting off the phrase "va-va-voom" from the '90s.
Gianni himself played a large part in establishing the mythos of the supermodel, and sometimes it seems as if Versace primarily designs for women with supermodelesque bodies. Yes, the house has dressed women who aren't sample size before, but often those designs have played it safe. Here, Lizzo gets the full Versace treatment: detailed bodice, daring slight, and Italian glamour included.
Other labels have embraced her before, but if Versace can dress Lizzo and make her look 100 percent Versace, there are not many excuses left for those European fashion houses not to embrace women of all sizes on the red carpet.