The Winning Weirdos of London Fashion Week Fall 2020
Including a model with a dead chicken in his underwear.
---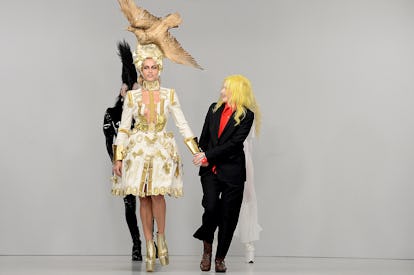 Getty Images
There's no better place on Earth than London Fashion Week for designers looking to let their freak flags fly. And from the look of the fall 2020 shows, even the relatively staid of the city's stalwarts are starting to embrace that; on Monday, the tried-and-true classics at JW Anderson were peppered with bulbous silhouettes and what might be described as Chewbacca couture. We're glad to see he's joining in on the fun, but Jonathan Anderson is nowhere near on the level of a Bobby Abley just yet. Three years after he unleashed a number of gigantic Teletubbies onto the runway, the tried-and-true weirdo enlisted a different type of larger-than-life cartoon figure: Minions. Even stranger than their presence was their uncanny knack for strutting the catwalk.
Minions also put in an appearance at Fashion East, though there was so much else going on during Gareth Wrighton's portion of the show that there's a good chance you missed them. In fact, the look featuring the yellow and blue creatures couldn't have been busier; aside from an unbuttoned pair of Minions shorts, the model, whose head appeared to be bleeding, wore a cropped sweater that read "VOTE FOR BUSH" on the front and "VOTE FOR GORE" on the back, and toted a skateboard emblazoned with a head shot of Jennifer Lawrence. And that was just the beginning.
In theory, Wrighton was meditating on the theme of "our gluttonous consumption habits." In practice, he was offering up a squeamish mix of pieces like a sweater knit from used face wipes, a pair of hot pants encrusted with locusts and grosshoppers, and a take on Jesus's crown of thorns made out of Cheetos. Oh, and he also tucked a dead plucked chicken into the crotch of one model's exposed underwear.
Meanwhile, the best and boldest of the establishment also got in on the fun. The ever delightful, canary-haired iconoclast Pam Hogg treated front-rowers like Siouxsie Sioux to sights like a strong-necked model balancing an enormous gilded taxidermy bird atop her head.
She wasn't the only one doing some heavy-lifting:
The experiments with infrastructure continued at Matty Bovan. Though in the Central Saint Martins's alum's case, the results were much, much hairier.
Related: The Most Surprising Runway Models at Fashion Week Fall 2020