Ma Rainey's Black Bottom Trailer Shows Chadwick Boseman in His Final Role
The trailer for Ma Rainey's Black Bottom, which stars Viola Davis and Colman Domingo, reveals the late Chadwick Boseman in his final film role.
---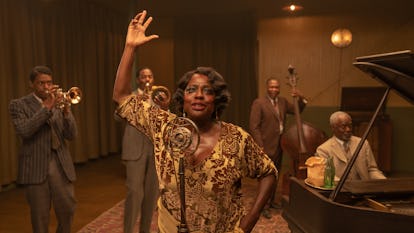 Courtesy of Netflix.
Roughly two months after the passing of Chadwick Boseman, the trailer for the actor's final film has now arrived. Ma Rainey's Black Bottom, which stars Viola Davis as the titular character—the real-life Ma Rainey, Mother of the Blues—and Boseman as Levee, a precocious trumpet player, will be released on Netflix in December.
The film follows Ma Rainey during a recording session in late 1920s Chicago, where she and Levee butt heads about the future of blues and the introduction of jazz to the band. Colman Domingo and Michael Potts join the film as Ma Rainey's band members. Taylour Paige joins the cast as Dussie Mae as well (a reunion for the actress and Domingo, who both star in the upcoming A24 film Zola).
It's also a reunion of sorts for Davis, who has appeared in the film adaptation of another one of August Wilson's works: Fences. The film, Ma Rainey's Black Bottom, is directed by George Wolfe, but it's an adaptation of Wilson's play of the same name. It's part of his "Pittsburgh Cycle" of 10 plays about the Black experience mostly set in Pittsburgh during the early 20th century, like Fences and Jitney. Ma Rainey is the only one of the plays of that cycle that is not set in Pittsburgh.
Davis totally transforms into Ma Rainey, sporting grills and a '20s finger wave hairstyle. Ma Rainey's Black Bottom is also the final film that Boseman completed before his death in August. Both performers could have a good chance at scoring Oscar nominations as the buzz for this film has been high ever since the casting decisions were announced long ago.
Ma Rainey's Black Bottom will arrive on Netflix on December 18, just in time for whatever next year's awards season will look like.
Related: Colman Domingo Is a Character Actor Who Makes Every Role Count