Happy Bags Happy Girls
Mansur Gavriel's fanfare-free bags are coveted by style insiders.
---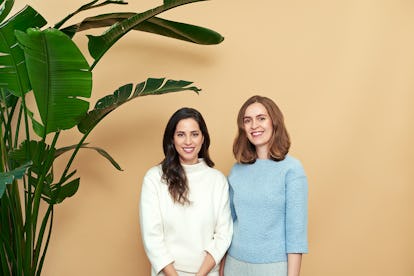 Last year's biggest bag sensation arrived without bells or whistles—no A-list designer behind it, no recognizable logo. Rather, it was a simple, sturdy workhorse–of–a–bucket bag crafted fromTuscan leather. If there was anything flashy about it at all, it was the glossy patentinterior. Devoid of lining and hardware, the bag cost around $500—a quarter of the price of similar styles from Gucci and Saint Laurent—and from the moment it launched in summer 2013, it caused virtual foaming at the mouth among fashion bloggers. Soon there were endless wait lists at every store that stocked it.
Though it sounds like it could be the name of a decades-old European leather-goods house, Mansur Gavriel is, in fact, the brainchild of Floriana Gavriel and Rachel Mansur,two thoughtful, unassuming 30-somethings who, until recently, didn't even have an office. For them, the frenzy came especially fast and furious. "We're just trying to keep up with demand," saysMansur earnestly and, having given birth to her first child six weeks before, rather wearily.
The pair met in 2010 as art school grads (Mansur studied textiles at Rhode Island School of Design; Gavriel, fashion and photography at University of the Arts Bremen, in Germany, whereshealso spent part of her childhood) at an XX concert in Los Angeles. They bonded over sharedaesthetic interests—Donald Judd, Keith Haring, old-Hollywood glamour—and decided to build a brand that expressed their visual universe. "We didn't know where to begin," Gavriel says. "But weknew what we identified with intuitively." With Mansur living in L.A. at the time and Gavriel in Berlin, they spent two years posting images onto a private Tumblr account, developing and honing their concept into one that, as Gavriel puts it, was "beautiful and clean but also had a warmth to it."
Ultimately, it was a fixation with vegetable-tanned leather that dictated the brand's first products. "We thought about silk and cashmere," Gavriel notes. "But the way leather ages reallyappealed to us." Using their own money, they worked with a factory in Italy to produce a classic tote and the aforementioned bucket bag. "Even though we had imagined this robust world, we knew we could only do so much at a time," Mansur says.
Now in its fourth season, Mansur Gavriel has settled into a compact studio on New York's Lower East Side, made a few key hires to handle sales and finance, and expanded its offerings, if only slightly, to include an envelope clutch and mini-mini bucket bags in canvas and in a soft, tumbled leather. In the meantime, Instagram has provided the company with a platform to more broadlyexpress its identity: The account is filled with pared-down, color-drenched images of flowers andLucio Fontana artworks, as well as images of fans like Kirsten Dunst and Miranda Kerr sporting the brand's wares, all tagged with the Mansur Gavriel mantra, #happygirlhappybag. Its lookbooks—conceived, designed, and photographed by Mansur and Gavriel personally—have becomeanother outlet for experimentation. The latest one features a cast of feathered and furry creatures frolicking among the bags. "We like to start with a graphic background," Gavriel explains. "And infuse it with warmth."
Hair by Junya Nakashima for Oribe Hair Care; makeup by Nina Park for Chanel at The Wall Group; Sittings editor: Caroline Grosso; photography assistant; Phil Jackson.