Michelle Obama and Her Vote Necklace Were a DNC Highlight
Michelle Obama knows that four days of a nonstop political showcase might not be your cup of tea, but her speech anchoring the first night of the DNC urged action.
---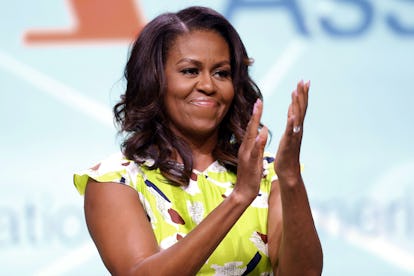 Photo by Jonathan Bachman/Getty Images.
There are plenty of reasons why one might want to skip the Democratic National Convention this year, but on the first night of the uncharted four-day production, there was a glimmer of hope that sitting through hours of chaos might be bearable: Michelle Obama.
The convention, which was fully virtual due to the coronavirus pandemic, but partially live and partially pre-taped, included appearances from Bernie Sanders and Andrew Cuomo who urged Democrats to vote for Joe Biden and Kamala Harris. Even Republican and former Ohio Governor John Kasich, who ran for President against Donald Trump in 2016, made an appearance. The event was moderated by Eva Longoria.
But it was the former First Lady's appearance that anchored the evening. In just under 20 minutes, Obama gave a speech that assessed the failures of the current administration, the economy and the way it has crumbled because of the coronavirus pandemic, and the global impact of the ongoing racial reckoning in this country. Her speech was a hit with celebrities, artists and critics alike—Lorna Simpson shared a screenshot of the speech on Instagram and encouraged her followers to safely vote early and Yara Shahidi pointed out the former First Lady's "excellent" necklace which spelled out the word "Vote."
Hilton Als also joined the chorus of those who assessed the moment of Obama's big speech on social media. "Tonight Michelle Obama who quite rightly says she hates politics meaning a political life walked into our madhouse filled with bullying and nonsense and introduced or reintroduced sanity and empathy into the discourse and in such a way that let us know she was fucking exhausted and discouraged, too," he said, and called her speech "not a performance but a revealing of the self and a desire to marry that self to yourself because your isolation was her isolation."
The message was one that encouraged action and she wore an accessory to match. According to The Daily Beast, Obama's stylist placed an order for the "Vote" necklace from ByChari just a few weeks ago, but the designer had no idea the piece would be used to make a statement at this year's virtual DNC. As we know, anything Obama wears has the propensity to go viral—the Jason Wu gown worn to her first inaugural ball is just one example—and now her DNC necklace is no exception. The piece was a top search term in the final hours of the convention and is now sold out.
But central theme of her speech cannot be elided by a sold-out necklace. Obama said it herself: "We've got to vote early, in person if we can. We've got to request our mail-in ballots right now, tonight, and send them back immediately and follow-up to make sure they're received. And then, make sure our friends and families do the same," she urged. People have to actually vote, not just wear a necklace that promotes a concept.