1 Moncler Pierpaolo Piccioli: A New Kind of Couture
Much like his work at Valentino, Piccioli's vision for Moncler is rife with exaggerated volume and clever spins on haute couture.
---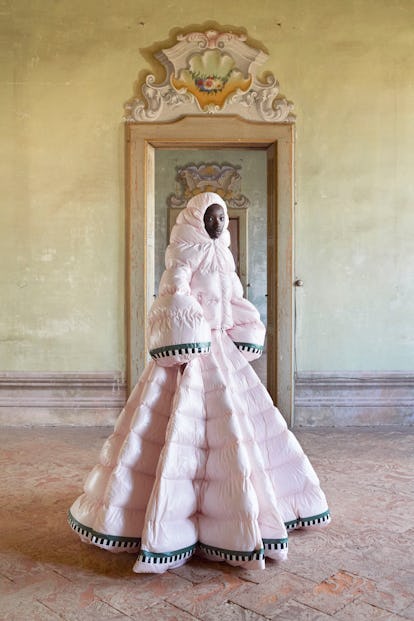 Courtesy of Moncler x Pierpaolo Piccioli
This story was produced for Moncler by W Magazine.
The designer Pierpaolo Piccioli dreams in living color—and he dreams big.
This sentiment is evident in his second collection for Moncler's "Genius" program, an initiative in which 12 fashion world creatives are invited, per annum, to whip up unique collaborations that will drop monthly throughout the following year.
Much like his work at Valentino, Piccioli's vision for Moncler is rife with exaggerated volume, sophisticated (and very pretty) color play, and clever, scopic spins on the term haute couture.
This is Piccioli's rare gift; he creates fashion at the highest level, and yet his ideas still feel relatable and palatable and desirable. Piccioli pulls couture from the lofty echelons of old European salons and sets it free it as something popular, befitting of high-energy and spectacular settings the globe over. With Moncler, one of those places now includes, let's say, an après-ski soirée.
1 Moncler Pierpaolo Piccioli, which was previewed last year but which premiered just this week, is an exactingly edited lineup. Think: semi-conical ball gowns with trains, shrunken hooded jackets and sculptural capes—all rendered in Moncler's signature down-filled nylon laqué—which curve around and cocoon the body. There's artistry to the pieces, and an eccentricity that, ultimately, amounts to something entirely unexpected.
For this edition, Piccioli brought in another collaborator: Liya Kebede, and her label, Lemlem. Lemlem has become internationally known for its Made-in-Ethiopia textiles, replete with polychrome motifs representative of local artisanship. Piccioli worked with Kebede to adapt these patterns and apply them to Moncler's nylon.
The result augments the collective thought, resulting in designs that are unlikely yet extraordinary in tandem. These puffer dresses —almost monolithic in their stature—speak to the evolution of couture and its potential for universality.
In Piccioli's mind, and as evinced by his ideas for Moncler, couture is worldwide, couture need not neglect sportswear, and couture is, above all, inclusive.