Peter Nagy on the Ascent of Contemporary Indian Art
Since its reincarnation in 1997, Nature Morte, and founder Peter Nagy, have become synonymous with the emergence of the contemporary Indian art market, catapulting artists like Subodh Gupta, Bharti Kher and Thukral and Tagra to...
---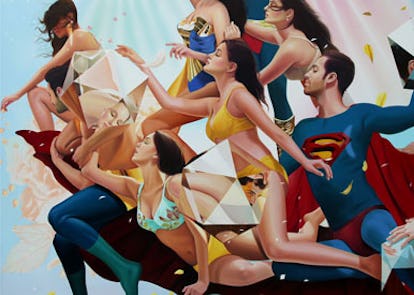 Since its reincarnation in 1997, Nature Morte, and founder Peter Nagy, have become synonymous with the emergence of the contemporary Indian art market, catapulting artists like Subodh Gupta, Bharti Kher and Thukral and Tagra to international fame. Nagy operated a Manhattan outpost of Nature Morte in the East Village from 1982 until 1988, then made the move to India in the early 90's, where he became an integral part of the burgeoning art scene. Today, with outposts in New Delhi and Berlin, a booth at Basel, and a stable of essential artists, he's the godfather of Indian art and the go-to man for collectors and curators interested in getting in on the Subcontinent's artistic action. On a recent morning in Berlin, he sat down with W to discuss the Indian art scene.
What kinds of bias did you sense from the Western world about Indian art when you began? A lot of it has to do with the bigger picture. As India becomes more important on the socioeconomic scale, its culture becomes more important. The boom is fueled by larger engines. India is much closer to Europe and Europeans go there much more and have more of a relationship with it, so it's not surprising that Indian art has been more welcomed in Europe vs. America. In New York, I'd say a good chunk of gallerists are very globalized, while the rest are sitting there with blinders on, saying, 'We don't have to go anywhere else, or show anyone else.' You can run a gallery like that, but it's not particularly relevant to what's going on in the world today.
I was surprised when I started doing the fairs, seeing old colleagues and supporters. A glaze came over their eyes and they wouldn't look at what was on the walls at all. It still happens… there's still a large group of people who are just not looking at contemporary Indian art.
Do you think there's market developing for Western contemporary artists in India? I know some collectors in India who are very open-minded… there's a guy in Bombay who has an Anselm Reyle. But it still doesn't make business sense for galleries to [show Western artists]. The Anish Kapoor shows that recently happened were huge successes in terms of audience, awareness, etc, but I don't think Lisson Gallery and the people they worked with in India saw the sales that they hoped would materialize.
There's still a subconscious thing where Indians see artists as craftsmen, and craftsmen aren't supposed to make a lot of money. Even for the super-rich, it's more than what they want to spend on art. Bharti Kher and Subodh Gupta are pretty much priced out of the Indian market… with Subodh, they'll pay it for his canvases, but not for found object sculptures. I don't expect that to change.
What are the obstacles to this happening? India has to build up its own contemporary culture before it will need to accommodate art from other parts of the world.
What kind of cachet does the art world have in a larger social context in India? You're seeing a big interface between the art world and the fashion world, and you're seeing the corporate [companies] come into contemporary art, in terms of sponsoring exhibitions, like the Skoda Prize, which is for a young artist. That's going to continue. There's a hip factor. Regardless of whether people actually buy it, there are more people actually coming for the buzz and the schmooze. It's glamorous. I'm definitely seeing more young Indians—the kids of the industrialists. Twenty- and thirty-somethings—on the international circuit—a lot came to Paris for the Pompidou show, more of them are coming to Basel. Their entry ticket is Indian art and they're going to the places where Indian art is getting attention, but at the same time they're seeing international work. I don't think the Indian thing is going to get to the next step unless people have more of an education, and that education has to include things outside of India.
What's the social scene like in New Delhi? There's a lot of cross-pollination. Bharti Kher and Subodh Gupta are very good friends with Manish Arora. We are seeing an interface between different creative communities, between architects, some movie people, and designers. [Photographer] Dayanita Singh has been doing a lot of dinner parties, and very consciously trying to mix people up, artists and writers. You're seeing the socialites start to want to have artists at their dinner parties. It's much different than it was ten years ago, and Delhi has become a lot more cosmopolitan.
To what degree is there a crossover between art and fashion in India? Everyone was pissed off, because for years if the newspapers covered art it was always, 'here's a model looking at a painting'… that's waning now. Some designers have started to show their art, and some artists are working with fashion.
Vivan Sundaram is dong an entire fashion project. His last body of work was called Trash, and he was building these architectural city models out of garbage. The next step is he is actually creating fashion out of recycled materials. There's an irony involved in it, but it doesn't look like people wearing garbage, they hold together as outfits. And apparently when he does the opening it will be like a runway show, with models, etc.
What are the differences in the market for your artists in Berlin vs. New Delhi vs. New York right now? In New York, there's no interest, there's no market. We're going to close the space [Nature Morte has a partnership with Chelsea's Bose Pacia gallery] in New York. There's a plan to start a non-profit space in New York for culture, but right now [a commercial gallery] doesn't make sense. We're not seeing interest in Indian art growing there. The only market is the non-resident Indian collectors and they're very conservative.
Europe took a huge hit because of the global financial crisis but it's starting to come back slowly. Because of the bubble prices it was really hard for us to introduce Indian art to the European market, but now a lot of the prices have been renegotiated and things are more reasonably priced. The Centre Pompidou just opened a gigantic show of Indian art that will be open all summer, and other shows are in the works for Denmark and a show just closed in Helsinki. The Serpentine show [Indian Highway] is continuing to travel all over Europe.
With our Berlin space, while we sell to collectors in Belgium, France, the U.K., Italy, Switzerland, etc, we have not sold anything to anyone who lives in Berlin, and very few things to collectors in Germany. Berlin is a good base for us in Europe… a good context, a good scene and it's relatively cheap. These days though, it's not about the specific gallery location. I'm selling art from Delhi shows to Europeans, and work from Berlin shows to Indian collectors. Everything is via the Internet. One out of ten are sold to people to actually come and see work in the gallery.
Who are emerging names to keep an eye out for? I'm going to show in November for the first time Rohini Devashar… she's had one show with [Mumbai gallery] Project 88. She combines graphic arts with painting, and she's very into astronomy… looking at the micro and macro. She has great promise. We recently opened a great show with Chitra Ganesh in Berlin… she has a lot going on but it hasn't quite gotten to the next step yet.
Read "Five Star Delhi" from W's April 2011 issue here.