Neelam Gill Never Sleeps with Makeup On
The British model reveals her beauty secrets—inside and out.
---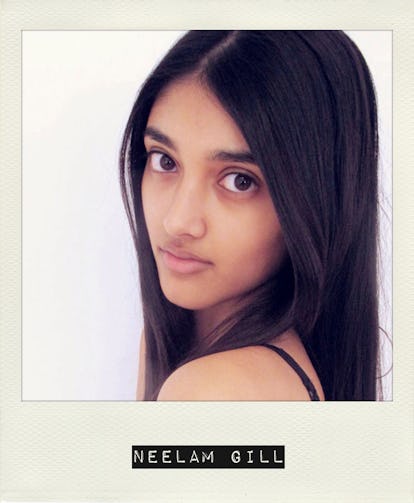 The British model Neelam Gill is having a busy fashion month. In addition to walking for Burberry and Kanye West x Adidas, she also appeared in W's Insta fashion story "The London Look," wearing clothes from the Fall 2015 collections. Here, Gill explains how she maintains her natural beauty even under pressure.
Define your look in three words: Angelic! Only kidding.
5-minute routine: Creme de la Mer moisturizer. Bobbi brown foundation. Burberry blusher and lip glow. YSL mascara. Blink eyebrow gel. Tom Ford perfume.
Never leave the house without: A good book.
Beauty from the inside out: As cliché as it may sound, inner beauty means so much more than external beauty. In this industry you're surrounded by pretty people but the girls who stand out to me are the kind girls with a genuine heart. In my eyes that makes them even more beautiful.
Exercise regime: When I'm in London I train twice a week with my Bodyism trainer at the Bulgari Hotel. We use a lot of resistance bands and do high repetitions with low weights because I don't want to bulk up, just maintain my figure and look longer and leaner. I also go to a great reformer Pilates class in Mayfair, whenever I leave my muscles ache in places I never knew existed but it's amazing for your posture!
Cleanse or not: Yes! Especially living in London because it makes my skin feel polluted. I use a Dermalogica cleanser, which is super gentle.
Skincare secret: A good nights sleep. 2 liters of water a day. Regular exercise. Treating yourself to facials a few times a month. Never sleeping with your makeup on. But most importantly, being happy and not stressing!
Hair remedy: Neil Moodie cuts my hair and before he cuts it he does this amazing treatment that strengthens my hair and keeps it glossy. I also wash my hair with the Windle and Moodie shampoo and conditioner, which is really nourishing for my hair seeing as it's styled multiple times a day whilst shooting.
In-tub must-read: Wuthering Heights.
Spa-cation at: Babbington House. It's complete escapism. I love how I can't even get phone signal there, it forces me to switch off from the world.
Fragrance of choice: I love the new Givenchy perfume Dahlia Divin.
Best advice from your mother: My mum is my best friend and whenever I'm travelling I'll still call her countless times a day! I'll never forget the advice she gave me just before my first job, the Burberry Spring 2014 show. She told me my life was going to change but that doesn't mean I should change as a person, and I have to remain humble, work hard, never complain and never ever forget where I came from.
Best advice from the pros: Jourdan Dunn gives the best advice. She always tells me to stay positive because in this industry you have to have thick skin.
Beauty icons: Naomi Campbell. She is my icon in so many ways but I love how effortless her makeup looks. I get inspiration from her red carpet makeup. She is the queen of looking glamorous but she never looks like she's trying too hard. I wish I could be like that!
Anything else: I want girls to realize that everyone is beautiful in their own way and beauty comes in all shapes, colors and sizes. When I was growing up I spent so many years not feeling good enough and comparing myself to the "pretty" girls in school, but as I've grown up I've realized that everyone has insecurities but you can't let them take over your life. You have to appreciate what you have and focus on what you like about yourself instead of tearing yourself down. Life is too short to be anything but happy.
From left: J.JS Lee coat and shirt. J.JS Lee dress.

Photographer: Harry Carr Stylist: Hanna Kelifa
Claire Barrow shirt, trousers, hat, gloves, and tights.

Photographer: Harry Carr Stylist: Hanna Kelifa
Photographer: Harry Carr Stylist: Hanna Kelifa
1205 Studio top, skirt, and shoes.

Photographer: Harry Carr Stylist: Hanna Kelifa
Preen by Thornton Bregazzi dress, hat, belt, and tights.
Hair by Soichi Inagaki for Bumble & bumble at Saint Luke; makeup by Thom Walker for MAC Cosmetics. Models: Neelam Gill at Models 1, Charlie Barker at Select Models. Set Design by William Farr. Produced by Dot Burns. Photography Assistant: Max Tomlinson. Fashion Assistant: Siliva Pescia. Makeup Assistant Ruth Coutinho. Produced by Biel Parklee.