5 Movies to Watch on New Year's Eve
"The Last Days of Disco," "Capote," and more are the perfect films to put on in lieu of a party this year.
---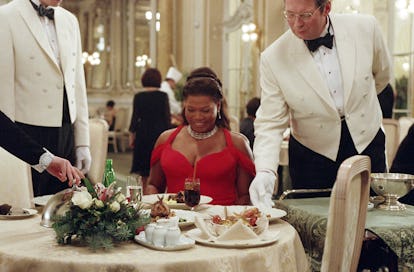 Photo by Paramount/Kobal/Shutterstock
Welcome to the W Movie Club, a series in which W magazine's editors pick five iconic films to watch while in quarantine. For this edition, we're providing a list of the most immersive on-screen tales to watch instead of partying this New Year's Eve. Whether they're transporting you to another time period (Me Without You), taking you on a ride across an icy landscape (Snowpiercer), or just plain fun (remember fun?), these are the perfect filmic works to put on when the clock strikes 12.
The Last Days of Disco
We can't go out this New Year's Eve. Well, we technically could, but we absolutely should not go out! I'm probably going to spend this NYE reminiscing on an era that I never lived through, but certainly wish I could have experienced for at least a night. Also, I wish I could go back to the Studio 54 exhibit at the Brooklyn Museum, so I guess Whit Stillman's The Last Days of Disco, starring Chloë Sevigny and Kate Beckinsale, will just have to suffice. —Brooke Marine
Snowpiercer
If you're looking for an unconventional New Year's Eve movie, look no further than director Bong Joon-ho's English language debut, Snowpiercer. Yes, this movie can technically be considered a New Year's movie, taking place as the eponymous train finishes its eighteenth trip around an Earth laid bare by a man-made ice age. With standout performances from Chris Evans (in a sharp departure from his usual MCU fare) and an almost unrecognizable Tilda Swinton, the film offers a refreshingly artistic take on the post-apocalyptic action flick. It may be less optimistic than some of the other picks on this list, but Snowpiercer will remind you that being stuck inside could be much, much worse. —Tilden Bissell
Last Holiday
While we may not be able to travel to ring in the New Year, there's no one saying we can't celebrate vicariously through films. Last Holiday features Georgia Byrd (Queen Latifah), a shy department store employee who's a dreamer at heart. After sustaining a head injury and being diagnosed with a rare disease, Byrd is told she only has three weeks left to live. She decides then and there to finally live her life the way she's always wanted to: fearlessly and unapologetically. Georgia liquidates her assets, packs her bags, and flies to the Czech Republic to stay in her dream hotel over the holidays. Between her new "international" wardrobe, snowboarding and Base jumping adventures, and not holding back when surrounded by powerful people, Georgia proves to be major 2021 goals (when it's safe to travel, of course). -–Jenny Oliver
Me Without You
Anyone who's moved back to her hometown due to the pandemic will relate to this 2001 British indie. In it, Michelle Williams and Anna Friel star as childhood neighbors and BFFs whose codependent relationship reveals itself as they grow up in the 1970s and 1980s. Come for Williams's somewhat questionable British accent and Kyle MacLachlan's windswept hair. Stay for Trudie Styler's cool-mom character hosting New Year's Eve at home and a soundtrack that includes The Clash, Depeche Mode, and Sonny & Cher. —Katie Connor
Capote
A movie centered around a murdered family might not sound like the best segway into a new—and hopefully better—year. But even now, knowing I squandered one of my last chances to go out, I have no regrets about closing out 2020 in bed watching Capote. In fact, as a film so immersive that you may not even realize when the clock strikes midnight, it could be an even better option for 2020. Before you know it, you'll have left this hell year behind—and started off the new one in the company of a delightfully gossipy and flamboyant Philip Seymour Hoffman. (The late actor won an Oscar for his performance.) —Stephanie Eckardt
Related: The Best Holiday Films to Watch While Theaters Are Closed