Nicolas Ghesquière Contemplates His Vision for Louis Vuitton
The designer takes us through his favorite moments from his tenure at the storied French house, from his first collection to the latest resort pieces.
Photographs by Charles Fréger
---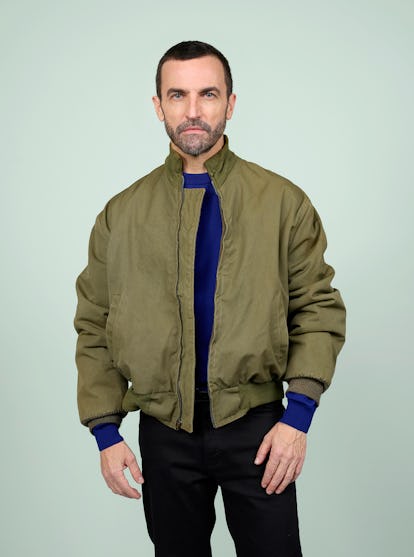 Photographed by Charles Fréger; Styled by Marie-Amélie Sauvé.
"I was hired to do fashion, right, not something lukewarm or mainstream," says Nicolas Ghesquière, who, since 2013, has been the women's artistic director of Louis Vuitton. "From the moment I arrived, my mission has been to create a very recognizable wardrobe and a vision for the Vuitton woman. I have brought movement to the collections, inspired by the travel history of the house, designs that are functional and sharp, and elements that are anachronistic, a clash of the times. That is much different than my time at Balenciaga, which was completely futuristic. With Vuitton, I love mixing eras, like when I paired 18th-century embroidered redingotes with athletic shorts and sneakers. Vuitton is all about an urban woman who is not afraid of mixing periods—she's neither vintage nor futuristic, but both."
Backed by the financial might of Louis Vuitton—with its 23,000 employees, 460 boutiques, and over $10 billion in annual sales—Ghesquière has also turned himself into a consummate showman, staging stirring fashion spectacles featuring some of the most high-voltage front-row attendees around, many of whom are also his good friends. He has presented major shows in the belly of the Frank Gehry–designed Fondation Louis Vuitton in Paris, up and down the modernist staircases of Eero Saarinen's TWA terminal at JFK Airport in New York, and along a seemingly endless runway at the I.M. Pei–designed Miho Museum in the hills outside Kyoto, Japan. On March 3, just as the pandemic was about to change the world, Ghesquière took over the Cour Carrée of the Louvre Museum for this fall's Louis Vuitton show. He sent out crinoline skirts paired with high-tech tops and bejeweled bolero jackets worn with parachute pants in front of a soaring backdrop that held a 200-person choir, clad in costumes spanning the 15th century to the 1950s. The show, a manifesto for Ghesquière's approach to chronological sampling, would have closely preceded "About Time: Fashion and Duration," an exhibition at the Costume Institute at the Metropolitan Museum of Art that Ghesquière was co-chairing, which ended up opening this October, nearly six months later than expected. And though it was a suitably dramatic conclusion to Paris Fashion Week, it also might be the last show of its kind for some time.
Ghesquière, a very youthful 49, is sitting in his spare white office at the Vuitton headquarters on the rue du Pont Neuf. He speaks quickly and punctures the conversation with easy laughs and a sense of wide-eyed wonder. "It was a great shock, obviously, to see how quickly everything can change, how fast we can be thrown into a world of anxiety, about protecting yourself and protecting those around you," Ghesquière says when asked how he has dealt with life during Covid-19. After the show at the Louvre, he was off on a work trip to Los Angeles when it became obvious that he needed to head back to France. He went out to his country house, in Montfort l'Amaury, west of Paris, with Marie-Amélie Sauvé, the stylist he has worked with for more than two decades; Julien Dossena, the designer who worked at Balenciaga and is now the artistic director of Paco Rabanne; and Ghesquière's two glossy black Labradors, Achille and Léon. Ghesquière began the strict national lockdown out in the country, before returning to Paris to work. "Without being in denial about the seriousness, and trying to be very careful, I believe that we absolutely have to move forward," he says. "My view is that we have to keep working—we have to try to exist with the virus, under conditions of maximum safety, of course. We have to keep doing it because of what is generated economically, the number of jobs at stake, but also, to be honest, because we are trying to make people dream."
To give a better sense of his vision for -Vuitton, we invited the designer to take a tour of his own archives and select some of the most emblematic work from his seven years leading Louis Vuitton—from a fall 2014 cropped leather jacket to a flouncy white skirt and sheer top from spring 2016 to a fall 2020 boxy bomber jacket and ruffled petticoat. "At first, it was such a delight to get to know Louis Vuitton, to meet the teams, to start to understand the spirit and the history," Ghesquière explains. "What I want to show here is how we have been building the women's ready-to-wear identity of the house." Reviewing the choices he has made, he stresses how thrilled he is to be at Vuitton, pointing out that, in the spring of 2018, he signed a new, five-year contract. And the admiration is mutual. "In these turbulent times, Nicolas Ghesquière's unique ability to take us on a multicentury time travel, forwards and backwards, is precisely what is needed," says Michael Burke, Vuitton's chairman and CEO. "He has this overarching narrative that is a beacon for our entire ecosystem."
Ghesquière was raised in Loudon, a sleepy town in western France, south of the Loire Valley. He knew from the time he was very young that he wanted to be a designer. After internships at Agnès B. and Corinne Cobson, he moved to Paris when he was just 18, to start working at Jean Paul Gaultier. He began unpromisingly at Balenciaga, designing bridal and funereal garb for a Japanese licensee, but in 1997, still only 25, he was named artistic director for the historic, previously forgotten house. He spent the next 15 years turning Balenciaga into a force. Thanks to Ghesquière, Balenciaga was acquired by Tom Ford, Domenico De Sole, and the Gucci Group, then overtaken by François Pinault. In 2013, after a bumpy exit from Balenciaga and a full year off from fashion, Ghesquière was snapped up by Bernard Arnault to replace Marc Jacobs at Louis Vuitton. "The size and the form of the house, as well as the impact that small decisions can have, is impressive," Ghesquière says. "On a human level, though, of course, I do not know all the people who work here, I do know a lot of them, and one quality that everyone shares is a passion for excellence. At Balenciaga, I learned about rigor. At Vuitton, I have discovered what is really meant by excellence. In every area—shoes, bags, the printing process—there is an intensity about doing things as well as possible, a love for excellence in terms of design, craft, manufacturing. So there are these personal qualities that go into the work that make it, surprisingly for such a big house, very humane."
Ghesquière's ability to work with other masters of their craft has created a unique sense of excitement around Vuitton. He has unveiled design collaborations with the great Japanese designer Kansai Yamamoto (best known for David Bowie's Ziggy Stardust costumes) and with legendary fashion editor Grace Coddington (a capsule collection of shoes, bags, accessories, even pajamas, covered with whimsical cats and dogs). "Louis Vuitton does not need me to do work with artists," Ghesquière says of these projects. "I really like the idea of going to fashion icons, people who are symbolic of the pop side of fashion. It is also a way to make sure that they are known by a younger audience, by millennials. I love having these creative conversations."
Pop culture certainly returns the favor. This summer, during quarantine, Cardi B photographed herself wearing an LV-monogram miniskirt, matching crop top, and a long, wide ponytail that she had printed with the house's famous logo. "That was fantastic," Ghesquière says, laughing. "You know that when something is so iconic, it is as though it belongs to everyone. That is the fun of it—to see personal takes on this monogram that is known all over the world."
The designer believes that, particularly in recent years, fashion has become an element of pop culture. "In the past, fashion was for weirdos," he says. "It was either very high society or for people who were quite marginal. In the past 10 or 15 years, as fashion groups have become even more important, fashion design has started interesting people as much as music or television. Singers are becoming designers; stars are doing fragrances; everyone wants to be a designer now. It's really cool, actually. Before people watched fashion shows, but now, everyone has an opinion about fashion. Everyone can say whether they like it or hate it—it's wild!"
Some of Ghesquière's cultural and social engagement is more serious. He strongly supports the Black Lives Matter movement, feeling that it is an international issue, and is very conscious of how some civil rights are being rolled back across the world. "Right now, I also find the aesthetics of gender very interesting," he explains, "everything that is nonbinary, genderless. The line between men's wear and women's wear has really been erased, which I think is awesome." Last fall, for the spring Vuitton show, also in the courtyard of the Louvre, the backdrop was a massive screen projecting a video by the transgender Scottish singer Sophie. Singing a special version of "It's Okay to Cry," she was topless with a shock of wavy red hair. Ghesquière came into contact with Sophie through a friend and musical collaborator, Woodkid (one of her tracks had been used in the show at the TWA terminal, and she came to New York to see the show). "This collection was very Biba, Swinging London," Ghesquière explains. "And the look of Sophie in her video is completely Biba-esque. So I found it interesting to have the voice as well as the image, because she is an artist and such a strong aesthetic symbol."
There is an impressive number of leading American and European actresses who regularly represent Ghesquière's image of Vuitton: Emma Stone, Michelle Williams, Chloë Grace Moretz, Ruth Negga, Sienna Miller, and Sophie Turner. He is passionate about many who have become brand ambassadors for the house. Having seen Alicia Vikander's work, Ghesquière asked for an introductory lunch. "She is Swedish, so she has something that is very Scandinavian, but she also has this incredible artistic exoticism," he explains. "She did this film, Earthquake Bird, for Netflix, where she spoke impeccable Japanese, though she had never spoken the language before. She is an Oscar-winning actress because she is so methodical, but there is also this sense of fantasy, a lightness. She is a great partner."
One of the most high-profile French actresses to represent Vuitton has been Léa Seydoux: "She is one of those women who can represent many different eras, in the way they carry themselves, in their intelligence, even in their look," Ghesquière says. "She's like a total tomboy but also incredibly Parisian." The last time they had lunch together, at the beginning of the year, they went to the Louvre to see the major Leonardo da Vinci exhibition. "There were very few people, and we went to see it, just the two of us. I have such a great memory of our conversation, looking at these drawings and talking about how inspiring they were. Even though we had known each other for several years, this was a moment that brought us closer together."
Ghesquière also has a special friendship with Jennifer Connelly, whom he has known for almost 20 years. "We are pretty close friends—we take vacations together, with her children, with her husband, Paul [Bettany]," the designer says. "But whenever I see her, at first I am always intimidated—for me, she represents the ultimate vision of a certain kind of woman. She is very smart—she studied at Yale—she is very humane, and, of course, she is an excellent actress. But I have to say that her beauty—wow! The beauty of Jennifer Connelly is something that touches me in a way that I have rarely been touched."
Ghesquière's work at Vuitton has not revolved just around actors and artists. One of his most visible clients has been French First Lady Brigitte Macron. She first approached the designer in 2015, a year before the beginning of the presidential campaign, telling him that she was going to be in the public eye. "Without specifying what their plans were, she said that she was going to need some support," the designer recalls. "I don't want to say that she needed advice, because she has excellent taste and very much her own style, very personal. But she wanted to analyze with me how to create a recognizable identity. You know how so many grandes dames have a presence that is very assertive and recognizable? This was the idea with Brigitte. And we asked ourselves: What is the silhouette? What are the colors? What are the fabrics? We spent a lot of time talking it through, and the goal was to get to the point that her personality could be understood just by looking at her. And then, of course, it was also important that it be beautiful."
They came up with a very clear message for Madame Macron: bold colors, strong shoulders, loose boxy jackets, and very short skirts (Karl Lagerfeld said that Brigitte Macron has the most beautiful legs in Paris). "I think this has really worked for Brigitte," Ghesquière continues, "how, with just a quick glance, you are able to tell immediately that it is her."
The very first Nicolas Ghesquière show for Louis Vuitton was held at the Cour Carrée of the Louvre, on March 5, 2014. Out came the designer's new approach for the house: tailored leather coats over short knit dresses, and a tiny new Vuitton trunk, the Petite Malle bag. In 48 looks, with their retro A-line silhouettes and modern fabrics, Ghesquière had charted a new direction for the house. "I came out, and there was an ovation from 1,200 people," he remembers. "The past year had been a little traumatic—two seasons without knowing what I was going to do—but I felt this tremendous goodwill, the kindness, the warmth of the audience. There were people who were happy to see that I still had a voice, that I was starting a new story. I think about that moment anytime I hear that fashion is a viper's nest, that it is filled with people who are judgmental. Yes, it can be tough and very competitive. But whenever I have a difficult time, I think back to that moment, when I felt all of the kindness and energy and love from that room."
Related: Nicolas Ghesquière Turned the Louis Vuitton Runway Into a Theater