Once Upon a Time…In Hollywood Gets a Sequel at Quentin Tarantino's Dream Party
What if Pussycat, played by Margaret Qualley, and Sadie, a fellow cult member played by Mikey Madison, had never met Manson and instead became roommates?
Photographs by Angelo Pennetta
---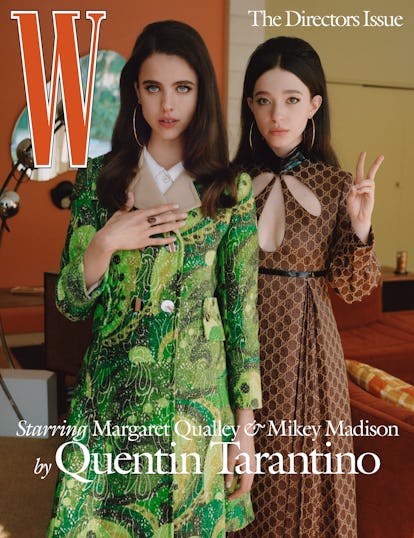 Directed by Quentin Tarantino; Photographed by Angelo Pennetta; Styled by Sara Moonves.
The Cast:
Margaret Qualley as Pussycat
Mikey Madison as Sadie
Madisen Beaty as Katie
James Landry Hébert as Clem
Harley Quinn Smith as Froggie
Rainsford as Starling
Adonis Bosso as Fred
Ebonee Davis as Chrissy
with Kurt Russell as Randy Miller
& Quentin Tarantino as QT
When critics say that Once Upon a Time…in Hollywood, Quentin Tarantino's ninth, highly acclaimed feature film, is a love letter to Los Angeles and the movie business, he objects. He knows they mean it as a compliment, but he had a more complex mission in mind. The film, which takes place in 1969, follows the lives of Rick Dalton, a down on his luck actor (played by Leonardo DiCaprio with a slight stutter that gives Dalton an air of vulnerability); Cliff Booth, his best friend and longtime stuntman (played with grace and enduring cool by Brad Pitt); and Sharon Tate, the real-life actress who, for Tarantino, epitomizes the golden glow of stardom (played with angelic lightness by Margot Robbie). Throughout the film, fiction converges with and diverges from reality. For instance, when Booth picks up a long-limbed hitchhiker in cut-off jeans named Pussycat (played by Margaret Qualley, in a star-is-born performance), they end up at the Spahn Movie Ranch, where Charles Manson and his mostly female followers are living.
Things are terrifying at the ranch (and get darker still later on), but even in the most extreme moments of Once Upon a Time…in Hollywood, there is a deep well of emotion that is unmatched in Tarantino's other films. "I think it's because the movie echoes my childhood memories of Hollywood," Tarantino told me on a clear afternoon in January. It had been a very good week: Once Upon a Time…in Hollywood had won three Golden Globes, including Best Picture—Musical or Comedy, and had been nominated for 10 Academy Awards. We were sitting around the pool of a 1960s-style house in Hancock Park, an older section of Los Angeles, where Tarantino's W shoot was taking place. His photographic concept was a riff on the film's plot: What if Pussycat (Qualley) and Sadie (a fellow cult member, played by Mikey Madison) had never met Manson and had, instead, become roommates and L.A. scenesters? Maybe they were aspiring actresses? Or models? In any case, in this new version of their lives, they were throwing a house party with some of their close friends: Madisen Beaty and Harley Quinn Smith, who were also Manson girls in the film; James Landry Hébert (another Manson family member); and the veteran actor Kurt Russell, who has appeared in several Tarantino projects. (It was Russell who, perhaps inadvertently, gave Tarantino the idea for the roles that DiCaprio and Pitt play. "I once told Quentin some stories about my stunt double," Russell said when he arrived at the house, "and I think he stored them away.")
Tarantino, who was dressed in a white shirt and black jeans, continued to discuss the autobiographical roots of his film. "I was speaking with Alfonso Cuarón about Roma," he said. "I loved that film, the way it was a remembrance of Cuarón's childhood in Mexico City. And I told him that this project was similar for me." In fact, the music in the movie is all songs that were played on KHJ, the most popular radio station of Tarantino's youth; the storefronts and movie theaters on Hollywood Boulevard were returned to their circa 1969 glory; and billboards throughout the city advertised Tarantino's favorite movies from that era. "I remember being a 6-year-old in the back seat of a car and looking up at the marquees on Hollywood Boulevard, or listening to the commercials on KHJ for things like Tanya, which would give you a true Hawaiian tan, or seeing the neon signs light up at some restaurant on Beverly Boulevard, and I would think, Man, what is that world like? I was completely intrigued."
Tarantino's trajectory is well known. He grew up in Los Angeles's South Bay, dropped out of high school, and, in his early 20s, worked at a video store while writing screenplays and dreaming of acting and directing. His first feature, Reservoir Dogs, about a heist gone wrong, debuted at the Sundance Film Festival in 1992 and completely upended the independent-film world. Two years later, Pulp Fiction won the Palme d'Or at Cannes, and Tarantino became an international star. His deep knowledge and love of all kinds of cinema (and television, for that matter), both high and low, foreign and domestic, indie and commercial, made him a sort of savant, popular with critics, film geeks, and mainstream audiences alike. (Once Upon a Time…in Hollywood has grossed nearly $400 million worldwide so far.)
I first met Tarantino during the filming of Pulp Fiction. He was shooting the scene where Vincent Vega, John Travolta's character, meets his boss's wife, played by Uma Thurman. Tarantino had a role in the film, but he wasn't acting that day. Even so, he was wearing his character's bathrobe, roaming around the set with the actor Eric Stoltz. There was a looseness about Tarantino's approach—a genuine joy in the act of filmmaking—that has never left him. Cell phones are strictly prohibited on his sets, and, unlike most directors, Tarantino never retreats to a faraway screen to watch how a scene looks. He stands next to the camera and enthuses after every take. "Let's do another one," Tarantino will say. "And why?" The cast and crew know the answer: "Because we love making movies!" they'll respond in unison.
From our first conversations, a few things were abundantly clear, and they have not changed as his fame and experience have grown: Tarantino is passionate about all genres of film; his sense of characters and dialogue is unique; and he deeply loves women's feet. Bare female feet have been prominently featured in almost every Tarantino film-—from Uma Thurman slipping off her mules to dance in Pulp Fiction straight through to Margot Robbie removing her boots to watch a movie in Once Upon a Time…in Hollywood. Along with creating intricate plots that deftly move back and forth in time, writing quotable lines, and taking liberties with historical events, Tarantino has, as Brad Pitt recently put it, "separated more women from their shoes than the TSA."
Which is why, at the party for Tarantino's shoot, the guests would be playing Twister barefoot. But not quite yet. The party preparations began with Qualley and Madison getting dressed in their bedroom. Madison, who costars as the oldest daughter on the acclaimed TV show Better Things, was getting her palm read by Qualley. In the living room, their friends, including Rainsford, a singer and DJ, and Qualley's sister, as well as Adonis Bosso and Ebonee Davis, who are models, were gathering around the deviled eggs. When Tarantino, the guest of honor, arrived, the room exploded.
After setting some party tableaux—mad dancing to James Brown, the aforementioned Twister game, and Russell pouring drinks in his Hawaiian shirt while the girls hung on his every word—Tarantino examined the albums chosen for the gathering. In his films, songs are carefully curated: He has been known to make playlists that illustrate and inform the nature of a character's tastes. I've always had the sense that the people in his films are very real to Tarantino. It's why they are so vivid onscreen; he sees them as flesh and blood—as friends, even.
The sad news for fans of his work is that Tarantino has long said that he wants to make only 10 films. That means there will be only one more Tarantino movie. He's now married to the actress-singer Daniella Pick, and they are about to have a baby. Pick is Israeli, and Tarantino spends part of the year in Tel Aviv, where he rides his bike, is working on a novel, and is quickly becoming a national treasure. "I'm already a recurring character on the Israeli version of Saturday Night Live," he told me. "I haven't watched it, but I'm told it's funny." As things wound down, Tarantino prepared to leave. "I'm sticking with the 10 films," he said, over my loud objections. "I want each one to be special." Somehow, he didn't seem sad about this. "I will do other things," he said mysteriously. "Maybe I'll throw parties!"
A café au lait convertible was parked in front of the house. Qualley and Madison, in patterned silk head scarves and large sunglasses, were waiting for Tarantino. As he sat in the front seat, behind the wheel, the girls piled in to the car. Although it had been gloomy all day, the sun was shining at that precise moment. "Look at that!" Qualley said. Tarantino put on his sunglasses and smiled. "Let's go!" he said, in character as the guest of honor. Perhaps Sadie and Pussycat had found their new guru after all. Or, at least, a happy ending to their Once Upon a Time…in Hollywood fairy tale.