An Intimate Look at Chanel's Pre-Oscars Dinner
Get a glimpse inside the party that's become one of Oscar weekend's go-to events—attended this year by Robert DeNiro, Camila Morrone, Margaret Qualley, Sofia Coppola, and many more.
---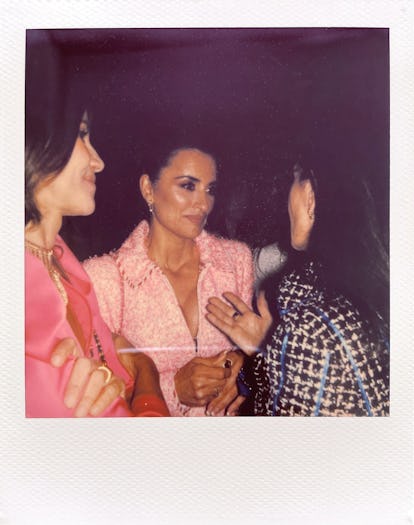 In 1930, Samuel Goldwyn, the film producer who ran United Artists at that time, reached out to Gabrielle Chanel, then 46 years old, and asked her to design costumes for movies.
Goldwyn was searching for ways to bring in the moviegoers who'd stopped sitting in theaters after the financial crash of 1929, and was convinced that Chanel's designs would give a certain pedigree and allure to the silver screen. Initially, Chanel declined, citing a desire to not be regarded as a theatrical costume designer and an employee of Goldwyn's. But one year later, she conceded, and flew to Hollywood, where she ended up designing clothing for Greta Garbo and Katharine Hepburn.
Fast-forward 90 years—the fashion house is now an integral part of Hollywood: it has a partnership with the Tribeca Film Festival, through which it launched Through Her Lens in 2016, a program that supports women filmmakers, and is the partner of the MoMA Film Benefit each year.
And then there's the annual pre-Oscars dinner. This isn't necessarily a party thrown for goodwill and charity—although there certainly is that aspect, as it gives a chance for members of the filmic community to get together and meet. But the Chanel and Charles Finch Pre-Oscar Awards Dinner at the Polo Lounge in Beverly Hills has emerged as one of the essential Academy Awards weekend events. During what is an utterly packed 72 hours, top-tier actors, actresses and filmmakers make time to go to the dinner—and they did on Saturday night, when Robert DeNiro, Sofia Coppola, Penelope Cruz, Leslie Mann, Judd Apatow, Margaret Qualley, and many more came out for the party.
Kaitlyn Dever was one of the newcomers there—she's currently in the midst of her very first awards season.
"It definitely feels chaotic in a good way," Dever said. Earlier that day, she'd been to the Independent Spirit Awards, where Olivia Wilde won Best First Feature for her film "Booksmart," which starred Dever alongside Beanie Feldstein.
Dever was in the middle of explaining that she "keeps getting starstruck and freaked out by Scarlett Johannson," when she experienced her own starstruck moment in real time. Demi Moore emerged from the shadows and, after a brief interaction in which Dever's voice went up about seven octaves and she laughed nervously, like a teen who'd just seen her crush in the hallway at school, she gasped, "Okayyyyy, I just met Demi Moore. I wanna put that on the record!"
The 23-year-old "Unbelievable" actress is currently working on finding more multifaceted film parts for women, she said, alongside two other projects she couldn't expound upon.
"You have to seek those more complex kinds of roles out," she said. "I have two coming up, and they're characters that I'm looking forward to playing, with people that I've always wanted to work with, and always been friends with, just hadn't had the chance to work with them yet."
While Lucy Boynton, Camila Morrone, Taylor Russell, Pedro Almodóvar, Michael Keaton and Harvey Keitel circled the courtyard outside the dinner, where twinkling white lights were strung up around the trees and cocktails were passed around on silver platters, Sofia Coppola stood just outside the party, with her black tweed jacket draped over her shoulders. It was an unusually cool night in Los Angeles, and Coppola's breath was visible in the air as she talked about the MoMA archives program, which Chanel supports.
"My editor that I work with, Sarah Flack, she participated in Through Her Lens," Coppola said, adding that she's met a few young actresses through Chanel. "I really liked meeting Margaret Qualley, and Taylor Russell. I feel they're always supporting young actresses and involved in that world."
The most important thing, she noted, is that she gets to reunite with her friends at the pre-Oscar dinner each year, and see people who leave even her starstruck. On Saturday night, it was Joan Collins, whom she mentioned she'd seen at least three times.
"I think it's such a fun, classic, Hollywood moment. There's a mix of old guard and young guard. I liked seeing Joan Collins, with all these young actresses. And seeing Joan Collins," she added, chuckling. "Geeking out with Pedro about Joan Collins was really a highlight."
Coppola's awards season has been spent in what she called "my cave."
"I've been in a dark room finishing my movie [On the Rocks, starring Bill Murray,] so I just came out for a few days. And then I'll go back into my hole and finish the work part of my movie. But it's fun to do work all the time and then you get to come out and celebrate movies and see people and hear what people are working on.
"I saw Leslie Mann, who was in Bling Ring," she added, noting that she hasn't rewatched the 2013 film she made since it came to Netflix last year. "I still can't go back to Calabasas quite yet."