Oscar de la Renta, Fashion Designer, Dies at 82
Remembering the iconic fashion designer's important legacy.
---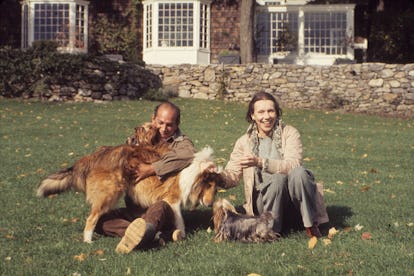 On Monday night, at the age of 82, the legendary Oscar de la Renta passed away in his Connecticut home after an eight-year battle with cancer. Born and raised in the Dominican Republic, de la Renta began his career in Spain, where he worked with couturier Cristobal Balenciaga before heading to Paris in 1961. After famously turning down a job at Christian Dior, he joined Lanvin and, later, Elizabeth Arden, which was producing a couture collection at the time. In 1965, he launched his eponymous label in New York. Fragrance and furniture followed, but his legacy is the dress: his ladylike frocks have been worn by Hillary Clinton, Nancy Reagan, and Jacqueline Kennedy Onassis. Celebrities like Sarah Jessica Parker (see her look from the 2014 Met Gala here) and Emma Watson sported his decadent gowns on the red carpet. And the new Mrs. George Clooney, lawyer Amal Alamuddin, was married in one of his designs just last month. And then there were the social swans; no one epitomized the intersection of fashion and high society—the domain of W for decades—quite like Mr. de la Renta.
His illustrious career has not been without controversy, of course. In 2011, he criticized First Lady Michelle Obama for wearing a British-designed gown on a trip to China instead of one by an American designer, and in 2012, de la Renta called New York Times fashion critic Cathy Horyn "a stale three-day-old hamburger." Fortunately, both conflicts appear to be resolved: Obama wore her first de la Renta last week after the White House Fashion Education Workshop, and Horyn appears to bear no grudge in her beautiful obituary, published last night.
Photos: Oscar de la Renta, Fashion Designer, Dies at 82
Oscar and Francoise de la Renta playing on the lawn with their dogs by Pierre Scherman; W Magazine November 1976. Courtesy of CNP Montrose.
Oscar de la Renta driving on his Connecticut estate, 1976. Courtesy of the WWD Archive. Photo from "On the Go."
Oscar de la Renta and Helene Rochas at a Metropolitan Museum of Art event; W Magazine December 1983. Photo by Tony Palmieri and Thomas Iannacone, courtesy of CNP Montrose.
Looking back, Oscar de la Renta photographed by George Chinsee in 1987; W Magazine November 2012.
Oscar de la Renta prepares to board Air France's Concorde at Dulles International Airport. Article title: "Flying High on the Concorde." Courtesy of CNP Montrose.
Oscar de la Renta behind the scenes with Naomi Campbell by Cedric Dordevic; W Magazine March 1991.
Ian Klause, the Clinton family, and Olympic speed skater Apolo Anton Ohno at Oscar de la Renta's home in the Dominican Republic, 2002, by Bruce Weber. Courtesy of the photographer. Photo from "On the Go."