Parris Goebel Lives Out Her Fantasies Through Dance
The choreographer responsible for J.Lo and Shakira's halftime show at the 2019 Super Bowl has crafted some of the most recognizable dance moves.
Photographs by Trotter
---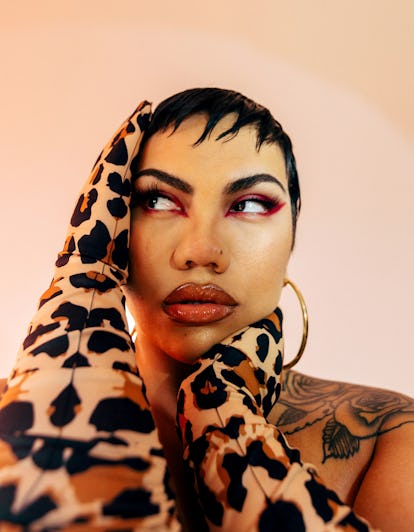 For our annual "The Originals" portfolio, we asked creatives—pioneers in the fields of art, design, fashion, comedy, activism and more—to share their insights on staying true to themselves and pushing the creative envelope in a chaotic year. Read all the Q+As from this year's group here.
This past February, you choreographed Jennifer Lopez's stunning Super Bowl halftime show, and you just choreographed your second Savage x Fenty show. You also did Justin Bieber's "Sorry" video. In total, you have created dances that have been seen by billions of people. How did you get your start?
I started dancing as soon as I could walk. I grew up in New Zealand, and I loved all the arts, but when I was about 8, I was completely drawn to dance. Since MTV was my only source of entertainment, I studied videos. I loved Missy Elliot and Michael Jackson. All the greats!
Did you copy Michael Jackson's spin moves?
I watched the video for "Smooth Criminal" over and over, but I could not really get his turns exactly right. But we all tried!
How did you find your way to Jennifer Lopez?
She discovered me on YouTube. I was posting videos of my hip-hop and street dancing online, and she saw a video where I was doing an abstract piece to an Etta James song. YouTube was my main creative outlet—I didn't have anyone helping me. Jen contacted me, helped me get a visa, and gave me my first job on the global stage. I was around 19 and ready to leave New Zealand. I had big dreams.
Recently, you signed with IMG Models, and you walked in the Tommy Hilfiger show in Paris. Were you tempted to dance down the runway?
[Laughs] No, I was happy to walk. I also opened the Savage x Fenty show [which streamed online in October]. That was a change!
Was it difficult to choreograph the Savage x Fenty show with all the Covid protocols in place?
It was…different. It took two months to create the show. We had to dance and train in masks and social distance. It was definitely challenging, but we were still able to come together and create something that, hopefully, had people screaming enthusiastically at their screens.
Do you have a favorite item of clothing?
I love my Louis Vuitton duffel bag; I travel the world with it. When I take it out, I know I'm going on an adventure.
Who is an original to you?
Rihanna is a huge influence on me. She is truly an original. And Bob Fosse, the dancer-choreographer-director, is an icon I look up to. I love his film All That Jazz. That opening number, "On Broadway," is so inspiring—his choreography is sharp and sexy. When I see dance like that, it makes me very emotional.
Sometimes you spell your name with a dollar sign: Parri$. Do you want to do it that way here?
No, I'm just Parris. But sometimes it's nice to have different identities.