Peter Do Wants to Rewrite the Rules of the Fashion Industry
The collective behind the young brand are approaching things with an inclusive ethos and a fresh, global perspective.
Photographs by Charlie Gates
---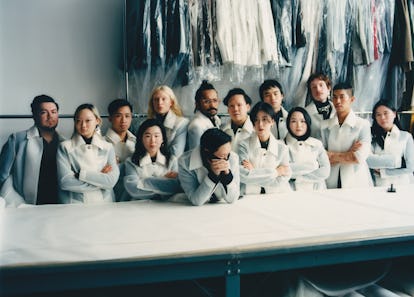 Photographed by Charlie Gates; Styled by Allia Alliata di Montereale.
As a young designer starting out, Peter Do, 29, received a lot of advice from people who had been in the business longer. Much of it went unheeded. Many, for instance, told him it wouldn't be wise to debut his New York–based brand during the pre-collections in Paris without having a public relations contact or a sales representative in place. But he and his team did it anyway. Paris, they figured, would expose them to a larger audience, and the money they saved on outside help could be used to produce the clothes.
So they lugged 110 pieces up five flights in the middle of July to set up in a friend of a friend's living room that was filled with flies and children's toys, and posted their whereabouts on Instagram. Knowing little about sales, they had to Google technical terms thrown around by buyers ("What is 'Ship Ex Works'?") using shoddy Internet service. And when their in-house model, Maggie Maurer, got stuck in Madrid, Jessica Wu, a diminutive stylist who is one of the brand's founding members and now handles public relations, had to wear the samples, the pants pooling around her ankles.
Regardless, they closed the season with half a million dollars in sales and orders from top retailers like Dover Street Market and Net-a-Porter. "We haven't followed any system," says Do, whose name is pronounced like "dough." "And it's working."
Launched a year and a half ago by a group of friends who'd met online, Peter Do is a brand for our age. Everything about it, from the clothes to the core values, is thoughtful and driven solely by what feels right to the group. The designs, which take cues from old Helmut Lang and Geoffrey Beene, are based around a tailored silhouette because, as Do sees it, men's wear is beautifully constructed and made to be worn for years.
For Do and his gang, functionality and wearability are key—there are pockets in everything, including skirts and dresses. Jacket linings possess a signature pleating that expands when the wearer moves. And much of the sleek knitwear, which is new for fall 2020, is sleeveless, offering warmth without the cumbersome layering. "I like to watch people, and when I see them struggling with something, it inspires me to fix it," says Do.
His mantra: clothes for women to live in. Which is to say, clothes for women who get stuff done and look cool doing it, and are above reworking their wardrobes every season to account for silly trends. "They should just be able to grab whatever in the morning and know they look good," says Do of his customer.
Do, who was born in Vietnam and moved with his family to Philadelphia when he was 14, says he learned English by watching Sex and the City. After graduating from the Fashion Institute of Technology, in New York, and winning the inaugural LVMH Graduates Prize, in 2014, Do spent two years ("though it felt like 10, we worked so hard") at Celine during the Phoebe Philo era, learning firsthand just how far well-made clothes will get you. "I still wear my Celine all the time," says Do, who amassed a sizable collection by stashing samples rejected by Philo in his own closet. "None of it looks dated."
It was at Celine that he also discovered the desire to start his own line. "I thought to myself, Do I want to be my immediate boss in five or six years? No. I wanted to be Phoebe." So he quit, moved back to New York, and took a job at Derek Lam, where he could make a living while laying out plans for the future. He started by reaching out to his friends—Lydia Sukato, who worked in design at Calvin Klein; Vincent Ho, who was working in sales at Celine; An Nguyen, who's a photographer; and Wu, who had styled Do's thesis collection—to ask if they'd join him in starting a brand. They all said yes.
And so, on the weekends, they would gather in Do's Clinton Hill apartment to discuss the fundamentals: How do we envision our line? What are our values? Despite people telling Do that he should do contemporary fashion because no one buys luxury from a newcomer, the team was set on the brand's being high-end. "I only know luxury fabrics, luxury construction," he says. "Anything less wouldn't have felt genuine." They also agreed that producing in New York and supporting the local garment-making industry was important.
To address sustainability issues, they would produce only made-to-order wholesale clothing and limited numbers of tailored pieces, and any leftover fabric would be reused the next season. (They also aim to be plastic-free by the end of 2020.) "You can't just talk the talk," says Ho, who handles the business side of the operation. But above all, there would be no bitchiness. "I wanted to build a company where everyone is nice," says Do, who cooks lunch for his team every Thursday using a surprise ingredient brought in by one of his coworkers the day before. "A company where people are excited to go to work and are treated fairly, and can grow."
They set to work on the logo, the packaging, the look of the website. During the week, Do focused on Derek Lam but spent his lunchtime sourcing Italian fabric mills (many of which supply Celine), or would run out to check on sample production of his own line. By the time he and his friends quit their day jobs, everything was in place—including a substantial and fully engaged Instagram following, built up by being completely transparent throughout the process.
"How do you make a luxury brand feel 'now'?" Ho asks. "By being more personable. Just because we live online doesn't mean we're not connecting with customers." To that effect, Do makes a point of routinely responding to his many Instagram messages. "I don't go out anymore—I work, cook, go to the movies, hang out with my cats, and answer DMs," he says. Despite his very personal relationship with online followers and his regular outfit of the day posts, Do is an extremely private person. And he has a thing about not showing his face. (Fans recognize him by the line tattoo that runs from his left ear all the way down to his pinky.) It's not a marketing ploy; even when he was young, he hid the family portraits.
"I just don't like my face being memorialized," he says with a shrug. "And besides, the brand should be focused on the clothing, not the designer." Certainly, there are those who would argue against that notion. But to heed them wouldn't be the Peter Do way. "My ultimate goal is to be as free as I can," he says. "I just want to do things I want to do, and only make the things we believe in. With this brand we have a chance to rewrite the rules our own way."