Pop Stars's Pink Hair Phases, Ranked
From Madonna to Lady Gaga, who had the best pink hair phase?
---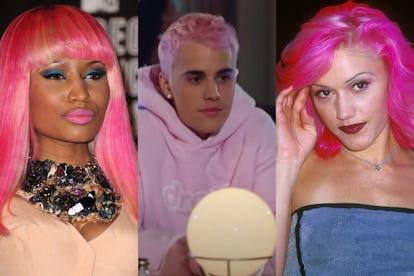 Earlier this month when Dua Lipa conscripted boyfriend Anwar Hadid to dye her hair, we thought the singer was about to embark on one of the most hollowed touchstones of a pop star's career: the pink hair phase.
As it turns out, Ms. Lipa's temporary foray was more a part of the lockdown boredom hair trend than it was a definitive career move (in fact, she's already moved on to orange hair dye).
Still, we couldn't stop thinking about the potential era-marking power of pink hair in a pop star's career. When played right, it can be a powerful tool in the whole perpetual "image reinvention" game. We're not talking temporary experimentation (yes, Rihanna looked really, really cute that one time in that pink pixie cut, but that turned out to be for a single night). We're talking complete eras. When someone says, "Remember when they used to always have pink hair?" you instantly think back to a specific album cycle (or at least, the promotion of a major single). Here, a quick ranking of pop star's pink hair phases.
Editor's note: We're aware there was a time in 2007 when a certain pop star was spotted frequently in a pink synthetic bob wig, but in reverence to human decency, we will not count that as a definitive professional phase.
TBD: Lady Gaga
It's hard to find some fashion statement Lady Gaga hasn't flirted with before, but after some previous dips into the pink wig well, she seemed to signal a total devotion to the hue to promote her upcoming album Chromatica (or, at least, its lead single "Stupid Love"). Then the album got delayed, Gaga put on some glasses, reverted to natural hair tones, and started raising funds for Covid-19 relief. Will the pink hair return eventually? We're not sure, so it feels premature to rank the moment.
9. P!nk
"But pink hair is so central to P!nk's whole thing, she literally named herself after it!," you might think. Technically: wrong! The woman born Alicia Moore adopted her stage name from a character in Quentin Tarantino's Reservoir Dogs, and the devotion to pink hair dye was really only limited to her debut album Can't Take Me Home. This was a time when the idea behind P!nk's career was to launch her as a one-white-girl version of TLC (she worked with many of TLC's producers and label head on the record). It worked enough to get her on TRL, but she seemed like a novelty act. P!nk began to let up on the neon hair dye at the same she let up on the cultural appropriation. At the beginning of her Missundaztood era, the pink streak remained, and by the end of it she was not only fully blonde but fully evolved into the pop star with a surprising staying power we know today.
8. Justin Bieber
In recent years, Bieber has treated his hair like an afterthought (if he's even thought of it much at all). Though, to kick off his Changes era, he very, very quickly went pink for the video for "Yummy," but returned to his more regular dirty blonde quicker than that song fell out of the top 10.
7. Madonna
This is less a true era, but more an acknowledgement of both how, if you look hard enough, Madonna really did do everything first, and how much synthetic wig technology has advanced since the '80s. For two high-profile television performances to promote "Like a Virgin," Madge inexplicably wore a rather Party City-grade pink wig. Paired with her custom pink-and-black Keith Haring leather jacket, it's pretty cute, but not quite iconic.
6. Katy Perry
Perry's most committed pink hair phase came in 2011. It was a great time for her career. Teenage Dream, released in 2010, was a bonafide smash, and she was still pumping hit singles out of that thing like they were a renewable resource. Her career credentials at the time were unimpeachable, and, yet, when you look back at it, do you remember pink hair being central to it all? Perry rotated through a number of other hair colors during the time, denoting her maximalist tendency to be quite a lot all at once. She's also reopened the pink hair tin a few times since (including in the "Chained To Rhythm" video in 2017, and American Idol promotion in 2019), underlying perhaps Perry's biggest flaw as a pop star: she's failed to master the whole "complete image reinvention aspect." For her, sometimes time seems like a flat circle.
5. Christina Aguliera
Christina can't stray from blonde for too long, but there was a concerted effort to make pink wigs and hair extensions part of her look for her 2012 album Lotus. And, look, "Your Body" was a slept-on bop, Christina looked great, but, alas, there's a reason why we're still more likely to #BuyBionic on iTunes.
4. Doja Cat
Yes, Doja Cat's hair color seems to change more often than the internet's opinion of whether or not she's problematic, but she's really leaned into pink as a favorite for photoshoots and major performance. Say what you want, but she is the moment.
3. Grimes
We first saw Grimes with pink bangs in her 2012 "Oblivion" video, and she'd return to the hue for a stretch during 2015 and 2016. At both times, it look liked Grimes was doing her own hair with a 10-year-old hair buzzer and a packet of strawberry-flavored Kool Aid. Sometimes, we really, really miss that Grimes.
2. Nicki Minaj
"Pink wig, thick ass, give 'em whiplash," Minaj rapped on her now legendary "Monster" verse. Indeed, the rapper first emerged in the video for a remix of Yo Gotti's "Five Star Chick" with relatively subtle hot pink streaks in her hair, and the amount of the color on her crown seemed to grow at the same rate as her cultural relevance. Minaj has never quite given up on those pink wigs, bringing them back often, but they remain synonymous with her initial imperial phase.
1. Gwen Stefani
Gwen Stefani's 1999 pink phase was less a branding decision, and more a reaction to a breakup (the timeline suggests it would be her first split from Gavin Rossdale). Her solo career still in front of her, Stefani decided to deal by grabbing a tub of Manic Panic and dyeing her hair herself. The hue soon become the calling card for No Doubt's (sort of underrated) Return of Saturn era, and seems to be the first true "pink hair phase" you can pinpoint to a specific portion of a celebrity's career.