Proenza Schouler's Birkenstock Collaboration Is Now Available
Designers Lazaro Hernandez and Jack McCollough were inspired by old-school sneakers, and their respective childhoods spent on Miami beaches and touring with the Grateful Dead.
---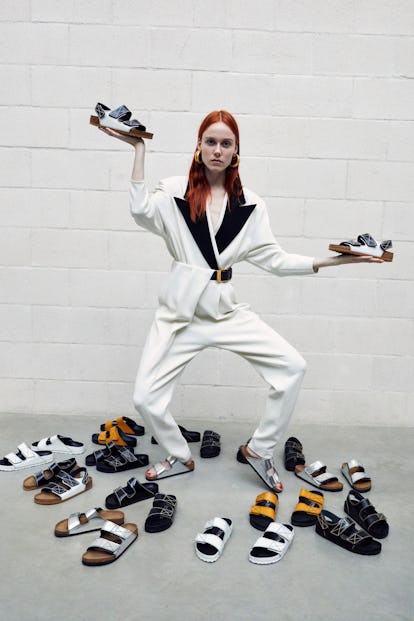 Photo by Juergen Teller
Years before Proenza Schouler sold its first pair of silver-heeled boots or extra-pointy white leather mules, the designers Jack McCollough and Lazaro Hernandez were Birkenstock men.
For Hernandez, an early-'90s Miami teen who spent every free moment in the sand or on a boat, the clunky slip-on sandals were a natural choice. "Birkenstocks were what my friends and I always wore because they were easy, comfortable, and had a kind of counterculture nostalgia associated with them that was very much in the air during those days," he said.
McCollough, as a young free spirit, ended up in what must have been the epicenter of Birkenstock devotees when he started following the Grateful Dead around the U.S. "On tour, that was the de facto uniform," he said.
Now, the pair have collaborated with the hyperpractical German footwear company on a capsule collection that applies the sharp urban sensibility of Proenza Schouler to Birkenstock's classic Arizona and Milano shapes. The shoes are available exclusively on Net-a-Porter today, and from a small selection of retailers (including the Proenza Schouler and Birkenstock 1774 websites) starting March 20.
Rendered in glossy black, white, ocher, and silver, with a leather-covered footbed, the shoes feel more Berghain than dad rock. There's a sexy, arty toughness in McCollough and Hernandez's version that has never quite come through in previous designer collaborations—you can sense their thoughtfulness about the proportions of what they were working with, an understanding of what's pulled people toward these styles for the past few centuries. They're elevated and stripped-down at the same time.
Rather than the traditional metal buckles, each pair is secured with Velcro and embellished with thick contrasting stitching, a nod to the visual language of vintage sneakers and combat boots. "We've always been attracted to old-school sneakers that use Velcro straps as closures, and we thought that doing something like this on a Birkenstock could be interesting," Hernandez said. "We wanted to keep its spirit, its hardcore functionality, but reduce the whole thing down to its pure essence."
As they worked on the collaboration last summer, McCollough and Hernandez quizzed their friends: "What do you love about Birkenstocks? If you could change something, what would it be?" Sometimes they would reveal that they were designing their own version, sometimes not—but it helped inform how they approached the design process, weaving in their own experiences and emotional memories with the practical needs of their crowd.
"Birkenstock, for us, is off-duty," Hernandez says, "It takes you to a place of vacation, of beach, of country, of weekend." McCollough wears them when they're putting in 16-hour days prepping for shows for exactly that reason: "It kind of takes me to the place that Lazaro was speaking of. So in more stressful environments, they come in handy as well."
For Proenza Schouler's spring 2020 show, models wore heels, but some gripped Birkenstocks along with their purses, giving off what Hernandez and McCollough described as a "chic commuter vibe" that embodied the sort of on the go woman who wears their clothes. Now that they're available to the rest of us, expect to see the real-life version on sidewalks—office-adjacent and otherwise—around the world.