Read & Resist: W's Daily Briefing for June 24
From tallying up the economic debts owed to Black Americans to demanding justice for Elijah McClain, here are the stories not to miss.
---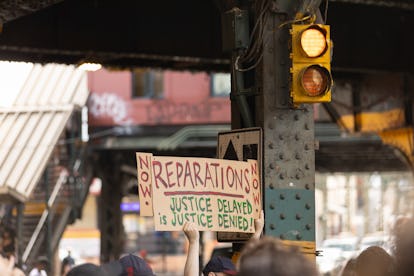 Photograph by Serichai Traipoom for W magazine.
Back in the day, W started off the morning with a quick round-up of links to that day's fashion- and culture-related news. Times have changed; in the weeks since a now former white police officer named Derek Chauvin killed an unarmed Black man named George Floyd, protests have erupted across the country. Now, more than ever, it's important to stay up to date, which is why we're reviving "Chic in Review" as the slightly more radical "Read & Resist." Here are the stories, videos, and tweets we're hoping you don't miss this Wednesday:
When this summer's protests began, many bail funds like the Minnesota Freedom Fund became overwhelmed with a deluge of donations. Tracing the history of bail funds in the United States up until this "contemporary bail fund movement," it becomes clear that donating to bail funds is not just a simple solution to the racial injustices in the criminal justice system.
During a protest against the killing of George Floyd, Urooj Rahman and Colinford Mattis were accused of throwing a Molotov cocktail at a police car in Brooklyn, and no one was injured. Because their alleged target was a law enforcement vehicle, their case has now gone to the federal level, meaning they face a potential life sentence if found guilty of all seven counts for which they were indicted. Former U.S. Attorney for the Eastern District Zachary Carter called the government charges "an unusually severe exercise of discretion."
On August 24, 2019, 23-year-old Elijah McClain was walking home from a convenience store. He was assaulted and detained by Aurora, Colorado police, though he was unarmed, and died a few days after they placed him in a carotid hold, which restricted blood flow to his brain. There is three hours of footage of the arrest, in which McClain can be heard telling the officers, "I can't breathe," while vomiting and crying. One officer told him, "If you keep messing around, I'm going to bring my dog out and he's going to dog bite you." In the year since McClain's death and in the weeks since the death of George Floyd, many older cases of deadly encounters with the police have received renewed attention. 2 million people have signed the petition calling for a new investigation into McClain's death at the hands of three police officers, Aurora law enforcement agencies have been inundated with demands from citizens about launching a new investigation, and his mother's GoFundMe has almost reached a million dollars.
With help from the Chicago Community Bond Fund, the bail of Chrystul Kizer, a 19-year-old who was accused of killing her alleged sex trafficker, was paid. In 2018, when she was just 16, Kizer alleges that Randall Volar attempted to assault her when she shot him in the head twice and fled his home. Volar had been charged with human trafficking and child pornography, and was estimated to have abused a dozen underage Black girls.
On June 7, 2019, Layleen Polanco, a transgender woman with a seizure disorder, died alone in solitary confinement at Rikers Island while being held on $500 bail. According to a new report from the Board of Correction, the jail ignored a doctor's pleas to keep her out of solitary confinement and fostered an environment that "increased pressure" to isolate Polanco and other transgender inmates.
Thinking of both the September 2019 protests in Hong Kong and the June 2020 protests in New York, Jiayang Fang asks, "What compels a city to erupt?" and "What is the American responsibility at this moment?" while assessing the role of the journalist as a pursuer of objectivity.
While the media industry undergoes two reckonings—the #MeToo movement and #BlackLivesMatter—Connie Wang assesses the generational divide amongst workers in women's media and how we think about our jobs. "These women have demanded answers and solutions to the misogynistic and anti-Black environments that have felt as inextricable from this industry as its reliance on ad revenue and exclusivity," she writes. "The younger generation…sees problems as networks—the ways in which our culture is tied to our economy which is tied to geopolitical forces, the environment, and random circumstance. When they see a problem, they are more likely to question the entire system. My generation had recognized the same problems, but our solutions relied on navigating these issues in isolation: Want a raise? Get another job offer. Want healthcare? Find work at a bigger company."
Nikole Hannah-Jones describes the ways in which Black Americans have been prevented from building generational wealth for centuries, due to violence and discrimination, and outlines how this economic injustice is a root cause for the racial inequalities of today. How can these problems be fixed, when American prosperity is inseparable from the forced labor of Black Americans? Restitution and reparations. "Black Americans protesting the violation of their rights are a defining tradition of this country," Hannah-Jones writes. "No one can predict whether this uprising will lead to lasting change. History does not bode well. But there does seem to be a widespread acceptance of the most obvious action we could take toward equality in a nation built on the espoused ideals of inalienable, universal rights: pass reforms and laws that ensure that Black people cannot be killed by armed agents of the state without consequence."
Newsreel
Food for Thought
Related: Have Patience for the Owners of Black-Owned Bookstores