Renée Zellweger Doesn't Want to Geek Out at the Oscars Again
All she can remember from her 2004 Oscar win is doing "the geek spiral" when she accepted her Best Supporting Actress award.
---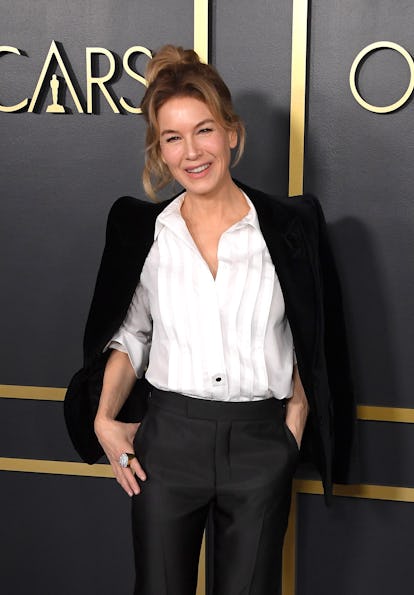 Who would ever think of Renée Zellweger as a geek?
Well, the actress herself, it turns out. She said as much on an appearance on Jimmy Kimmel Live, in which she also revealed she is so practical she drives herself to the airport ("Doesn't everybody?" she asked) and has some down-to-earth concerns about the upcoming Oscars.
Her performance as Judy Garland in Judy earned her the Golden Globe for Best Actress in a Drama Motion Picture and the SAG Award for Outstanding Performance by a Female Actor in a Leading Role, and it looks like Zellweger could be heading for an Oscar, too.
The last time she took home the award was in 2004, for her supporting performance in Cold Mountain and—she told Kimmel—she went into a "geek spiral" when she heard her name announced.
"You're not going to be the geek person who freezes up and can't hear anything and gets emotional," she laughed. "And then somebody says your name and you here this [makes beep noise] and then you do the geek spiral."
Zellweger's definition of "geek" appears to involve a person who is not only fumbling and bumbling but also an obsessive fan.
"You do the geek spiral and you hope that you don't stumble on the way up. I couldn't hear anything, remember anything. I remember somebody was talking and I guess it was me," the actress said. "And I was looking out at the audience of my coworkers for so many years, friends, people I've admired forever and ever—fan, yes, geek fan in that room, big time—and I remember thinking, my gosh it's like the Sgt. Pepper's album cover, all these famous people just frozen, staring."
Ultimately, she admitted, "I don't remember what I said," but if you watch the video of her 2004 speech, it's a pretty run-of-the-mill acknowledgement of her supporters.
And if her humble "nice to see you" Golden Globe acceptance speech from earlier this year is any indication of how she might handle another Oscar win next weekend, she'll be just fine.
Related: Renée Zellweger Says She Doesn't Have Instagram Because She Was Raised Right