Free at Last: Rita Ackermann's "Negative Muscle"
The artist's first solo show in New York in six years opens at Hauser & Wirth.
---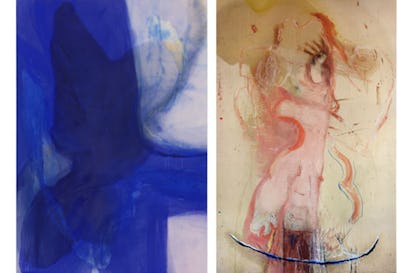 Following her spectacular collaborative show with Harmony Korine at the Swiss Institute three years ago, Rita Ackermann, the New York artist best known for her carefully realized drawings of pleasure-seeking girls, found herself wanting to take a new direction with her work. "Something less torturous," she jokes. The result is "Negative Muscle," a large-scale, more free-form painting that is now the basis of a new exhibit (her first solo effort in New York in six years) at Hauser & Wirth. And while the piece, which is presented by itself in the uptown gallery's back room, is undeniably captivating, it is her series of six paintings entitled "Fire by Days" that steal the show. A study of oversized blue forms, in which bodies seem to mystically appear and disappear thus blurring the lines of figurative painting and abstraction, they began as a happy accident—a paint spill on her studio floor, which she mopped up with a Hungarian fire safety poster. "I wanted to duplicate the pure power of the accident," she explains. "And multiply its freedom."
"Negative Muscle" is on view at Hauser & Wirth through April 20.
Images: © Rita Ackermann. Courtesy the artist and Hauser & Wirth. Fire by Days Blues IV: Oil and spray paint on canvas 266.7 x 185.4 cm / 105 x 73 in. Negative Muscle: Oil, enamel, spray paint, molding paste, crayon and tempura on canvas 295.3 x 193 x 4.8 cm / 116 1/4 x 76 x 1 7/8 in