Show of the Century
In an exclusive excerpt from her new book, The Battle of Versailles, Robin Givhan chronicles the most glamorous night in fashion history—one that put American designers, once and for all, on the map.
---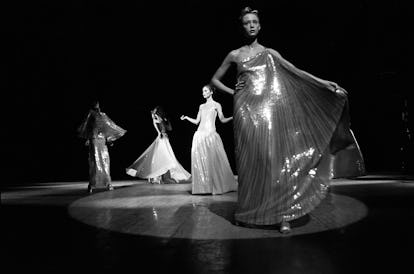 On the evening of Wednesday, November 28, 1973, as guests began arriving at Versailles, the palace glowed under a full moon and through a scrim of light snow—the first dusting of the season. Red-uniformed, saber-wielding gendarmes flanked the gilded gates, along with some 100 footmen in 18th-century white-powdered wigs and livery. The evening's host, Marie-Hélène de Rothschild, dressed in a green ostrich-trimmed gown by Yves Saint Laurent and with solitary diamonds pinned in her thick hair, greeted her noted guests, brushing kisses on the cheeks of the French and offering handshakes to the Americans.
The pale blue invitations with gold script had announced that the Grand Divertissement à Versailles—a lavish fundraiser for the palace and the first chance for striving American designers to test their creativity against their legendary French counterparts—was to begin promptly at 9 p.m. The dress code was black tie for men and long gowns for women.
The Versailles gala was unabashedly, unashamedly jaw-dropping. "The hype of the thing was enough to make your eyeballs go up into your head," recalls the Texas socialite Lynn Wyatt. "You opened your eyes and you were just blinded by the splendor and beauty."
For the American designers—Anne Klein, Stephen Burrows, Bill Blass, Halston, and Oscar de la Renta—walking to their private boxes in the Théâtre Gabriel felt like entering the Colosseum to be devoured by the lions. The Grand Divertissement à Versailles had not been organized as a competition, but due to media attention and human nature, it had become just that. The American designers, who'd said yes to the show because it promised to bring them publicity, now just wanted to survive it with their dignity intact. They'd spent days fighting with one another and wrestling with sets, music, and choreography that were still in disarray. Their music was canned. They'd booked their models—10 of whom were African-American—on the cheap and had agreed to share them. Would the young women have enough stage presence to bring the clothes to life? Would they all be able to hit their marks?
The French designers—Yves Saint Laurent, Hubert de Givenchy, Emanuel Ungaro, Pierre Cardin, and Christian Dior's Marc Bohan—went big. Their production was sweeping. It carried the weight of tradition. They had booked Josephine Baker and Rudolf Nureyev. But while the Americans worried they'd be dwarfed by the French spectacle, the French, who'd expected to easily dazzle and then gloat, worried that they'd overreached.
Entertainers will often talk about the perils of being over-rehearsed and how it sucks any sense of spontaneity and serendipity from a performance. The Americans had nothing to fret about in that regard. Their dress rehearsal had been cursory at best. Liza Minnelli, wearing Halston's gray wide-leg trousers and camel-colored turtleneck, with a red sweater draped around her neck and a fedora atop her head, pep-talked the three-dozen models toward confidence for the opening number, an adaptation of "Bonjour, Paris."
"I'm going to run out onstage and hit the first note, and you run out behind me," Minnelli told them. "The more natural it looks, the better—just like people on the street seeing the Eiffel Tower for the first time. Tap each other on the shoulder: You're not modeling; you're acting. Make it look as natural as possible."
The models trotted out after her in a panoply of quintessential American sportswear contributed by the participating designers, all in shades of beige: peacoats, trenchcoats, pleated skirts, pullover sweaters, shirtwaist dresses with their collars popped, easy trousers, and hats—broad-brimmed, tipped to the side, pulled snug over the ears. The only backdrop was a last-minute sketch of the Eiffel Tower by the illustrator and set designer Joe Eula. As Minnelli hit the final notes, Blass's assistant, Tom Fallon, who was -backstage, heard the audience applaud and cheer. Minnelli came racing backstage. "My God!" she exclaimed. "We got them."
Now the trick was to not lose them.
Klein was up first. The designer put model Barbara Jackson in a beige leotard with cap sleeves—little more than a bathing suit, really. "She had me lead the group of models downstage. She wanted me to run down toward the audience, and then she said, 'Kick your leg up!' She wanted people to just see all legs," Jackson recalls. "I wasn't as flamboyant as Pat Cleveland or Billie Blair. I had a little funky quality to my walk. I would come out with a big grin on my face—happy to be there. I was very happy to be there. Ebony Fashion Fair was my training ground, and it was more entertainment and not just showing fashion…You just wanted to walk to the beat of that music and flip your hair."
It was quite a start for the Americans.
Klein's so-called Africa collection included black shirts, pleated skirts with abstracted elephant prints, djellabas, loose-fitting shirtdresses with drop shoulders, and sexy two-piece dresses with coordinating turbans. While the French models had walked with regal, self-conscious slowness, hands on hips, making precise pivot turns, the Americans were moving to the rhythms of prerecorded contemporary music. Klein used the soundtrack from Scorpio Rising, a 1963 cult film about gay Nazi biker culture that included songs by Elvis Presley, Martha Reeves and the Vandellas, and Ray Charles—artists embedded in American popular culture.
The choreographer Kay Thompson, who had starred in the 1957 fashion film Funny Face and who was Minnelli's godmother, had insisted that the models move at top speed. "Zoom, zoom, zoom! One, two, three! It was completely different from any kind of show," recalls the journalist Enid Nemy, who was covering the event for The New York Times.
Originally, each designer had planned to show about 70 looks, but Blass forcefully argued for ruthless editing, believing a few well-chosen garments would have a bigger impact. Still, even with only about 20 looks each, that amounted to at least 100 exits. The models had to make whiplash-fast changes with the help of a few assistants—many of them amateurs recruited for the evening. Nicole Fischelis was a 21-year-old French kid working in the Paris buying office of Saks Fifth Avenue when one of the store's executives enlisted her help in getting the models dressed. "I couldn't say no," Fischelis remembers. "To be in Versailles and to be backstage and have a view of what was going on—it was a big coup."
The backstage area was expansive, but it was crowded and dark. There were close to 300 stagehands, models, and assistants passing through. Donna Karan, who at the time was Klein's design assistant, was backstage, too, six months pregnant and so overwhelmed by the stress of managing Klein's models that she started having what she described as "pre-labor contractions." In particular, she had to get Blair out of one garment and into the next. Pronto. "Literally half of me was being undressed and half was dressed," Blair says. "When you finished a passage, right offstage they were standing there with the next garment."
It only worked because the clothes were simple. "You pulled them on," Karan says. "There were no zippers." Unlike the French styles, with elaborate hooks and eyes that practically required a lady-in-waiting to fasten, the American clothes were designed for a quick-moving, independent woman. This was fashion's future in the wings of the Théâtre Gabriel: a woman getting dressed fast and furiously.
Klein had gotten the American segment off to a rousing start. It wasn't the clothes that made everyone snap to attention, however. Klein didn't design showstoppers. Grace Mirabella, then the editor of Vogue, who was in attendance that night, described them as "any woman's" kind of clothes. Peopledidn't remember how the garments looked, but they couldn't forget their attitude—or that of the models. They were snappy.
Burrows was up next. The French, with their couture models, had shown beautiful clothes worn by restrained women. Burrows was about to set those women free. He and the photographer Charles Tracy had choreographed the entire segment in a matter of minutes. Each model walked out individually wearing one of Burrows's wildly colorful, body-conscious matte jersey gowns. There were halter dresses that hung from the neck by little more than a thread. Others were pieced together from a rainbow of fabric so that they exploded like fireworks on the models' bodies. The rippling hems gave the garments a sensual energy.
Burrows had managed to get all of his favorite mannequins for the show; the group was predominantly African-American. The music cued up: Al Green's "Love and Happiness." Burrows eschewed disco in favor of soul, with its irresistible rhythms, deeply felt groove, and sensuality. Whenever he had a fashion show, Burrows loved to egg the models on, telling them to have fun and to cut loose. He did not alter that philosophy for the formality of Versailles. In fact, he encouraged them to really have fun.
Oozing attitude and confidence, Alva Chinn strutted out in a rippling four-tiered toga. She'd left conservative Boston for New York in search of freedom and adventure. That path had taken her to France—and there she was, on the stage at Versailles in front of an audience of swells. Sashaying into the spotlight with her head thrown back, she had arrived at a place she had never imagined.
Amina Warsuma, another black model, didn't feel nervous. She had worked in Europe before, and she loved it. It seemed like home. She'd always felt under scrutiny in the United States, under pressure to reach a version of perfection that she could never quite achieve. In France, she could be herself. She let the music guide her. Norma Jean Darden, a Sarah Lawrence College graduate, was swaddled in a long color-block coat. She was pleased with herself, and it showed. Karen Bjornson had been trying to figure out how best to show off her bubblegum-pink dress, with its multiple slinky tiers, each finished in a lettucelike hem. She'd been watching Cleveland's whirling charisma. The vitality was contagious. Bjornson, who was usually more reserved on the runway, was invigorated. The shy girl from the Midwest began to stride to the beat of the music.
The Americans were on a tear. They were controlling the clothes, bending them to their will. There was no way the clothes could be stiff or static, not as those limber young bodies put them to work.
In hindsight, the kind of extravagant movement that occurred on the Versailles stage was a caffeinated version of what was happening on the New York runways of young designers like Clovis Ruffin. It was akin to the sort of posing and posturing, representing a delight in the clothes, in the woman, and in the sheer pleasure of touting one's own glory that was the hallmark of the Ebony Fashion Fair road show and that continues at amateur fashion shows in the basements of black churches, at sororities on college campuses, and elsewhere. In 1973, Burrows was emblematic of a moment when fashion was connecting to women in ways that were both emotional and practical. In one of his dresses, a woman's body was free. And she was on her own, for better or worse.
One of the last models to appear was Bethann Hardison. She stalked out wearing a long yellow woven dress—Burrows's homage to Paris couture—her androgynous figure rocking from side to side in a proud swagger. She arrived downstage and fixed the audience with a death stare. And then she swiveled, the train swirling out behind her. "Bethann walked like a gangster!" Tracy exclaims. "We all backed away."
As the segment unfolded, Cleveland was revving up backstage. She would be the last model to make an exit in Burrows's segment. Her dress, with its angled, color-block bodice, had a long, full train, and she began spinning before she even stepped out from the wings. When she emerged into the light, she was whirling like a top. She kept going, faster and faster, with the fabric of her dress fanning out around her tiny frame. As she got closer to the edge of the stage, the entire audience held its breath. She was twirling so fast it seemed as though she might spin right off the stage. Shecame to the very edge. And stopped. A perfect landing.
Then, as Burrows and Tracy had planned, all the models who had lined up at the back moved toward the front one last time en masse. They were an army of Technicolor creatures, swaddled in feathers, and styled like exotic birds. When they were as close to the audience as they could get, they froze. And they posed.
"It was the beginning of voguing. They were giving crazy attitude," Tracy says.
The audience shouted its approval, and programs flew into the air like confetti.
"Burrows made such an impact. It was, 'Wow!' There was none of that old regime," Nemy says. "He was the breakout star because of everything about it: the models, the clothes. They were clothes that I liked a lot and wanted to wear."
If the American designers were an Olympic relay team, Burrows had just given them a tremendous lead before passing the baton to Blass.
For his Great Gatsby–meets–Deauville collection, Blass relied on Cole Porter and re-created the glittering sophistication of the café society upon which the designer had built his business. His dresses fell to midcalf and had a retro glamour; they were not skin-baring and sexy. His models wore little sculptural hats with elegant netting that shielded their eyes. Even his daytime suiting had a sheen of untouchable sophistication, thanks to the tailored wool jackets that topped slim skirts dripping in sequins.
Blass also had Billie Blair.
Fallon's only job—at least the only one that mattered—was getting Blair onstage. As he searched through the freeway of traffic that was whirring backstage, he was frantic. "Where the fuck is Billie Blair?" Fallon called out to no one and everyone. Then he suddenly saw a flash of sequins and found her standing exactly in place. Everything was moving so quickly, she didn't even have time to reassure him as she raced to make her cue.
Blair's hair was a glistening cap of marcel waves, and she bore an eerie resemblance to Baker. She carried a single cigarette in a holder. Smoke floated skyward; her head tilted up at a haughty angle. She was draped in jersey and sable. "When I put on a Bill Blass—the fur and the fabric and the fit—you couldn't tell me I wasn't the most elegant, complete woman. You couldn't tell me anything else," she says.
With the start of Halston's segment, the Americans moved full-throttle into evening wear. The star designer had cast his portion of the show with his favorite models and his famous friends. The choreography that Thompson, along with Eula, had devised was simple but dramatic. The models positioned themselves onstage in the pitch dark, and as the spotlight landed on each woman, she suddenly became animated. She would show the clothes and freeze. And then her part of the stage would return to darkness, and the spotlight would illuminate someone else.
Halston's music was the moody theme from the 1969 Luchino Visconti film The Damned. The clothes were after-hours sexy. Some were elegant; others were nearly scandalous. Shirley Ferro wore a sleeveless gown that swooped seductively to reveal the curve of her lower back. Nancy North was drenched in a sequined gown with a neckline that plummeted to her waist. Bjornson's voluptuous dress was cut on the bias and benefited from her theatrical pirouettes. Elsa Peretti and Chris Royer posed together, holding cigarettes tucked into long, thin holders.
Chinn's one-shoulder toga revealed her naked breast, with only a feather boa providing a hint of cover. Marisa Berenson's sequined gown was see-through. China Machado's gown—a term used loosely here—had no bodice, but rather a large feather fan set in silver that she held at her chest.
The choreography in Halston's portion of the show took full advantage of the wide, deep stage, creating a cinematic tableau to rival the best of Hollywood. He was counting on his boldfaced names to impress his audience. But Halston had made one miscalculation. While Berenson, whose maternal grandmother was the Paris-based designer Elsa Schiaparelli, was a recognizable part of the jetset, the celebrity of all the others was lost on the predominantly French audience.
"They were next to the black girls who knew how to walk," recalled a gloating Oscar de la Renta. "And they were flat."
Still, Halston had done enough to keep the audience entertained, whichwas no easy feat since it was by then almost midnight.
In the finale of the American show, de la Renta had Blair playing the part of a seductive magician. His soundtrack was "Love's Theme," an instrumental soul-meets-disco song by Barry White's Love Unlimited Orchestra. It began with the rat-a-tat-tat tapping on cymbals and swelled into an easydance rhythm with lush strings and insistent drums. And out walked Blair in a filmy green gown, a kind of glamorous caftan, to play fashion's mesmerizing illusionist.
She dramatically pulled a pink scarf out of her palm and five models emerged wearing pink chiffon gowns. She produced a lilac scarf and five models swanned across the stage cloaked in lilac.
Fischelis, finally able to take a breather from her dressing duties, peeked out and got a look at what was unfolding onstage. "The model was moving with so much grace," she recalls. "She was different from the French way. There was a ray of light shining down on her, and she was just moving her arms above her."
The clothes were positively spare compared with de la Renta's more recent work, which is far more ornate. At Versailles, his gowns were ethereal. For his finale, the models filed out in a rainbow-colored serpentine line—Chinn, Cleveland, Warsuma, North, and the rest. "At the end of my show, people were standing and clapping," de la Renta said. "In Paris, they'd never seen girls walking to music. No one had seen people move in that way…There was some magic to it."
Minnelli returned to the stage to wrap everything up. She performed the title song from Cabaret in Halston's black cocktail dress, which was dripping with bugle beads. Then the models joined her, gorgeous in black dresses from all the designers, to sing "Au Revoir,Paris," which Thompson had written for the occasion. "Au revoir, Paris! Au revoir, mes amis!" sang de la Renta, as he remembered how he had savored the final moments of the show.
As the curtain came down, the audience of French elite jumped to its feet. Thunderous applause and wild bravos reverberated off the walls of the massive theater. The Americans were astounded.
"The indelible impression was the stunned reaction of the French," Nemy recalls. "The French came out with the old-glory backgrounds and those kinds of clothes. After that, the Americans came out with incredible youth—and it was like night and day. I didn't watch the show as much as the audience reaction. I'd seen the dress rehearsal. This was a mostly French audience. I couldn't believe what was -happening." The guests were both vocal and physical, shouting their bravos from the great boxes of the Théâtre Gabriel and beating their hands in applause.
"The American team won because of Kay Thompson," says Pierre Bergé, Saint Laurent's partner. "It was like a Broadway production, more or less. The Americans won not because of the clothes but because of the choreography." De la Renta also gave credit to the self-assurance and theatricality of the American models and their way of moving. "What made our show was the black models," de la Renta said. "There is zero question about that."
After the show ended, everyone rushed backstage with congratulations. Baker came looking for Blair, her sweet doppelgänger who had been the star of the American portion. "Where is she?" Baker asked Fallon.
"I knew who 'she' was," Fallon says. "I went and got Billie. Josephine Baker reached out and touched her face. She said, 'I came to Paris in 1922. And you came to Paris tonight.' "
The French designers were generous with their compliments, in part because it was the performance that had wowed them, not the clothes. The clothes were not feats of technical wizardry. Instead, the magic was the way in which the presentation connected the clothes to contemporary life. The joie de vivre of American fashion had been made plain by the models. The clothes had been shown with personality, movement, and individuality. Givenchy and Saint Laurent were enamored with the way in which Blass and de la Renta had allowed the models to bring expressiveness to their work, something that was not part of the French fashion vocabulary. This transformation on the runway was akin to shifting from oil on canvas to photography; there was spontaneity, realism, and beautiful imperfection.
Saint Laurent was especially delighted with Burrows because of the way he had bridged the divide between contemporary street culture and the atelier. His clothes were alive because of the models, and his models seemed relevant and effervescent because of his clothes.
"To have Saint Laurent tell you, 'You make beautiful clothes,' it was enough for me. It was like the crowning moment of the trip," Burrows says. "Saint Laurent was the king of fashion at the time."
The evening continued with a midnight supper hosted by Guy and Marie-Hélène de Rothschild. The multicourse dinner was held in the King's Apartments, accessed through theHall of Mirrors, which was lined with footmen. When the Americansentered, they were greeted with a standing ovation, cheers, and applause.
"I remember floating down in a Stephen Burrows gown with a long train that never ended. It was a rainbow, a butterfly dress. It was just fantastic," Darden recalls. "The French looked at us like we were creatures from outer space."
The guests were seated at 83 tables, each covered in royal blue linens printed with gold fleurs-de-lis in an echo of the theater. The tables were scattered across five rooms within the apartments, which were illuminated only by warm, flickering light from white tapers in gold candelabra. There were endless rows of stemware. Each place setting included a large golden gift box of Revlon fragrances. The guests dined on assorted pâtés, smoked fish, truffle-infused ham, chilled beef and duck, and desserts that reminded Darden of spun gold. It was all accompanied by a steady stream of 1965 Château Lafite Rothschild and 1969 Bollinger champagne.
Karan couldn't stop staring at the haute cuisine and the formal settings. "The portions were this big," she recalls, making a teeny-tiny circle with her fingers. "There were 12 forks and 13 spoons!"
There was no toast that evening, no pronouncement of a winner in the runway battle. There was just the insistent chatter of more than 800 guests and models against the background of unobtrusive music.
"The Americans were in seventh heaven, drunk with joy. They'd had a remarkable exhibition of clothes and creativity," Nemy recalls. "The French were happy too—not miserable. The Americans knew what they had done."
On that snowy night at Versailles, the American designers shone brightly onstage. Black models were a triumph, a thunderclap of glory. The tale unfolded in France, but the story was wholly American: a culmination of social shifts, ambition, idealism, and magic.
Photos: Show of the Century
Halston's segment of the show. Photograph by Reginald Gray/WWD.
The audience. Photograph by Daniel SIMON/Gamma-Rapho/Getty Images.
De Rothschild and Grace Kelly. Photograph by Reginald Gray/WWD.
Stephen Burrows's multihued dresses. Photograph by Reginald Gray/WWD.
Gloria Guinness and Andre Oliver at the de Redé party. Photograph by Reginald Gray/WWD.
Oscar de la Renta, Françoise de la Renta, and a guest. Photograph by Reginald Gray/WWD.
Andy Warhol during the show. Photograph by Reginald Gray/WWD.
Josephine Baker. Photograph by Daniel SIMON/Gamma-Rapho via Getty Images.
Burrows and a guest. Photograph by Reginald Gray/WWD.
Marie-Hélène de Rothschild, dressed in a yellow feather-trimmed gown, and friends at the fashion show. Photograph by Reginald Gray/WWD.
Liza Minnelli performing for the American designers at the Grand Divertissement à Versailles. Photograph by Reginald Gray/WWD.
Model Barbara Jackson in Stephen Burrows. Photograph by Daniel SIMON/Gamma-Rapho via Getty Images.
Guests at Maxim's. Photograph by Reginald Gray/WWD.
A guest, Elsa Peretti, Halston, and Marisa Berenson celebrate the Battle of Versailles. Photograph by Reginald Gray/WWD.
Rudolf Nureyev with a dancer, performing for the French segment. Photograph by Daniel SIMON/Gamma-Rapho via Getty Images.
Yves Saint Laurent at a pre-party at Maxim's held by Baron Alexis de Redé. Photograph by Reginald Gray/WWD.