The Selena Gomez and Blackpink "Ice Cream" Video Has Great Sets, Beautiful Sets
Blackpink and Selena Gomez dip into a maximalist aesthetic that pays homage to both mid-century pinup models and zany Nordic children's TV programming.
---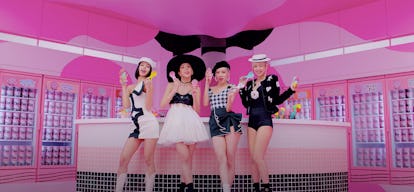 Image courtesy of YouTube.
After days of teasing a sweet collaboration coming down the pike, Selena Gomez and Blackpink finally released the single and music video for "Ice Cream."
This track is just the latest take on the trend of American pop artists collaborating with K-Pop musicians—Halsey worked with BTS for "Boy with Luv," Jason Derulo recorded a song with NCT 127, John Legend collaborated with Wendy from Red Velvet for "Written in the Stars." And Blackpink worked with Lady Gaga earlier this year on Chromatica's "Sour Candy" and also pops up on Dua Lipa's Club Future Nostalgia (which was also released today).
Whatever you may think of the song "Ice Cream" (it's like confection for the ears, so depending on how syrupy you like your pop songs, or if lyrical innuendos like "You're the cherry piece just stay on top of me" irk you, then it might not be the summer single for you) its corresponding video is just as saccharine. And the set is so maximalist and colorful you could forget that Gomez and Blackpink didn't even film their portions of the video in the same room.
The cultural touch points brought to mind by the aesthetics of this video are kind of all over the place. There's the 1998 time traveling flick Pleasantville referenced by Gomez's commitment to the mid-century pin-up look.
And then there's the English-Icelandic kids television program LazyTown, which Jisoo, Jennie, Rosé, and Lisa have inadvertently paid homage to with this video.
But they all also went sporty, with Blackpink on a pink tennis court and Gomez put on her Puma in front of a "Selpink" branded ice cream truck. (Although, if we're going full quarantine music video mode, why not don a face shield instead of a regular old visor?)
It's also very "Instagram influencer posing in front of the rose pink Paul Smith wall in Los Angeles" if that wall were yellow and had the phrase "Ice Queen" graffiti'd on it.
At the end of the day, no matter what references the "Ice Cream" video calls to mind, this capybara sharing its food while perched on a lawn chair deserves to be elevated to icon status.
Related: How Blackpink Became Poised to Usurp BTS As the Global Face of K-Pop