Solange's "A Seat at the Table" Captures What It Is To Be Young and Black in America Right Now
A worldly album for an unsettled world.
---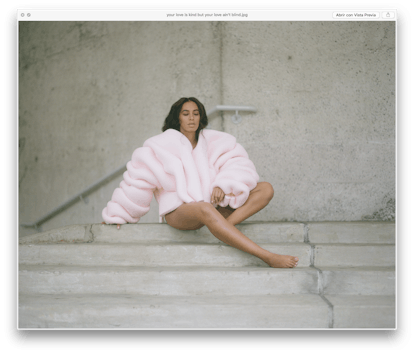 Solange Knowles's A Seat at the Table came at midnight on Thursday, as a slow-winding neo-soul protest. "I'm weary of the ways of the world / be weary of the ways of the world," Solange sings on "Weary," a sobering track that leads right into an interlude where the rapper Master P asks, "Where's the peace?" It is a question the 21-track album seems to ask coolly throughout its 52-minute run, drawing on what it feels like to move through the world while having to explain your hair, body, blackness, and self. (Solange illustrates this point in her accompanying zine by creating a timeline, spanning 1619 [the arrival of the first African slaves in America] to 2018, where each major event in American history is identified as "explaining.")
The album is a meditation on what that might mean for a young black person living in America right now. Solange makes unequivocal personal statements — see "Don't Touch My Hair" — while also addressing past generations who also had to assert, in their own ways, that Black Lives Matter. "A Seat at the Table" is titled after a refrain popularized during the Civil Rights Movement that grew out of the humiliation of black Americans who were barred from lunch counters in the Jim Crow South. Speaking in front of young organizers in 1965, the tired civil rights leader James Forman stated, "If we can't have a seat at the table then let's knock the fucking legs off."
At times Solange seems to echo Forman's frustrations. She wails achingly on "Don't You Wait" and rages soulfully on "Mad," featuring Lil Wayne, who asks, "Why you mad son?" "F.U.B.U," featuring The Dream and BJ the Chicago Kid, sees her in outright defiance: "This shit is for us, by us / Don't come for us," and, poignantly, "When it's going on a thousand years / and you pulling up to your crib / and they ask you where you live again / but you running out of damns to give."
The album draws sonically from the funky vibes of Prince; the neo-soul of Erykah Badu; deep album cuts from 90's R&B; and the rap and jazz of the new and old south. It also relies heavily on testimonials from New Orleans native Master P and assists from Kelly Rowland, Kelela, Q-Tip, Lil Wayne, and Dev Hynes. The texture of Solange's fourth studio offering is less playful than 2012's "True," which featured "Losing You," a genre-less love song that established Solange as the independent and fashionable younger sister of pop's biggest act, Beyoncé. In the Melina Matsoukas-directed video for "Losing You," the musician awkwardly dances around Cape Town with the stylish Le Sapeurs, turning their century-old street style culture into something her own. On A Seat at the Table, the musician continues to eschew the traditional limitations of pop stardom. The album doesn't seem interested in commercial success or charting. It's an experimental ode to black self-care, as the song "Borderlines (An Ode to Self Care)" suggests. For the most part, Solange just wants to be heard.
Visually, the album's zine with its dizzying design of lyrics finds a new way to communicate the themes of black sister- and brotherhood the singer has long explored. In the photographs released with A Seat at the Table, Solange reinterprets the British-Ghanaian artist Lynette Yiadom-Boakye's vivid portraits of black figures into group scenes shot in nature and New Orleans, where the singer lives and draws artistic inspiration from. There's an image in the zine in which Solange and seven black women stand on a hill bare-footed, wearing purple dresses designed by her mother. The picture says: Unity.
On an album that features appearances by both of her parents, Beyoncé's voice isn't heard. Nor was Solange explicitly present on Beyoncé's Lemonade, although her fingerprints seem to be all over it. Despite their insistence on being seen as individual artists, the Knowles sisters become exponentially more compelling and powerful when taken together. If Beyoncé's "Formation" is the spirited pro-black anthem you listen to before marching in a Black Lives Matter protest, then it is Solange's reflective "Where Do We Go," that asks: What next?
Perhaps, then, it's best left to the girls' mother, Tina Knowles, to sum up the album's mood. On the interlude, "Tina Taught Me," she says, "I think part of it is accepting that there is so much beauty in being black. That's the thing I get emotional about because I've always known that. I've always been proud to be black. I never wanted to be nothing else, loved everything about it." A Seat at the Table is a portrait of that experience.