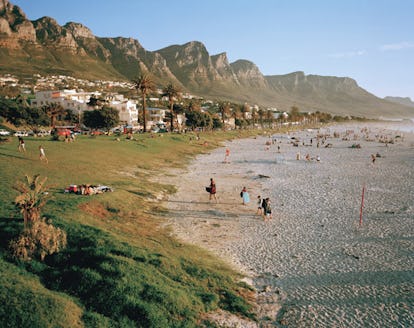 When travelers return from Cape Town, they're often at a loss to explain the South African city's particular kind of magnificence, so they resort to making up unlikely hybrids of their other favorite destinations. "It's Rio meets Edinburgh!" they'll say, or "Copenhagen crossed with Guadeloupe!" Indeed, few places can offer so many surefire crowd-pleasers in one package: rugged mountains, cliff-ringed beaches, friendly and laid-back locals, world-class vineyards, and thriving culinary and cultural scenes. Then again, few cities come with so much baggage. Almost 15 years after the end of apartheid, Cape Town retains a distinctly colonial vibe; well-off white residents still cluster in privileged enclaves, many just across the highway from gang-ruled shantytowns. But as the city continues to distance itself from its grim past (while keenly preparing to host the World Cup in 2010), there's a palpable sense of optimism, a belief that this buzzy cosmopolitan town is finally living up to its spectacular setting.
A side street in the Waterkant district.
One new center of action these days is the grungy district of Woodstock, home on Saturday to the Neighbourgoods Market. Part hipster garden party, part gourmet trading post, the market draws hordes of cute, artsy Capetonians, who, from 9 a.m. onward, sip beer or Pinotage while cruising the aisles for fresh oysters, artisanal cheeses and jars of organic plum coulis. Justin Rhodes launched the market in an old warehouse two years ago with his partner, Cameron Munro, and says they had no idea it would turn into Cape Town's prime weekend posing spot. "We thought it would just be a few of our friends saying, 'Oh, gee, organic vegetables!'" he says. "But it was gangbusters from day one." This fall they're opening a new section for the emerging fashion and accessories designers who Rhodes says are underserved by local retailers.
A view of Cape Town.
Rhodes and Munro are also behind Whatiftheworld, an innovative gallery and arts collective that relocated to Woodstock last year. Since then the district's industrial spaces have been luring established dealers such as Johannesburg-based Goodman Gallery (home to blue-chip South African artists such as William Kentridge) and Michael Stevenson (known for rising talents like Nicholas Hlobo). "Things are really hap­pening in Cape Town now," says Emma Bedford, director of Goodman's Cape Town branch. Bedford says that some local collectors are still reluctant to venture to Woodstock because of its longtime reputation as a high-crime area (the rep is partially justified; park in guarded spaces only, and don't go at night). But more intrepid types, including new waves of international buyers, are attracted by a scene that's increasingly sophisticated yet resolutely informal and accessible. "Europeans are amazed at how you can really rub shoulders with the artists here," Bedford says. "And they can't believe the low prices."
With the dollar holding strong against the South African rand, bargains are every­where in Cape Town, though it's not very hard to spend a fortune at the city's legendarily genteel hotels. In the center of town, the century-old Mount Nelson Hotel is set amid nine acres of lush gardens that are apparently spoon-fed with magic fertilizer; the hibiscus bushes seem to grow to three times their normal size, with four times the blossoms. This year the hotel finally opened a full-fledged spa, the spacious and sun-drenched Librisa, spread throughout three late-Victorian buildings. An even more exclusive lodging option, the 11-room Ellerman House, on a former shipping magnate's estate on a cliff above Bantry Bay, has a bit of a Monte Carlo flavor, with shiny brass fixtures and obsessively well-tended palm trees. If you have lunch here on the gorgeous terrace, with views of the pool and the Atlantic, don't fret when you're not given a menu; the chef will soon appear at your table to tell you what's fresh and ask how you'd like it prepared.
Many of Cape Town's best restaurants are in leafy southern suburbs like Constantia (Connecticut meets the Dolomites!), where, at La Colombe, chef Luke Dale-Roberts's offerings include the most delicately fatty beet tart imaginable. "We love butter here," explains the waiter as he delivers another unctuous platter: grilled loin of springbok antelope with shimeji mushrooms and panfried foie gras. Food and wine are two things that famously chilled-out Capetonians are unabashedly serious about; at La Colombe, if you order a single glass of wine, the sommelier will likely bring out several options to sample, with a detailed dissertation on each. Even at Salt, a sceney bar-restaurant with floor-to-ceiling windows overlooking Bantry Bay, a vacuum system protects opened bottles from oxidation so that each of its 75 South African wines is available by the glass.
Travelers coming to Cape Town from elsewhere in southern Africa sometimes declare, a bit sanctimoniously, that the city is too European, too polished, not African enough. Maybe so, but it's still a place where you can pass a family of wild chacma baboons on the roadside as you head back to your hotel after lunch. Actually, the city's best attractions are those that combine elements of the civilized and the savage. At the 1,300-acre Kirstenbosch National Botanical Garden, exquisitely landscaped lawns climb up the eastern slopes of the landmark Table Mountain, an inner-city wilderness where, every year, a few overconfident day hikers take fatal tumbles. Some of Kirstenbosch's exhibits carry unexpected dashes of dark, self-deprecating humor: Growing in the Garden of Weeds are dozens of native species that have spread from South Africa to inflict damage elsewhere in the world. (One particularly lovely-looking grass, Hyparrhenia hirta, is now ravaging large parts of Australia.)
Speaking of dubious exports, vigilance is required when shopping for African crafts and tribal art: Vendors at the outdoor bazaar in Greenmarket Square might offer you a "traditional Zulu mask, special price," despite the fact that Zulus have no tradition of maskmaking. Walk a few blocks to the Collector on Church Street, where dealer Colin Sayers stocks rare Luba bowls and Chokwe initiation figures. Meanwhile, lining the cobbled streets of the Waterkant district—once as edgy as Woodstock and now thoroughly gentrified—are boutiques such as Africa Nova, with a well-edited stock of crafts and contemporary design, and Private Collections, which might be the largest emporium of high-end Indian antiques outside India.
The longer you stay in Cape Town, the more people will urge you, kindly, to leave, at least for a day or two: Within an hour's drive are dozens of absurdly scenic spots, including the fabled Winelands region. Farther east, a more private and insidery escape, not yet mentioned in the guidebooks, is the eco-chic Farm 215, with three solar-powered cabins that overlook rolling fields of the indigenous flora known as fynbos. But one advantage of Cape Town is that even just outside the city limits are retreats like the funky harbor Kalk Bay, where the cluttered boutique Quagga, jammed with rare books and Africana, looks like the forgotten attic of Isak Dinesen. Kalk Bay's coffee shops, yoga studios and overloaded fishing boats make it feel very Seattle meets Provincetown meets Trinidad. In other words, totally Cape Town.
<br / CLICK HERE for links to sleeping, eating and gallery hopping in Capetown.