Good Stuff
W's Editor in Chief Stefano Tonchi and Martha Stewart talk Design in Miami.
---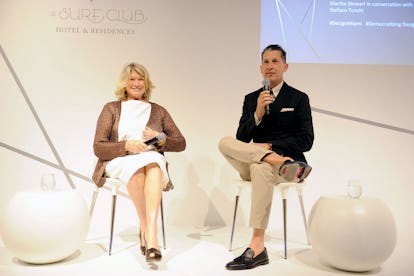 Wrapping up a whirlwind week at Miami Art Basel, Stefano Tonchi, Editor in Chief of W, sat down with Martha Stewart for the Design Miami Talk: Democratizing Design. "Martha has done more than anyone else to change the general public's perception of design," said Tonchi, as they launched into a discussion of the magnate's passion for making great design accessible, touching on everything from the trip to Paris as a college student that sparked her interest in the world of design, to her love of Twitter as a means of creating community around her brand.
"I started to write books in 1982 because I thought I was everywoman—that mother, that daughter—and thought that I could communicate that well," Stewart said. Tonchi recalled her pioneering collection for Kmart, "Martha Stewart Everyday", which launched in 1997. At the time, it raised more than a few eyebrows. Stewart remembered being snubbed by the Junior League of Greenwich for collaborating with the mass-market retailer; when the news broke, the organization cancelled a lecture it had invited her to give. And Tonchi noted how in hindsight, the collection's incredible success paved the way for a generation of designers to come. "The Junior League did eventually invite me back," said Stewart with a smile.
Asked to summarize how her now ubiquitous slogan "A good thing," applies to her views of design, Stewart replied: "For me, something 'good' is something one would need— something practical and functional—but also something beautiful. I have always looked at things in terms of, 'How can I produce this thing and make it better, make it for less, and for more people? It's in my DNA."