February 2015 Editor's Letter: Storytelling
W's editor-in-chief discusses The Movie Issue.
---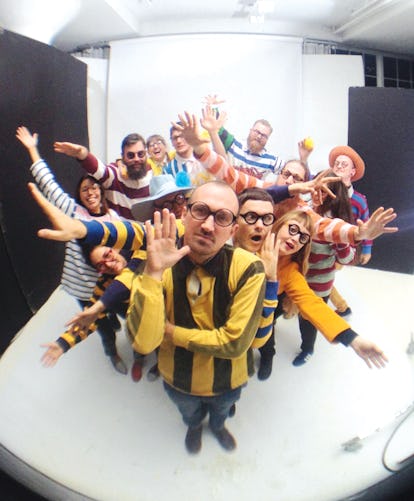 One of the many challenges of editing a magazine is keeping readers continuously engaged. At W, we strive every month not just to deliver what our audience expects but also to surprise—and keep everyone guessing about what we'll do next. I consider myself the first reader of this magazine, so it's essential for me to always feel excited about the ways in which we cover fashion, celebrities, and culture.
That's why each year, when Golden Globes–and–Oscars season approaches, I suffer a panic attack. Our annual Movie Issue has become a staple, and we are constantly looking for ways to reinvent it. In years past, we captured our Best Performances nominees with exacting classicism in Inez & Vinoodh's graphic portraiture, sensual elegance in Mario Sorrenti's painterly images, and raw energy in Juergen Teller's unretouched snaps. These images were so successful that they are being presented as an exhibition titled "Shooting Stars" at the Wilshire May Company Building on the campus of the Los Angeles County Museum of Art from January 10 through February 22. So what could we possibly do for an encore?
Perhaps as a reaction to the gritty real-life biopics that are sure to be nominated for the best movies of the year, I felt the need to escape into an imaginary world. Tim Walker, the British photographer whose currency is fantasy and storytelling, provided the perfect antidote to Hollywood's overdose of reality. His starting point was the bright light and brilliant colors of Southern California, as painted by David Hockney, an Englishman who has made Los Angeles his home. After many conversations between Walker and Editor at Large Lynn Hirschberg, who handpicked the stars in our "Best Performances" portfolio, the idea of a Federico Fellini–esque circus in an artist's atelier took shape. Click here to see how iconic actors and new contenders tackled some of the most original roles of their careers.
While Walker was engrossed in his shoot, I headed west to visit the 80-year-old artist Don Bachardy—Hockney's good friend and the late writer Christopher Isherwood's partner—at his studio in the Santa Monica Canyon. As I flipped through Hollywood, Bachardy's recently published book of drawings and paintings, I knew he would be an ideal addition to the issue. The specially commissioned portraits of Marion Cotillard and Tilda Swinton that Bachardy executed for us perfectly round out our Hollywood portfolio.
Another creative Angeleno with an impressive history—albeit of a very different kind—is Jason Blum, a film producer who is fast becoming the horror movie king. Although known for high-grossing, low-budget franchises such as Paranormal Activity and The Purge, Blum is an Oscar hopeful this year thanks to the searing drama Whiplash, which earned a standing ovation at the Cannes Film Festival. Blum's father was the owner of the legendary Ferus Gallery in Los Angeles, which helped pioneer the careers of Andy Warhol, Claes Oldenburg, and Roy Lichtenstein, among others. The lesson Jason learned from his artistic upbringing? "All you have to do is believe," he says in "The Horror and the Glory." "No one believed in the Warhol Soup Cans or Lichtenstein's dot paintings, but my father always did. He built his career on believing in things that no one else believed in."
As the Academy Awards draws near, it's also time to choose our looks for the red carpet—and the coming season. Photographer Steven Klein and Fashion and Style Director Edward Enninful teamed up to create six arresting tableaux featuring top models from all over the world, arranged into fashionable groups. Pick your category and decide which roles you'd like to play.