Dream Weavers
With a team of 14 artists, Christopher and Suzanne Sharp of the Rug Company are reviving the lost craft of tapestry.
---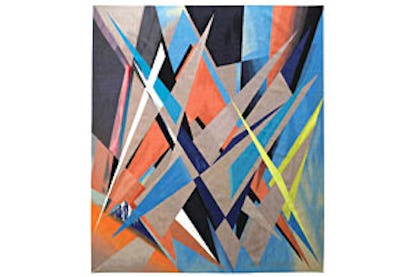 Tapestries usually conjure images of musty weavings featuring medieval princesses and unicorns—not controversial subject matter like the lynching of a woman, the war on terror or a map of the world made of trash. But such are the offerings from Kara Walker, Grayson Perry and Gavin Turk, respectively, three of 14 artists who have created tapestries for Banners of Persuasion, a new visual arts organization launched by Christopher and Suzanne Sharp, founders of the Rug Company.
Well-known among design junkies for collaborations with such fashion icons as Vivienne Westwood, Paul Smith and Diane von Furstenberg and decorating stars like Kelly Wearstler, the London-based Sharps have shifted their focus from the floor to the wall for this project. "When artists do rugs, they end up looking like blobs of color," says Christopher, who decided that a tapestry's finer weaving would allow for greater detail. "[Tapestry] was always a collaboration between artist and craftsman. We thought it would be wonderful to revisit that." Three years later, the Sharps are planning to show the limited-edition works—only five of each design were produced—at the Dairy, a London exhibition space, in November before bringing them to Art Basel Miami in December.
Gary Hume's Georgie and Orchids. See a slideshow of more tapestries.
Most of the artists the Sharps approached were new to the medium. "I never thought about tapestries before," admits British artist Paul Noble, who is known for his intricate, wall-size drawings of imaginary urban landscapes. His design depicts fictional city Nobson Newtown in a state of abandonment.
"The idea that you can make something big and not fragile really appealed to me," adds Perry, who has a penchant for cross-dressing and typically creates richly decorated ceramics that tackle dark issues like sadomasochism and car wrecks. Perry's tapestry, based on Afghan war rugs, features his childhood teddy bear, Alan Measles, balancing on top of the World Trade Center's Twin Towers with the slogan VOTE ALAN MEASLES FOR GOD/HE WILL SAVE US.
Production of the tapestries—a craft that arguably peaked in the 1300s—proved a Sisyphean task. After each artist finished his or her original work, a print was sent to a workshop north of Shanghai, China. There, female artisans, employing traditional Flemish techniques, painstakingly created scale drawings of each work with specially dyed color references before they began weaving. Samples were sent to each creator to approve pigments and detail. "It's been such a labor," says Christopher of the undertaking. Noble's piece took 14 months to produce and required 60 precisely calibrated shades of gray. Meanwhile, the real fig leaves in Fred Tomaselli's original work were re-created using gold thread. "I like the warp and the woof," he says. "It reminds me of pixels."
Perry was so taken with the medium that he's now making a new tapestry independently, while Noble is recommending his favorites, including Tomaselli's, to collectors. "I've told people, if you want to buy some good work, this is a really special thing," he says, pointing out that masters such as Goya often had their paintings reproduced as wall hangings. (The weavings—which range in size from 6 feet by 6 feet to 13 feet by 13 feet—will be priced from about $25,000 to $150,000.) "It's like you are looking at the original but slightly transformed," he says. "Really, it's like seeing your own work but through a bottle of vodka."
Credits: Courtesy of Banners of Persuasion