Taylor Swift's Plan to Re-Record Her Music Isn't Actually Uncommon
Frank Sinatra actually did it first.
---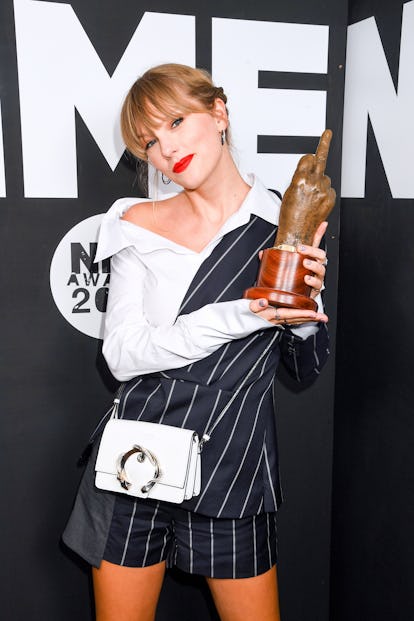 Taylor Swift still plans to re-record her first six albums in their entirety. Though Scooter Braun sold the rights to Swift's back catalog in a deal made public yesterday, the arrangement still allows Braun to profit off of the recordings. In a message posted to Twitter, Swift deemed the deal unacceptable, and announced that she's already begun re-recording her own music. It may seem like a strange, unprecedented situation to casual music fans, but here's a secret no one tells you: artists re-recording their own songs as a legal and financial tactic is far more common than you might think.
The rock duo The Everly Brothers are largely credited with pioneering the tactic when they switched record labels in the 1960s. Frank Sinatra famously did it when he started his own label. Def Leppard had re-recorded their classic albums in 2012, the same year Kid Rock announced he intended to do the same thing. DMX's 2011 compilation Greatest Hits With a Twist is actually made up of entirely new recordings of his classic songs. Type things like "re-record" or "recording" into the Spotify search bar and you'll discover that there are at least three different versions recorded in three different years of Gloria Gaynor's "I Will Survive," and classic songs like Naughty By Nature's "O.P.P.," The Trampps' "Disco Inferno," Coolio's "Gangsta Paradise," and Modern English's "I Melt With You" all have versions clearly marked as re-recordings.
Artists are under no obligation to actually mark new recordings of old songs as such, and most don't actually publicize the fact, like Swift has. The version of a classic song you pull up on Spotify or find on a movie soundtrack may not actually be the same recording you owned on CD or cassette all those years ago.
The reasons can be varied. Groups like the pioneering electronic band Kraftwerk or classic prog rock band King Crimson have devoted decades to re-recording, re-mastering, re-mixing and otherwise tinkering with their classic songs in a way that's been presented as an art unto itself. Though, in most cases, those artists may find themselves in situations similar to Swift's and just want more legal and economic options when it comes to their back catalogs.
While we all know what "music" is, both the law and the capitalist market have weird ways of defining it and who gets to profit off of it. The crux of it basically boils down to why the Grammys award trophies for both "Song of the Year" and "Record of the Year," even if, to many of us, that seems redundant. In both practical ways and legal ways, a "song" and a "record" are different entities. A song is something that could, theoretically, be represented on sheet music, and can be covered by other artists, rearranged as an acoustic version or another genre completely, remixed, performed lived, and, of course, re-recorded by the original artist. Under most arrangements, songwriters retain their copyright to their songs (that's also why artists across all genres these days tend to take part in the writing of their own songs, regardless of their actual talent at doing so). A record is a specific recording of that song. Typically, the record label owns that.
Of course, if you re-record that song, the label doesn't own that version.
When the Everly Brothers left Cadence Records for the more major Warner Brothers in 1960, they just re-recorded their biggest hits to completely leave their old label behind. According to a 2013 Slate article, Frank Sinatra also re-recorded many of his biggest songs when he founded his own label, Reprise Records, that same year. The record industry wised up to the loophole, and begin writing limits against re-recording into an artist's contract. Though, those have an expiration date. According to Variety, Swift's limits on re-recording under her original Big Machine contract may have been shorter than the industry standard.
Still, even re-recording a song decades afterward can be useful for an artist.
Say a television advertisement or indie film wants to use some 1970s one-hit-wonder in their production. They could go through the original record label to license the original song…or, as long as they've come to an arrangement with the songwriters, they could use another recording altogether, often for a much cheaper price. If an artist happens to have a different recording of their song, they can arrange licensing deals themselves, getting more cash for themselves and cutting their old record labels out completely. That's what's been happening, quietly, for years.
According to the Slate article, re-recordings of classic hits have since cropped up on compilation albums, greatest hits records, and streaming sites to the point where only the most devoted fans bother to keep track of what is the original and what's been re-recorded since.
Swift's endeavor, however, still remains unique: both in the fact that she's still at the peak of her career and that she's been so vocal about it. The speculation is that she'd offer her new recordings on streaming and license them on her own. As the songwriter, she still does maintain a lot of control over how her songs are used, no matter the recording. As she explains in her tweet, the move will probably devalue the earning capacity of her original recordings for their new owners. In other words, the endeavor is much bigger than some one-hit-wonder trying to squeeze some extra money out of deal to soundtrack a cookie commercial. But, legally, it isn't much different.
Related: Scooter Braun Sells Taylor Swift's Back Catalog for $300 Million