Telfar in Florence: "Like a Lapsed Medici in Miami Beach"
The designer showed at Pitti Uomo—and introduced new colors of his famed "Bushwick Birkin."
---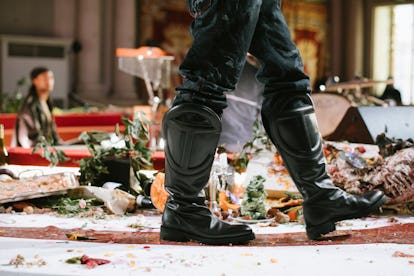 Telfar Clemens took his namesake collection to Florence for Pitti Uomo yesterday, unveiling a Fall 2020 lineup that, in a statement from the brand, intended to mix the "baroque" and the "humble." The release added: "Like a lapsed Medici in Miami Beach."
There is an odd, debased humor in picturing a member of the once powerful Florentine family—established in 1230—finding themselves in the anachronistic doldrums of modern-day South Florida. There is also a blade of provocation in the words: Four Popes came from the Medici bloodline, as did two monarchal queens (both of France).
Case in point: The aforementioned speaks to Clemens's rare and stimulating magic. He makes aesthetically digestible clothing (that is, wearable clothing), but his ideas are no less loaded with intellect and bite because of it. He's one of the very (very) few out there who began on the fringe, gained wider appeal, and yet remains on said fringe, pushing the conversation forward with seemingly zero compromise. His Florentine outing held true to this standard.
Clemens's show was held in the dining room of a palazzo, post-feast, the excesses of indulgence strewn about as they have been for centuries. Scarfed shirts were worn with baggy jeans; outsize knits were paired with pleated velour trousers—a sort of Juicy sweat-pant but for the 500-year-old dynastic set. Formalwear strut its way in, with cropped blazers, high-collared button-downs and leggy, tailored slacks. Knee-high leather boots were finished with cutouts of Telfar's icon, a lo-fi, circular "T" and "C" combined.
Speaking of that logo: The designer also revealed new colorways of his now world-famous "Shopping Bag," increasingly known amongst fans and the internet as the "Bushwick Birkin." (Bushwick is a neighborhood in New York City's Brooklyn borough; a Birkin is a purse from Hermès that costs at least five figures.) The Shopping Bag is, traditionally, available in three sizes, with its largest model costing $257. Fall 2020 promises metallic treatments and a few more neutral-toned options. Given that these accessories are known to sell out, one might expect Clemens to put the new designs online before the season's delivery window; they are the brand's cash cow (semi ironic given they're made of vegan leather).