The Descendants
Director Alexander Payne takes us behind the scenes of his new tragicomedy starring George Clooney.
---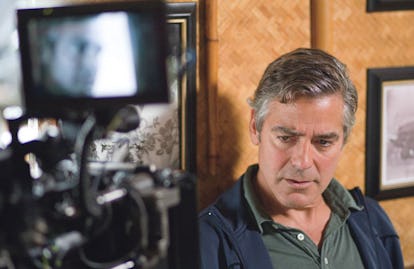 One day, a man—past his prime, a little clueless—gets a piece of news that's at great odds with the way he imagined his life would unfold. This describes the plight of the protagonist in Alexander Payne's 2004 hit Sideways, and it's also the story of Matt King, the Hawaiian scion played by George Clooney in The Descendants, out November 18.
As the trustee of a 25,000-acre estate long coveted by developers, King is under pressure: His relatives want him to sell; the rest of the island wants him to hold firm. Meanwhile, he discovers that his wife had fallen for another man prior to the boating accident that left her in a coma. This revelation pushes the apathetic King—with his billowy Hawaiian shirts, high-waist pants, and genial submissiveness, it's Clooney at his most impressively egoless—into action. He enlists his daughters, Alexandra (Shailene Woodley) and ­Scottie (Amara Miller), to accompany him on a journey across the lush archipelago to track down his romantic rival.
However, in Payne's darkly comic world, action is not synonymous with character evolution: "I know so many people who never change at all," says the director. His 1999 film Election, for instance, stars Matthew Broderick as a schoolteacher who proves ­petty to the bitter end. Clooney's beleaguered cuckold is a bit more open to self-discovery—with Payne's characteristic dose of realism. "Many American movies seek redemption," Payne says, "whatever that means. I'm just happy with a realization."
"Directors often envy actors for their ready access to emotion and their ability to express intimate feelings and secrets directly into the eye of that hideous, unblinking cyclops known as the camera. George Clooney astonished me in scene after scene, take after take, with his fearlessness, his talent, his sensitivity, and his professionalism. He's going places!"

Photographer: Max Vadukul
"This shot utilizes a Steadicam, an instrument I normally eschew—yet I must occasionally make exceptions."

Photographer: Max Vadukul
"Here, Clooney is joined by Shailene Woodley, who plays his daughter, and Nick Krause, the daughter's lunkhead friend. Nowhere in the film does anyone laugh like this, so they must have been in the midst of a rehearsal or between takes. I have no idea who they were looking at with such humor and affection, but I hope it was me."

Photographer: Max Vadukul
Photos: Merie Wallace, copyright Twentieth Century Fox Film Corporation