The Eddy's Andre Holland: "I Still Have a Lot to Learn, and a Lot to Offer"
The actor, known for his roles in "Moonlight," and "Castle Rock," discusses his latest project and the effects of coronavirus on the black community.
---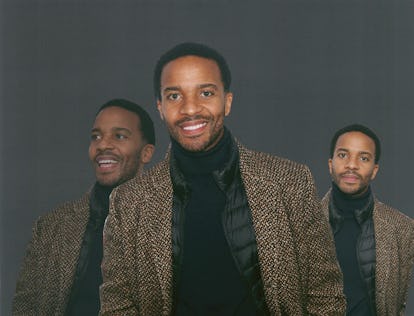 Art by Michael Beckert
There are the vast, devastating effects of the coronavirus pandemic, and then there are the subtler, but no less ghastly cultural ramifications that occur as a result of this kind of traumatic event. There is one in particular that's on the actor Andre Holland's mind: He can't stop thinking about how black people who wear masks, typical attire for this moment, can end up being racially profiled, or worse. There was a doctor in Miami who was arrested on his front porch, two black men who were kicked out of a Walmart. Wearing a mask, Holland explains on the phone from his home in Brooklyn, takes away one of the tools black men specifically have to survive, which is a smile.
"We use our smile to disarm people so many times, and you take that away," he says. "That is connected to this idea of, black people have to walk this tightrope, and be perfect all the time, not make mistakes or missteps."
The 40-year-old actor, who's known for his roles in Moonlight, The Knick, and High Flying Bird, sees this quality of perfection-seeking in the character he embodies in his latest project, The Eddy, which comes to Netflix on May 8. In it, Holland plays Elliot Udo, a French club owner who, while handling the garden-variety issues that the boss of a live music venue encounters, grapples with his traumatic past.
"Elliott is a man who has lived his life in that same way, trying to always do the right thing and play the right music, and please the right people," Holland says. "But the thing he hasn't taken the time to do is investigate himself in a real way, to deal with his own grief."
The Bessemer, Alabama native says he often chooses characters to play who, in some way, reflect a thing he's working through himself. In 2018, he starred in Othello at Shakespeare's Globe Theater in London in 2018—a play that's all about grief, shame, and regret. At that time, Holland says he was very much in that space, searching for answers concerning those emotions on his own. He took a break for a year or so, reading a stack of books he'd been putting off for months, and "working through some stuff."
Then he was hired for The Eddy, which he describes as a "story about second chances." Elliot, it is revealed during the series, suffered a loss that caused a significant fracture within his family. His relationship with his daughter Julie, played by Amandla Stenberg, becomes a central aspect of the plot.
"A lot of it, to me, is about finding forgiveness for yourself, this character trying to find forgiveness for himself, and to move himself out of the grief cycle," Holland says.
Holland has lived an entire life as an actor, both on the stage (his first acting gig ever was at the age of 11 in Oliver!) and on screen. But he maintains he's got much more to learn when it comes to his craft, and wants to do it all: he started a production company, co-executive produced The Eddy, wants to direct, and is writing a film based loosely on his life, "a semi-autobiographical joint, which has a lot to do with my upbringing and some of the incredible people I encountered along the way." He keeps a close circle of creative collaborators around him: Tarell Alvin McCraney, Barry Jenkins, and Steven Soderbergh are three friends with whom he's constantly working on projects. He met McCraney through the downtown New York theater scene, and Soderbergh from The Knick, which began in 2014. McCraney and Jenkins grew up near one another in the Miami area.
"I wouldn't say that there's an official crew happening, but there's a bit of a transformer-esque quality about our friendship," he says. "There is a little informal grouping that seems to happen, but it's just because we all think like each other and like working together and respect each other. And also because I'm annoying and I'm always calling them being like, 'Guys, let's do something.'"
Holland says he feels like he's had a director's eye his whole life. So when The Eddy director Damien Chazelle, (who directed La La Land and Whiplash), began work on set, Holland says he took note of his open and flexible nature—he trusted the actors, listened to their input, and took things one day at a time.
"Damien's previous works felt like everything was so carefully orchestrated, so clear and so carefully done," Holland says. "I came into it expecting that he would be a bit more prescriptive than he was."
The Eddy was filmed entirely in Paris, where Holland his fellow cast members lived for months. Although the actor travels often for work, and lived in England while starring in Othello, he felt a deep sense of loneliness for the four weeks in a foreign city where he was just beginning to learn the language.
"It felt really isolating at times," Holland says, connecting his experience to that of his character Elliot's. "It's wild, it's wild what we do. One thing I had going for me, when I got there, [costars] Tahar Rahim and Leïla Bekhti reached out right away and invited me to dinner. They were constantly checking in, obviously know the city really well and are super kind people. That made me feel a bit more at home."
Home, for Holland, is the small and sleepy town of Bessemer. The south is ingrained in his existence, and he's returning to his home state for a spell, partly to visit family members, and to escape New York, an epicenter of the virus where fear and anxiety proliferates. Holland is hoping for a bit of calm.
"I think I need to hide a little bit," he says, laughing.
Most of the time, when Holland speaks about the people he plays in films and stage productions, it feels like he's discussing his own life. His exploits and emotions are intertwined with those of Elliot's; he feels his pain, and his good times, too. And he wants to succeed. By no means does he feel like he's arrived in his career.
"I'm still hungry and I still feel like I have a lot more to learn and a lot more to offer," Holland says. "I read this book not long ago, Heavy by Kiese Laymon. In it, he talks about how, often, black boys don't get second chances. I felt that for Elliott. That's what his trajectory was about, for me: earning that second chance and what he's going to do once he gets it."
Related: George Mackay Lived in Ned Kelly's Mind for True History of the Kelly Gang